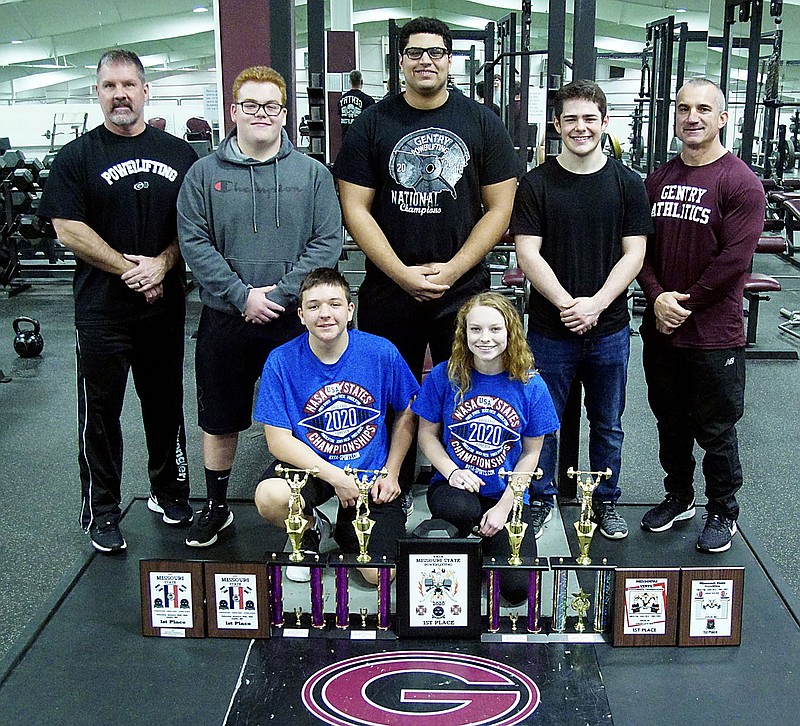 Westside Eagle Observer/RANDY MOLL Pictured with their trophies and awards from the NASA Missouri High School State Championships on Saturday, Jan. 25, at McAuley High School in Joplin, Mo., are Gentry High School powerlifters Camden Wright (front, left), Josie Newsom, Coach Sean Seligman (back, left), Isaiah Freeman, Kerlose Ruzek, William Pyburn and Coach Jamie Mcdougal.
GENTRY -- Kerlose Ruzek, a 2020 graduate of Gentry High School, was named among the recipients of the National High School Strength Coaches Association's All-American Award at the association's national conference on June 22.
"The NHSSCA All-American Award is truly an earned honor," according to an NHSSCA news release. "Athletes must be nominated and supported by their coaching staff, but also meet high standards of athleticism in areas of strength, speed, agility and power."
Ruzek was coached by Sean Seligman.
An official certificate was sent to the award-winning coach and to the athlete to recognize this accomplishment.
"He was our powerlifter of the year and was awarded the 2020 NHSSCA All-American Athlete of the Year," Seligman said. "He is the first athlete in Gentry's history to make All-American."
Ruzek is busy in football camp for the Northeastern State University Riverhawks in Tahlequah, Okla., where he will play this fall. He signed in February to play football for NSU Riverhawks.
The NHSSCA was created to allow high school coaches to grow as true professionals. It is an association to educate, equip and empower coaches to make a positive impact in the lives of student-athletes.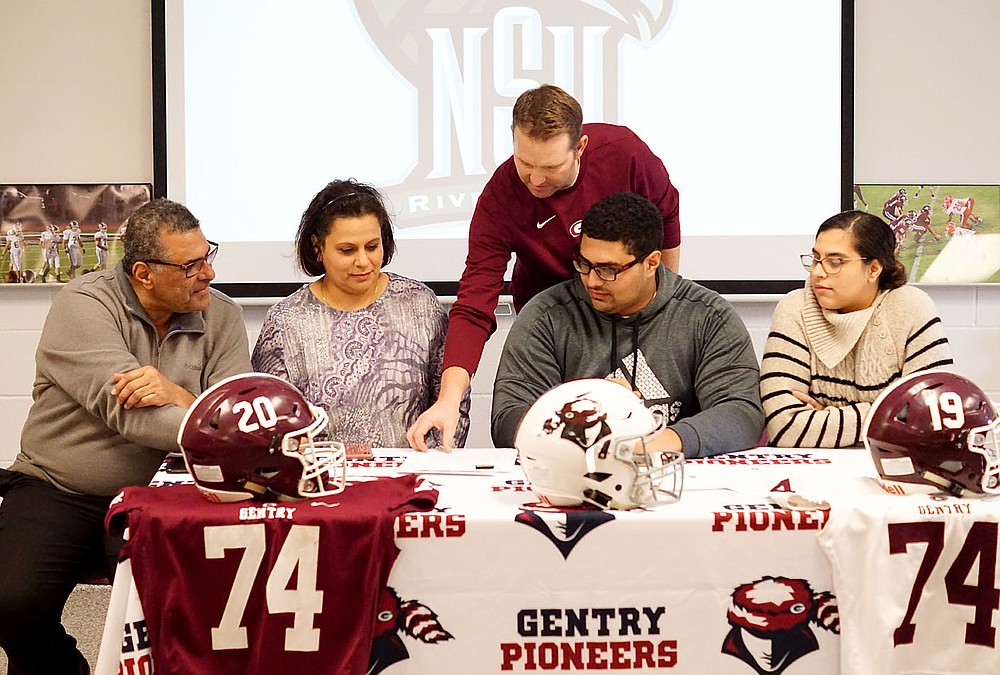 Westside Eagle Observer/RANDY MOLL Kerlose Ruzek, accompanied by his parents, Ashraf and Hanan Ruzek, and sister, Mirna Ruzek, is shown paperwork from Coach Paul Ernest on Thursday during a reception in honor of Kerlose signing to play football for Northeastern State University Riverhawks in Oklahoma this fall. The actual signing took place on Feb. 5 but the reception was postponed due to inclement weather and an early release on that date. Kerlose received a full-ride scholarship to NSU.
Sponsor Content
Comments