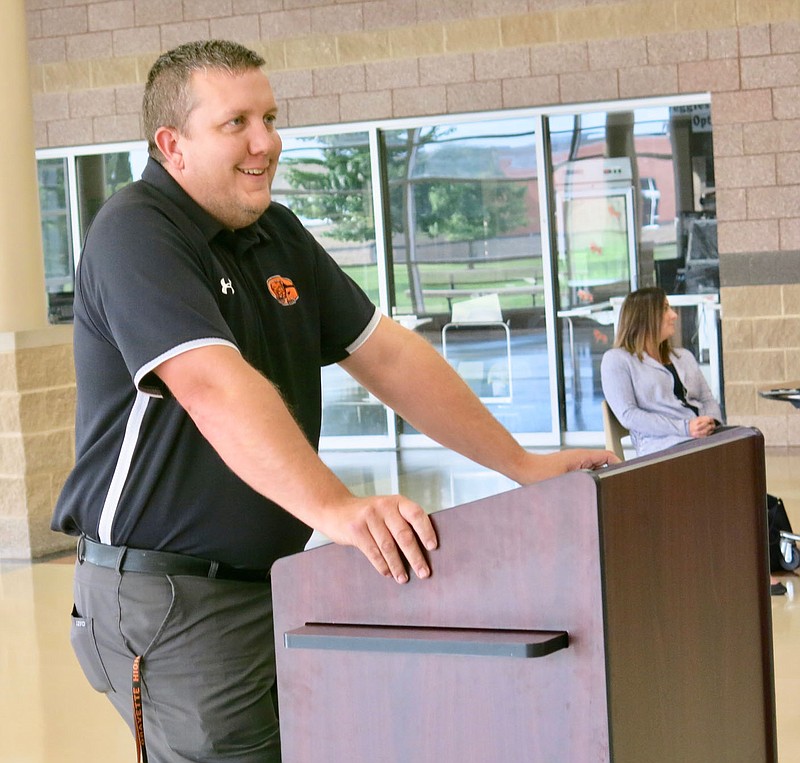 Westside Eagle Observer/SUSAN HOLLAND Taos Jones, assistant principal at Gravette High School, talks about his new role as K-12 online principal at Gravette schools during the July 20 meeting of the Gravette school board. Jones said he was a little worried about his new job but is becoming more comfortable with it as he works with faculty members preparing for the new school year.
GRAVETTE -- Josh Dodge, a member of the Gravette High School Class of 2020, led the pledge of allegiance to open the meeting of the Gravette school board Monday, July 20. Dodge then spoke to the board members and thanked them for their commitment to Gravette students. He expressed his appreciation for their decision to conduct an in-person graduation (held Sunday afternoon, July 12) and said it was a blessing to attend GHS. Dodge plans to attend Ozark Christian College in Joplin, Mo.
Maribel Childress, Gravette's new superintendent of schools, welcomed those attending and introduced Barrett Buck, who works with alternative learning education students; Nikki Brecheen, new Glenn Duffy Elementary principal; and Taos Jones, GHS assistant principal and new K-12 online principal. Each spoke briefly. Brecheen said she takes her job quite seriously and felt her thorough interview shows Gravette schools' interest in hiring the best-qualified educators available.
Jones noted that, in responses received from parents so far, 20% chose to have 100% online instruction for their students. He said he was a bit worried about his new role as an online principal but is becoming more comfortable with it. Board member Jay Oliphant said his biggest concern was poor internet connectivity and Hope Duke expressed concern about possible burnout by teachers overworked from teaching in-person classes during the day, then making responses to online students in the evening.
Dennis Kurczek, business manager, gave the financial report with income, expenditures and changes in fund balances. He said he expects a budget surplus at the end of the year which will be transferred to the building fund the following month.
Representatives of the various schools reported on their comprehensive school counseling plans. Nikki Brecheen reported for Glenn Duffy Elementary School, Rebecca Sears for Gravette Upper Elementary, Roger Sharp for Gravette Middle School and Melinda Griffin for Gravette High School. Each school's counselor will post his or her plan on the school's website by August 1.
Daniel Price, technology director, gave a cybersecurity technology report and an update on efforts to restore the school's technology system. He said the system has been 90% restored and is the most secure network possible.
Dennis Kurczek gave a report on expenditures under the CARES Act. He estimated it will cost up to $250,000 a year to operate with the added costs of sanitizing requirements and personal protective equipment but most of that expense should be reimbursed under the CARES Act and/or FEMA.
Rebecca Sears, assistant superintendent for curriculum, presented the family and community engagement plan and said Bright Futures and other resources will be utilized to help further interaction between the school and community and help meet student needs. Hope Duke noted that the Glenn Duffy Elementary fall festival and other traditional school activities have helped forge a link between generations.
Superintendent Childress presented Gravette's Ready for Learning Update. She reported that out of 837 parent responses, so far, 188 have opted for online education. She said one teacher per grade level will be devoted entirely to full virtual teaching. She is calling parents who haven't yet responded, and school principals are meeting on Mondays and Thursdays with weekly faculty Zoom meetings to prepare for the opening of school the third week of August.
Scott Beardsley, senior vice president at First Security Beardsley, presented figures on three individual school bond issues totaling $37,045,000. He reported refinancing the bonds will result in a $6,000,000 savings over the terms of the bonds. Board members voted to approve the issuance and delivery of all three bonds.
Daniel Rice presented a recommendation for the purchase of 80 laptops and 80 docking stations for Glenn Duffy Elementary and Gravette High School teachers. Cost will be $74,810.84, reimbursable through the CARES Act. Board members voted to approve the purchase.
In other business, board members voted to remove the department chair stipend from the salary schedule and accept the recommendation of Richard Carver, custodial department supervisor, to hire an additional full-time evening custodian.
The board voted to restructure the district supported self-contained behavior classroom and make it an alternative learning classroom under the ALE grant. Superintendent Childress said this will improve flexibility and allow the classroom to serve more students.
Board members approved the transfer of three students, a second-grader from Rogers, a kindergarten student and a first-grader from Bentonville, into the district provided they do not result in too large a class size, and six students out of the district. Also approved was the proposed 2020-2021 school calendar, which will now be sent to the personnel policy committee for approval. Hope Duke expressed concerns about the number of online days, saying she felt that nothing replaces in-person instruction with its face-to-face interaction between student and teacher.
Board members went into executive session shortly after 9:30 p.m. and returned to open session at 10:30 p.m. They voted to hire Michelle Finnell in the child nutrition department, working 5-hour days, and hire Joanna Deaton as a registered nurse at Gravette Middle School.
Sponsor Content
Comments