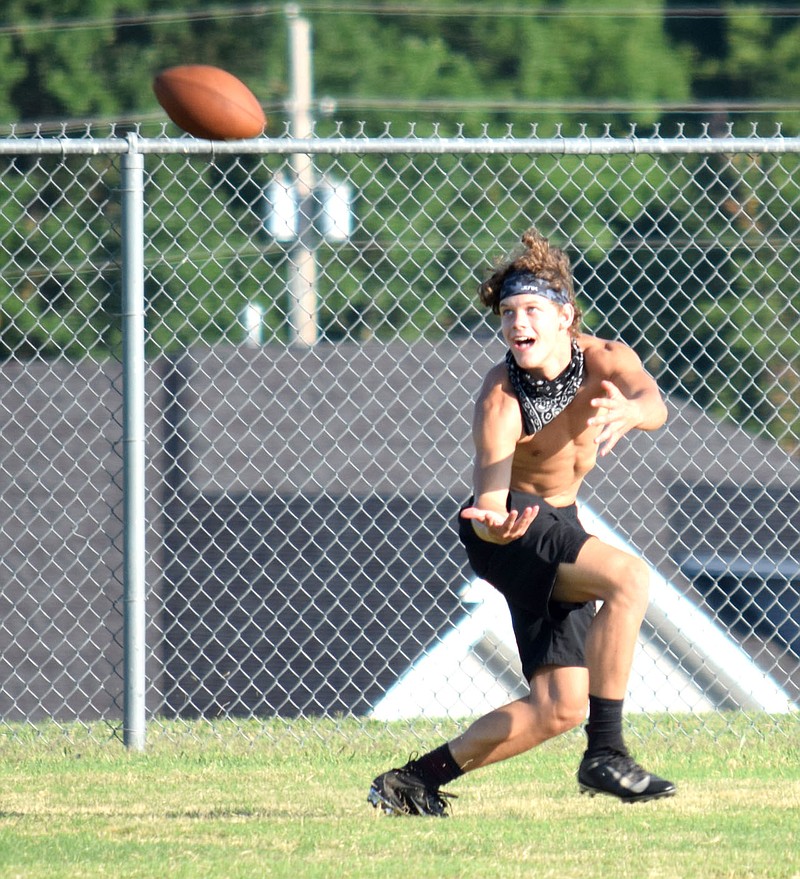 Westside Eagle Observer/MIKE ECKELS A Lion receiver keeps a watchful eye on the ball as it flies toward him during the July 22 light practice session on the practice field the Gravette Lions sports complex. No word on the future of Arkansas High School football as of yet.
GRAVETTE -- Coach Kelby Bohannon and his staff continued running his Gravette Lion junior and senior high football teams through light practice sessions on July 22 in anticipation of the start of the 2020 football season.
At present, the Arkansas Activities Association, the governing body that oversees high school sporting and activities events, has yet to release sports programs for full practice sessions due to Gov. Asa Hutchinson and the Arkansas Health Department's continued covid-19 mandates.
With virus cases on the rise in the state over the past month and school start date pushed to Aug. 24, the Gravette, as well as Decatur and Gentry, schedules are still on hold, leading some to speculate whether the 2020 season will even get off the ground at all.
But Bohannon and his staff continue to maintain an optimistic outlook on this year's season, and he continues to drill his kids on the basics of the game. Currently, the Lions practice three days a week from 6:30 to 8:30 a.m. (when the day is the coolest). However, all sports in Gravette are closed to visitors due to the covid-19 protocol.
Just when the AAA and Hutchinson release all sports for competition is up in the air at present. But this will not stop area teams like Gravette from preparing for an exciting and most likely different 2020 football season.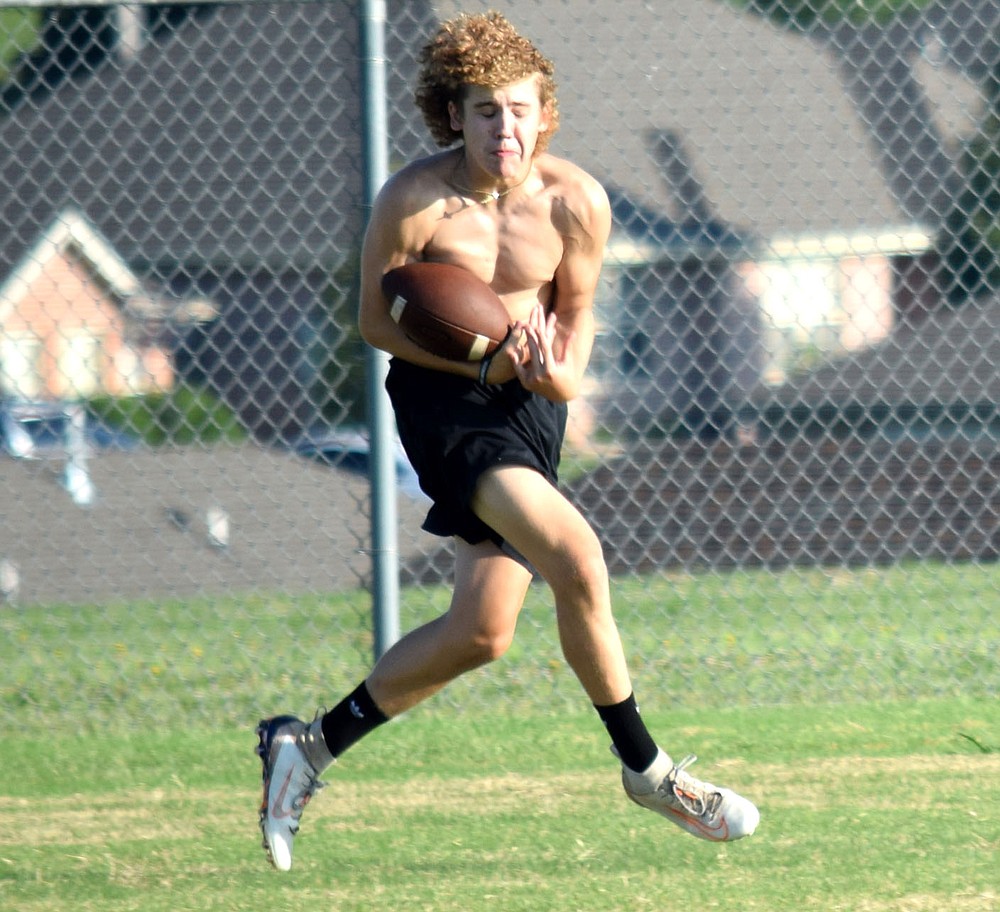 Westside Eagle Observer/MIKE ECKELS Catching and holding onto the ball is the name of the game as a Lion receiver completes a successful play July 22 during the Lions' light football practice session at Gravette High School.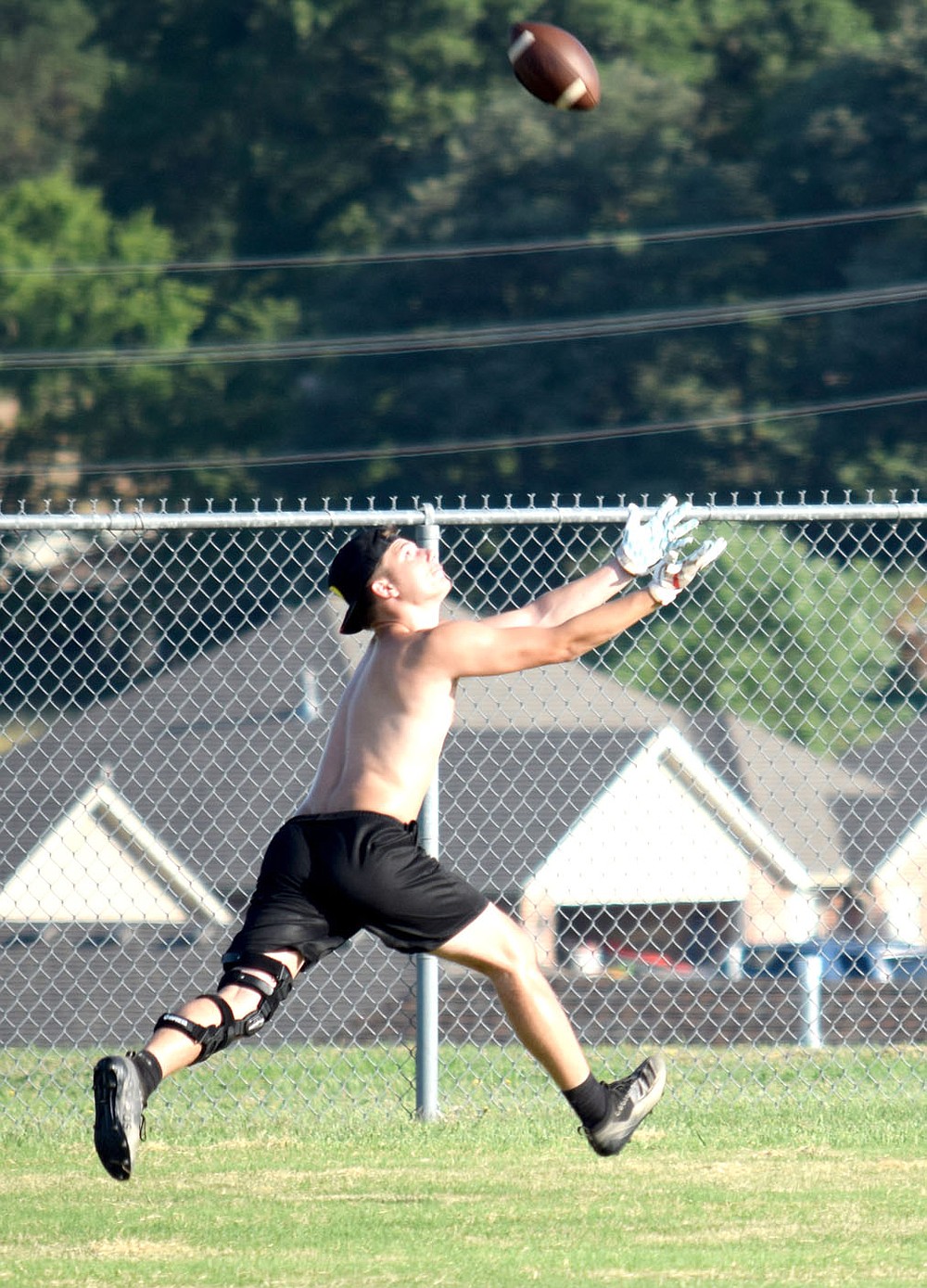 Westside Eagle Observer/MIKE ECKELS A Lion wide receiver hustles to catch a overthrown pass during Gravette's light football practice July 22.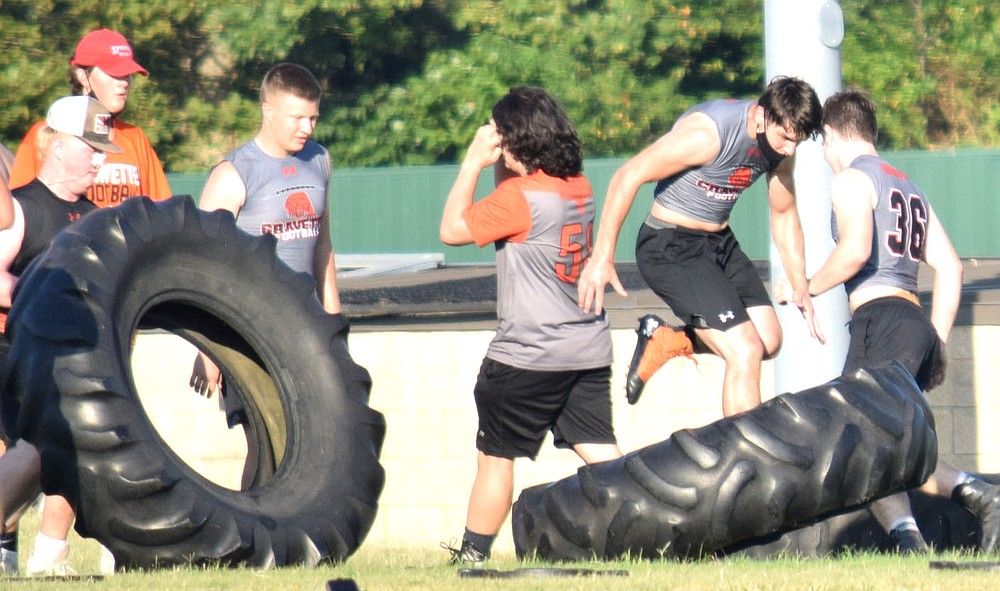 Westside Eagle Observer/MIKE ECKELS Two Lion tacklers practice rolling heavy truck tires during a drill near the baseball field in Gravette July 22. The Lions, like every high school football team in the state, awaits word from official on the start date of the 2020 season.
Sponsor Content
Comments