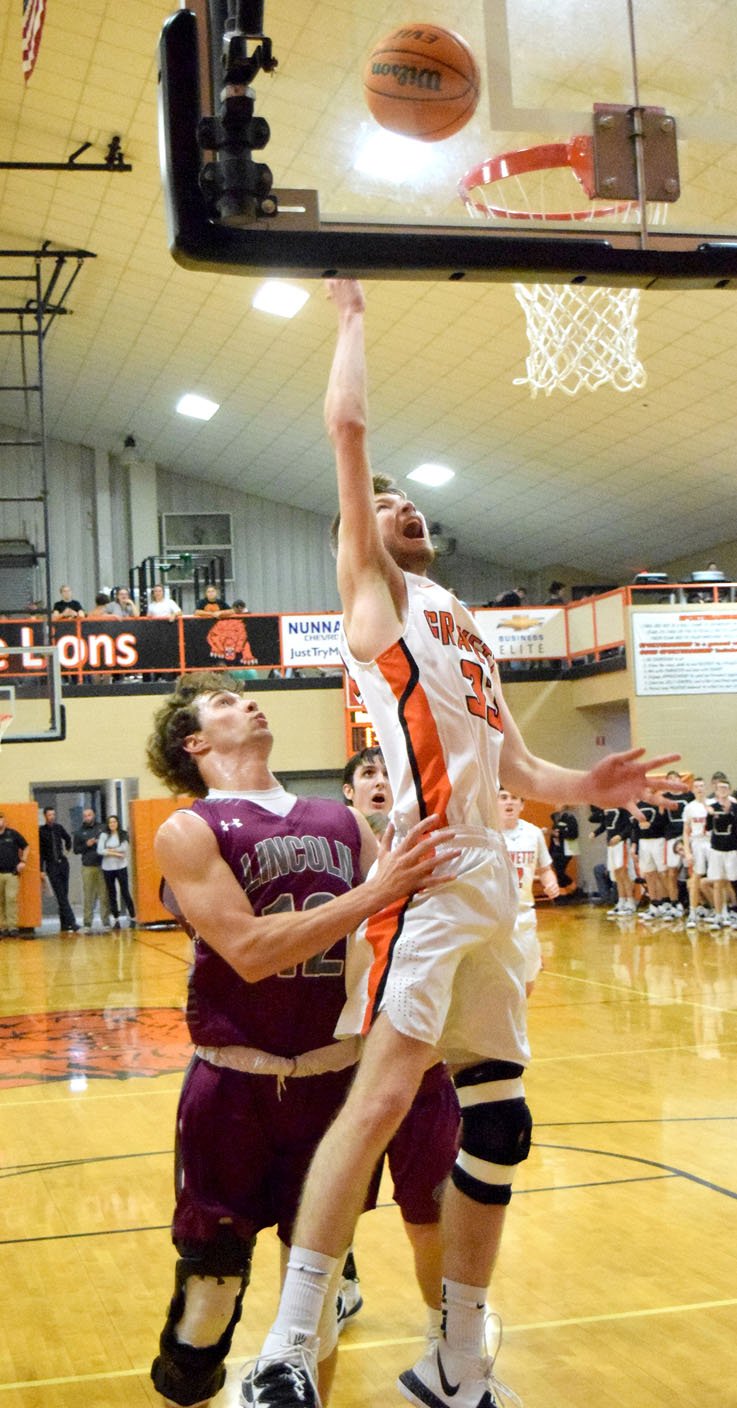 Westside Eagle Observer/MIKE ECKELS Kaleb Furlow (15) snatches a Lions rebound away from Cole Criscom (Wolves 45) during the first quarter of the Gravette-Lincoln varsity game Dec. 3. The Lions lost to the Harrison Goblins, 63-58, in the conference season opener Dec. 20 in Harrison.
WESTSIDE -- Santa failed the Gravette Lions once again this year when the Harrison Goblins caught their second wind early in the third quarter to achieve a win by five in the Lions' conference opener in Harrison Dec. 20.
The Lions held the lead throughout much of the first half and into the second. But the Goblins hit a run that tied the game at 39, just minutes into the third quarter. Harrison hit two straight field goals to take a four-point lead over the Lions.
A field goal by the Lions put Gravette down by two. A free throw put the Goblins back up by three. Gravette made another field goal to cut the Harrison lead to one by the end of the third quarter.
The Lions tied the contest at 45-all early in the fourth quarter. A free throw by Gravette put the Lions up by one. The lead changed one final time in Harrison's favor and this time the Lions would not be able to take the lead back. The Lions closed to within one point before the Goblins went on an offensive run. The Harrison Goblins took the conference win, 63-58, over the Gravette Lions.
The Gravette Lions return to action Jan. 7 when the team returns to the Lion Fieldhouse in Gravette for a 7 p.m. contest against the rival Gentry Pioneers.
Sports on 01/01/2020
Print Headline: Lions lose conference opener to Goblins in Harrison
Sponsor Content
Comments