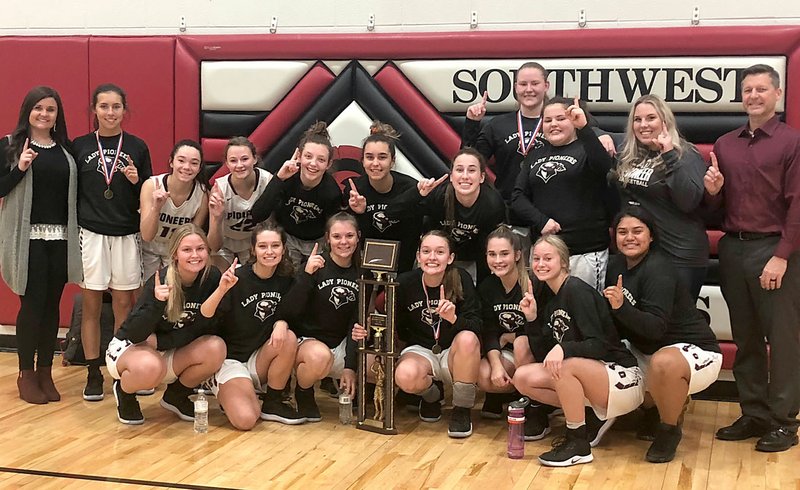 SUBMITTED The Gentry Lady Pioneers, with assitant coach Courtney Milsap (left) and head coach Toby Tevebaugh (right), show off their trophy after sweeping the Southwest Tournament in Missouri over the Christmas break.
GENTRY -- The Lady Pioneers took first place in the Southwest Tournament played in Missouri over the holiday break, beating Cassville, 52-22; East Newton, 42-23; and Southwest in Washburn, 53-21.
After matching Cassville point for point in the opening quarter Dec. 30 with treys from Meledy Owens and Ariel Nix and another foul shot by Nix, the Lady Pioneers jumped ahead in the second quarter, scoring 19 points and holding Cassville to six. Owens sunk two more three-pointers, with Emily Toland putting in two shots under the basket and Ahrya Reding, Jaiden Wilmoth and Heidi Vinson also hitting a goal in the quarter. Nix added two at the free-throw line and Toland one.
In the third quarter, Gentry held Cassville to three points while putting another 14 on the board. Toland added six points (two from the free-throw line), and Reding four. Nix and Vinson added two each.
Cassville put in six points in the final quarter, but Reding, Darien Welch and Alexis Fowler hit treys, and Welch added three more at the line for the 52-22 finish and the tournament trophy.
Gentry 42
East Newton 23
The Lady Pioneers played East Newton at Southwest in Washburn on Dec. 28 and came away with a 42-23 win.
It was 13-7 in favor of Gentry after the first quarter, 20-10 at the half, 30-15 after three and 42-23 when it was over.
Ariel Nix led the Lady Pioneers with 14 points in the game. Emily Toland had 11, and Jaiden Wilmoth eight.
Gentry 53
Southwest 21
At Washburn, Mo., the Lady Pioneers beat Southwest, 53-21, on Dec. 26.
Gentry was up 14-3 at the end of the first quarter and 26-8 at the half. It was 46-14 after three and 53-21 when the final buzzer sounded.
Emily Toland scored 13 points for Gentry in the game. Ariel Nix had 10, and Reding nine in the game to lead their teammates in scoring.
Sports on 01/08/2020
Print Headline: Lady Pioneers sweep Missouri tournament
Sponsor Content
Comments