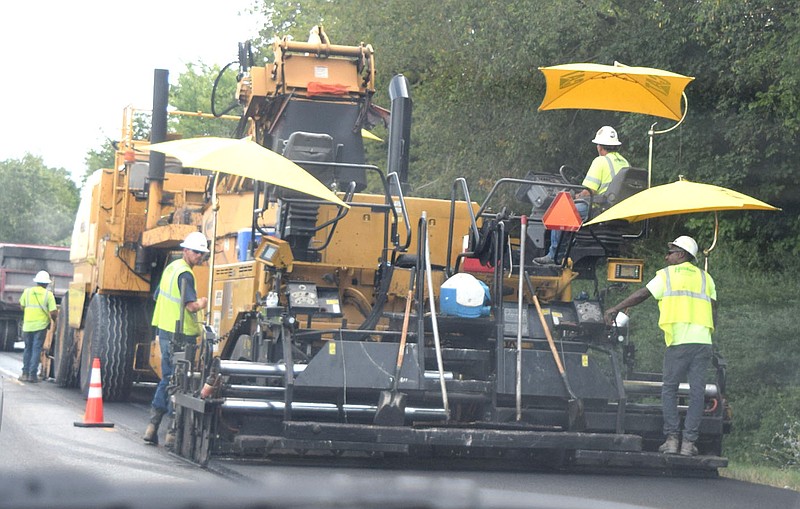 Westside Eagle Observer/MIKE ECKELS A portion of Arkansas Highway 59 across from Grand Savings Bank in Gentry receives a fresh coat of asphalt from a giant paving machine July 23. Over the next several months travelers on Arkansas 59 will experience long delays as the Arkansas Highway Transportation Department works on the old highway resurfacing project from Gentry to the Arkansas /Missouri boarder.
DECATUR -- Motorists traveling on Arkansas Highway 59 between Gentry and Gravette last week experienced significant delays due to a new overlay project underway by the Arkansas Department of Transportation.
The overlay project is the first phase of a three-phase project to overhaul the nearly 100-year-old highway that has seen traffic numbers nearly double over the past 10 years.
The first phase of the project began July 6, with the highway department stripping off asphalt from certain sections of the road between Gentry and Gravette. The overlay began July 20 in Gentry from the stoplight at the intersection of Highways Arkansas 12 and 59 northward.
Phase one involves overlaying two inches of asphalt from Gentry to the Missouri state line and is expected to be complete by the end of 2020. The cost of this portion of the project is $3,915,199.
Phase two involves the replacement of the Decatur Branch and Wolf Creek bridges in Decatur. The current structures will be replaced with two reinforced concrete box culverts and will be considerably wider than the present bridges. The projects are expected to be completed in early 2022.
The third phase of this project involves the construction of a set of passing lanes near Decatur and Sulphur Springs.
"One set is one extra lane going north and one extra lane going south, typically offset from one another," said James Ward of ARDOT by email.
This project will not go up for bids until September 2021 with a completion date of mid-2022.
A separate project in the works along Arkansas 59 involves putting up a stoplight at the Simmons Prepared Foods plant road located between Decatur and Gentry. The stoplight will allow traffic to flow smoothly during shift changes at the plant. The light is expected to go online within the next week.
Travelers traversing Arkansas 59 in the next two years can expect significant delays as several sections of the highway will be reduced to a single lane. ARDOT urges motorists to use extra caution when driving through the work zones and to watch out for workers and vehicle movement within these zones.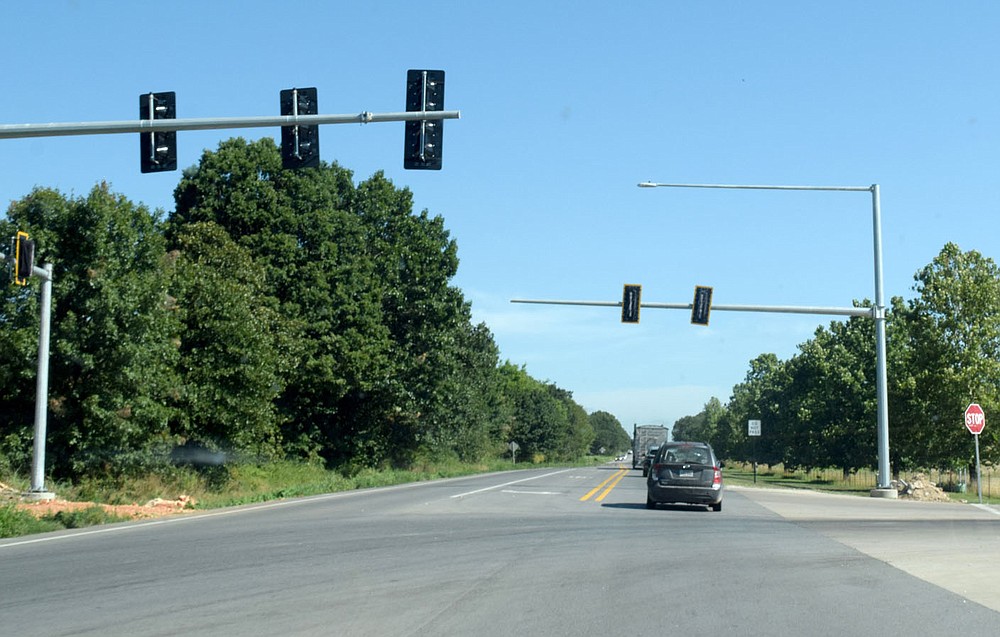 Westside Eagle Observer/MIKE ECKELS A set of new stop lights at the entrance to the Simmons Prepared Food plant on Arkansas 59 between Decatur and Gentry July 23 get ready to go into operation soon.
Sponsor Content
Comments