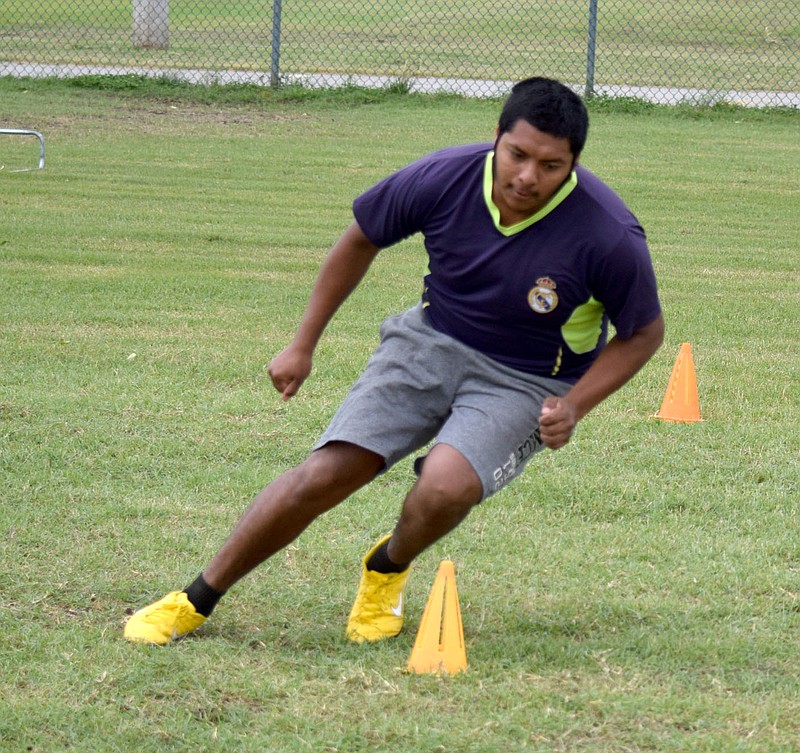 Westside Eagle Observer/MIKE ECKELS Carlos Hernandez circles around a cone as he finishes a speed drill during the 2020-21 Decatur football light practice session at Bulldog Stadium June 10. The Arkansas Activities Association cleared some high school sport to practice drills during June until mid-July. Coaches and team assistants are required to wear masked and gloves throughout each practice session.
DECATUR -- The Decatur football program, under the direction of new head coach Grant Hutson, began light practice June 9 at Bulldog Stadium with strict Arkansas Activities Association (AAA) rules for practices in accordance with its covid-19 guidelines.
Under the Stage One reopening guidelines set up by AAA and Governor Asa Hutchinson, coaches and staff members are required to wear masks and gloves and observe social distancing. Athletes are not required to wear masks while they are working through drills but must observe social distancing and wear masks when they are not practicing. Also as a part of the covid-19 mandates, all athletes and personnel must have their temperatures checked when they enter Peterson Gym.
Hutson had nine senior high football players turn out for light practice consisting of agility and speed drills.
While Hutson worked with the senior boys, JC Dorsey, high school science teacher, worked with 12 junior high athletes on similar drills. Dorsey was named assistant football coach and junior high coach.
Both Decatur teams will work on a three-day practice schedule throughout June and will pick up on a regular schedule after the July 4 holiday.
Whether or not the football season is allowed to kick off in August depends on the direction that the covid-19 pandemic takes in the next two months, but one thing is sure. When Decatur senior high takes to the field at Bulldog Stadium for its third exciting season of eight-man football, it will be a highly celebrated day.
Sponsor Content
Comments