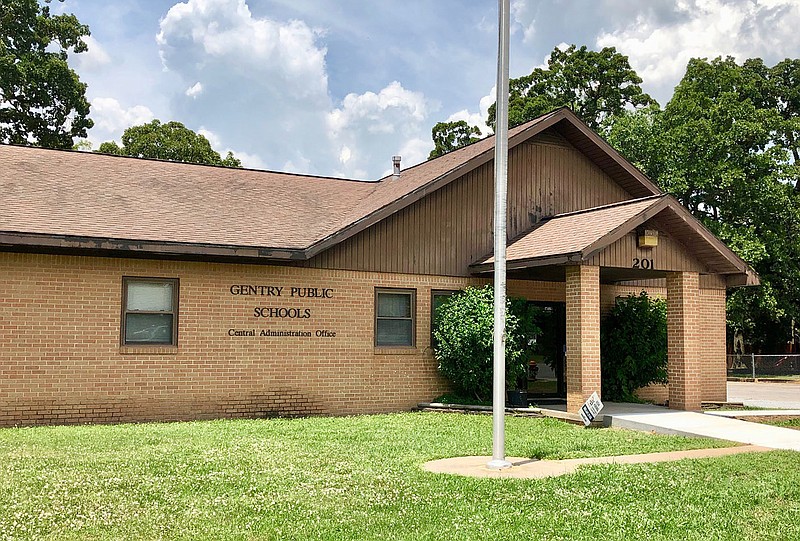 Westside Eagle Observer/RANDY MOLL The administration building of Gentry Public Schools is pictured on Friday.
GENTRY -- Because of parent concerns regarding the coronavirus and the spread of covid-19, the Gentry School District is offering parents the choice of sending their children to the schools for onsite instruction this fall or enrolling their children in online classes through the newly created Gentry Pioneer Virtual Learning Academy.
Virtual instruction will be available for students in grades kindergarten through 12th grade, but certain requirements must be met for students to qualify to participate in the new program and the deadline for enrollment is fast approaching.
Students who enroll in the virtual instruction model will remain students of the Gentry School District and will receive instruction from Gentry School District teachers. They will also be eligible to participate in sports programs and other extracurricular activities but will be required to be present for practices and events.
Students enrolling for online instruction are also eligible to take the career and technical training offered by the district but will be required to attend onsite sessions for portions of those classes requiring hands-on instruction. This applies to certified nursing aide courses and diesel mechanic instruction where skills must be taught and specialized equipment used.
Students enrolled in the virtual learning program will be supplied with Chromebooks with the needed applications and extensions to attend virtual classes and complete their coursework.
The district began taking applications for the Virtual Learning Academy on June 16, and registrations are scheduled to close on June 30. To apply to enroll children in the virtual learning academy, visit the school district website at https://gentrypioneers.com and click on the Gentry Pioneer Virtual Learning Academy application link.
Parents who register their children for online instruction will be making the commitment on a semester-by-semester basis, meaning students enrolled in the virtual academy for the fall semester may not return to onsite classes until the spring semester.
Enrollment in Pioneer Virtual Academy for the spring semester is scheduled to open in October 2020.
The school district will be using Google Classroom in the virtual academy this fall, with additional platforms being used in each school, such as Seesaw in the primary school and Summit and APEX in the upper grades.
A Tuesday post on the Gentry School District's Facebook page said: "In response to your thoughtful questions and concerns, we are extending the deadline to enroll in the Pioneer Virtual Learning Academy to July 10, 2020. We are also compiling a FAQ guidance document to send out very soon. We want to give families more time and information to make an informed decision about school in the fall. This is a fluid situation, and we will continue to keep you updated as we get information. Thank you for your patience, and we are listening."
Sponsor Content
Comments