Gwena Dye (left), a student at John Brown University returning home to Italy, checks in for her flight Wednesday, May 13, 2020, with Sandra Valle at the Delta Airlines desk at Northwest Arkansas National Airport in Highfill. The airport has installed sneeze guards at desks where staff interact with passengers and hand sanitizer dispensers throughout the airport. Go to nwaonline.com/200517Daily/ to see more photos. (NWA Democrat-Gazette/Ben Goff)
HIGHFILL -- Travelers are slowly returning to Northwest Arkansas National Airport, and officials say they'll continue planning and design work for several major renovation and expansion projects.
Board members and staff said they are generally optimistic air travel will return to some semblance of normal, although they aren't sure how long that's going to take with the spread of covid-19 prevalent in the region.
For May, the airport had 8,725 passengers, which is down 89.8% from May 2019. From Jan. 1 through the end of May, it had 180,118 passengers, down 47.4%, year to date. But, Tim O'Donnell, chief financial officer, told the board traffic is now increasing, although incrementally.
"Obviously, the enplanement numbers were pretty poor for April, down 96%, so from a revenue perspective, naturally we didn't do very well. In May, down 90," O'Donnell said. "We're probably trending toward a little bit of a better result as we look at the June numbers because we're maybe a little bit ahead of things -- a few percentage points -- so, it's all relative."
Aaron Burkes, chief executive officer, said the airport's numbers are basically tracking national numbers.
"We're basically at 16% of 2019 numbers, just like they are nationally. I think that's a little bit better than what we had projected," he said.
Revenue has been off a corresponding amount, although the airport recently received an $8.2 million federal grant that is being used to pay bond debt and make payroll. O'Donnell said he doesn't expect revenue to increase because airline payments have been waived for now, they'll be repaid next year, and rental car companies are paying a minimum amount.
Burkes said another metric is seat capacity within the market, the seats for which airlines are selling tickets.
"For May, we were down 76%; June, we're down 73%; and for July, we're down 55%. So, again, we're seeing a pretty nice increase in capacity that the airlines are putting in the market," Burkes said. "We're pretty closely mirroring national numbers on that as well. They're putting more planes in the market pretty wide."
XNA went from 329 flights in the last week of February to 19 a few weeks later, according to U.S. Department of Transportation data. The airport averaged 302 flights a week in 2019.
Kelly Johnson, chief operating officer, said airlines are starting to increase the number of flights again.
"We've gone from 10 flights a day in April to, in July, we'll have basically 20 flights a day," Johnson said.
Officials said most of the traffic through the airport now consists of recreational travelers. Traditionally, the airport has been seen as primarily a business travel airport, with that segment making up about 60% of all traffic.
"On the front end of this, we thought maybe business travel would rebound faster than leisure travel, and it's absolutely been the other way around," Burkes said.
Stan Green, a board member, said he doesn't expect business travel to be back for some time.
"I think most of the businesses that I have exposure to on a daily basis, especially in the Walmart vendor community, the national people there, they basically don't know when they're coming back to work in the office," Green said. "And, we're hearing some dates from now August and September at the earliest, so our economists expect business travel wouldn't pick back up until they're ready to start putting people back in an office."
Burkes said that's when he's hearing as well.
"We're hearing the end of the year in some cases for some of these employers," Burkes said.
Airport officials, in nonbinding consensus, agreed Wednesday to continue with the renovation and expansion projects even while conceding it could be from a couple years to a decade before they'll need to be built.
Green said the board has been discussing the construction projects for at least the last two years, and he'd like to keep them moving as much as is possible.
The projects include a sky bridge between the parking deck and terminal, remodeling the second floor of the terminal, a second concourse, a new rental car facility and baggage claim expansion.
"I've never seen anything good come from waiting and delaying on things that you're ultimately going to have to do," Green said. Officials can't change the effects of the covid-19 pandemic; all they can do is move forward, he said.
Green said when work began to build a new airport in Northwest Arkansas, no airlines were signed up to use the facility.
"We had to believe that we were going to and, thank goodness, we did because the region grew and Drake Field wouldn't have kept up with it," Green said.
"I'm going to continue to be optimistic that our traffic is going to come back. It may be two or three years; it may be a year. We just don't know at his point. But the investments that we're talking about making are relatively small investments in the overall scheme of things, but they let us keep making progress."
Board member Mike Johnson said he'd also like to proceed, with the understanding when design gets through the conceptual stage, there may well be a pause.
"We want a team on board. We want to get to the point where we know what we're going to design," Johnson said. "It's been clearly articulated to the team that at the end of conceptual or the end of schematic or whatever we determine, there may be a year or two pause, depending on what's going on. But at least we will have filled up that six to nine months or a year that we would have lost otherwise."
Johnson said the board can decide later which of the projects it makes sense to pursue, depending on the environment at that time.
Burkes said the cost would likely be several hundred thousand dollars to go as far as suggested by the board members.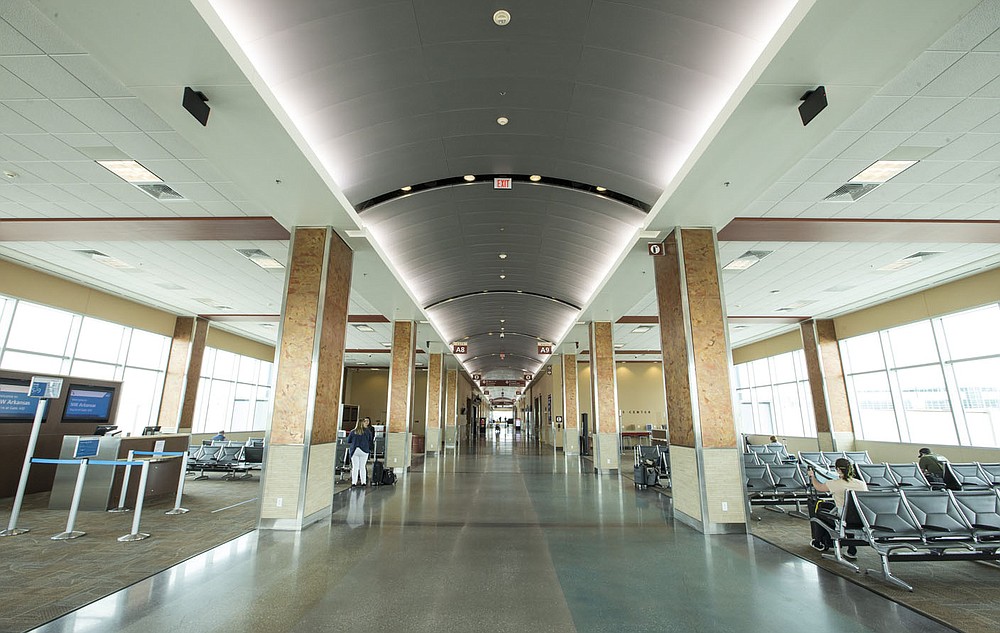 Passengers wait for a departing flight Wednesday, May 13, 2020, in a mostly empty concourse at Northwest Arkansas National Airport in Highfill. Go to nwaonline.com/200517Daily/ to see more photos. (NWA Democrat-Gazette/Ben Goff)
Sandra Valle with Delta Airlines helps a passenger Wednesday, May 13, 2020, at the check in desk at Northwest Arkansas National Airport in Highfill. The airport has installed sneeze guards at desks where staff interact with passengers and hand sanitizer dispensers throughout the airport. Go to nwaonline.com/200517Daily/ to see more photos. (NWA Democrat-Gazette/Ben Goff)
Sponsor Content
Comments