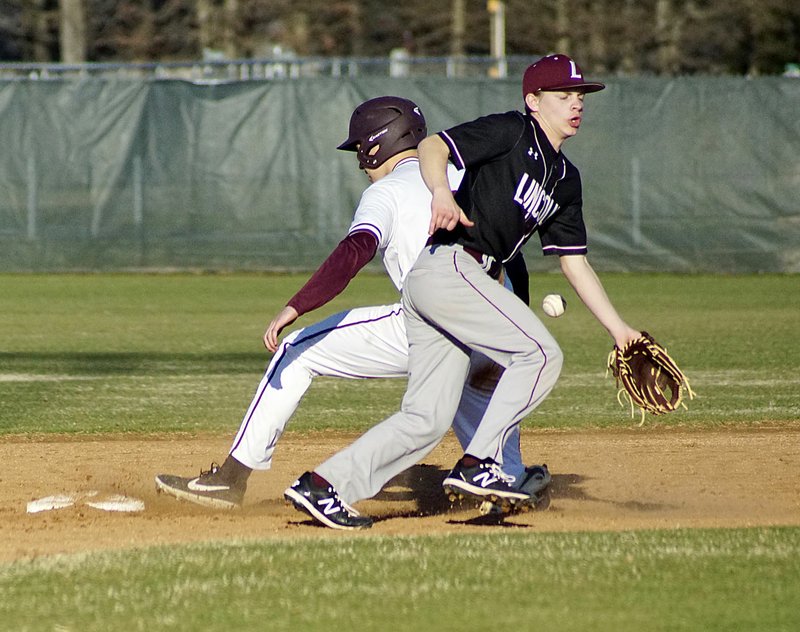 Westside Eagle Observer/RANDY MOLL Gentry's Azariah Wood slides into second ahead of the throw during play against Lincoln in Gentry on March 10.
GENTRY -- Five different Lincoln players scored runs but Gentry (2-3) more than doubled the Wolves' production, beating Lincoln 11-5 in nonconference baseball action Tuesday, March 10.
Each team recorded 9 hits and left 7 runners on base. The difference was every Gentry hit drove in a run and the Pioneers took 8 bases on balls. Lincoln (2-3) took an early 3-0 lead in the top of the second inning, but Gentry countered with a pair of runs in the bottom of the second, then added 2 more in the third and fifth innings before pushing 5 runs across in the sixth.
Gentry's leadoff batter Seiren Reding was hit by a pitch and the next guy up, Ben Philpott, walked.
Reding went to third on a passed ball; then Lemke ground into a fielder's choice at shortstop, scoring Reding. Philpott was out trying for second. Wright singled on a line drive to right field, putting Lemke in prime scoring position at third. Wright stole second and eventually scored behind Lemke when Wilmoth singled into left field with a grounder. That put the Pioneers up 9-4 and they weren't done yet. Wilmoth and Feathers, who bunted his way aboard, scored the final two Gentry runs on passed balls.
Lincoln could only manage a solitary run in the seventh, adding to one the Wolves got in the sixth, not enough to catch up to the Pioneers.
Gentry got multiple hits from three different players, none of which struck out. Dawson Wright went 3-for-4, scoring 3 runs with 2 RBIs and 2 stolen bases. Brayden Feathers was 2-for-3, scoring twice with a pair of RBIs and a base on balls plus 2 successful steals. Ross Wilmoth was also 2-for-3 with a run scored, 2 runs batted in and took a base on balls.
Kyle Dilbeck (2) and Colby Young contributed to Gentry's 7 stolen bases while Isiah Lemke and Reding doubled for the Pioneers.
Lemke threw 49 pitches over 3 innings, allowing 2 runs on 4 hits, striking out 6 with no walks, while Feathers needed 45 pitches to get through 3 innings with 3 runs on 4 hits, 1 base-on-balls and 3 strike-outs.
Lincoln spread out its attack among Jasper Terry (2-for-3, 1 RBI), Jackson Endaecott (1-for-2, 1 RBI 1 run), Chase Hutchens (1-for-3, 1 RBI, 1 run), and Ian Jackson (1-for-4, 1 RBI),
Noah Moore went 2-for-4, doubling twice, and scored a run. Hutchens also doubled.
Cody Webb successfully stole two bases and Hutchens made good on one attempt but the Wolves were thrown out twice. The Wolves finished 9-for-28 and struck out 9 times.
Lincoln used several different pitchers, with the bulk of the work between Levi Wright (2 innings, 43 pitches, 3 hits, 2 runs, 1 strike-out, 3 walks) and Weston Massey (3 innings, 39 pitches, 3 hits, 4 runs, 1 strike-out, 1 walk). Wright took the loss.
Sports on 03/18/2020
Print Headline: Gentry Pioneers out-bat Lincoln Wolves for victory
Sponsor Content
Comments