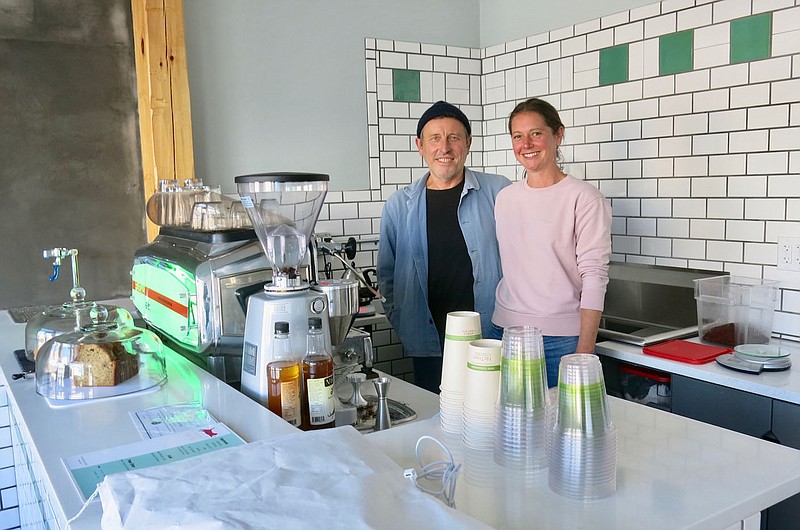 Westside Eagle Observer/SUSAN HOLLAND Steven Kann and Emily Gilliom pause behind the counter at their newly opened Flyer Coffee shop at 123 Main Street S.E. in Gravette. The shop, which offers several flavors of espresso, as well as mocha, hot chocolate and baked goods, is open 9 a.m. to 6 p.m. Tuesday through Friday, 10 a.m. to 4 p.m. on Saturday and 10 a..m to 4 p.m. on Sunday.
GRAVETTE -- Flyer Coffee is now open on Main Street in Gravette. Partners Steven Kann and Emily Gilliom opened the shop at 123 Main St. S.E. the last week of October. Open hours for the business are 9 a.m. to 6 p.m. Tuesday through Friday, 10 a.m. to 5 p.m. on Saturday and
10 a.m. to 4 p.m. on Sunday. The shop is closed on Monday.
The couple's cat, Catpuccino, provided the name for the business because they said the striking white feline often sleeps with legs sprawled out to make her look as if she's flying. They also wanted to make a connection with local history so the name reflects the proximity of the Lockheed T-33 jet aircraft in Kindley Park just a few blocks east.
Emily and Steven moved to Arkansas from Bolinas, Calif., about a year ago. He was born in Kansas City, Mo., and still has relatives there on a farm that has been in the family for centuries. Emily is a native of Washington state. They came to the area since both had relatives nearby.
The coffee shop is a new venture for both owners. Steven has done finish work for many years and Emily has several years of experience working in and managing restaurants throughout the San Francisco Bay area.
Visitors to Flyer Coffee are greeted with the tantalizing aroma of roasted coffee beans. Customers may choose from a variety of classic espresso drinks, as well as seasonally changing housemade flavors. Lattes, mocha and hot chocolate are also available, as well as a smaller 8 ounce hot chocolate with whipped cream for the kids. The pumpkin spice latte is especially popular now. Iced coffees include a New Orleans au lait and horchata cold brew.
Tasty baked goods may be purchased to accompany one's brew. Steven says the sourdough banana bread has been a big hit. Other choices may include croissants, scones and cookies, including oatmeal walnut raisin and pumpkin snickerdoodle. All ingredients are organic, and local when possible, including grains from War Eagle Mills and chocolate from Markham and Fitz.
Emily and Steven invite all in the area to come in, get acquainted and sample their wares. Daily specials are offered and customers can sit at a pair of sunshine yellow tables on the sidewalk out front to enjoy their choices. They plan to soon have tables and chairs in the shop and a counter with stools for seating where patrons can use their laptops while enjoying refreshments.
Persons wanting to learn more about Flyer Coffee may contact the owners by email at [email protected] They can also go to flyercoffeenwa.com, where they can find a link to its Instagram page.
Sponsor Content
Comments