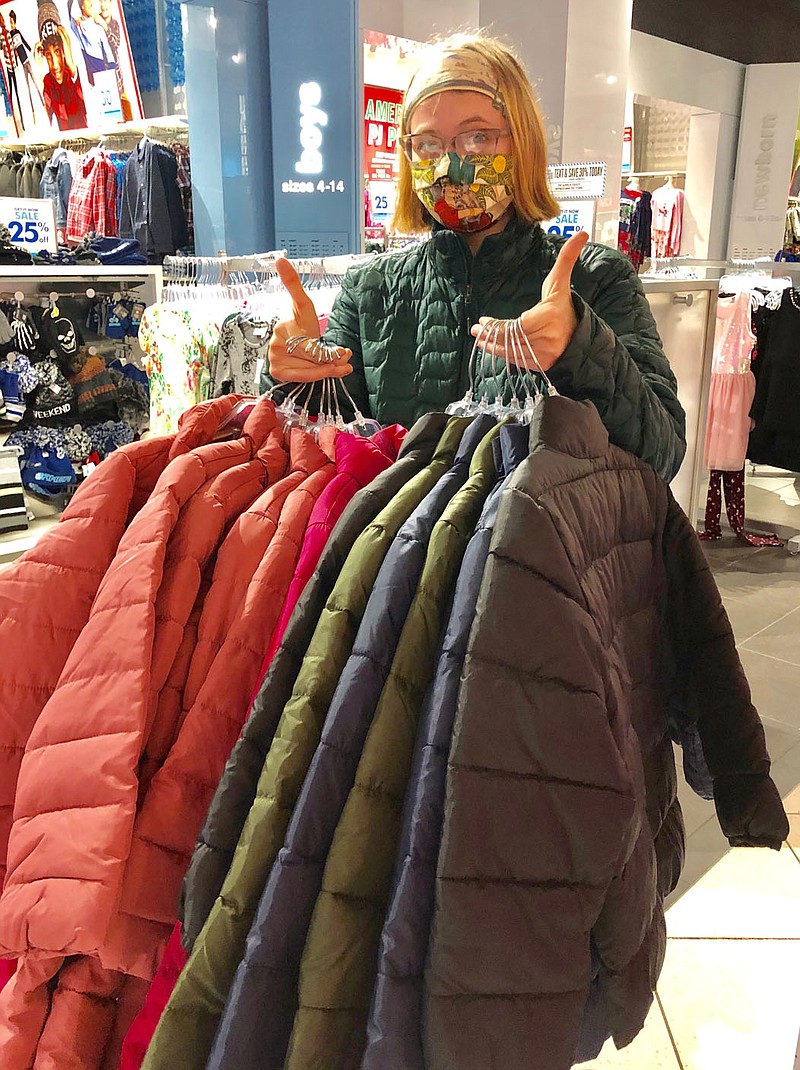 Submitted Photo Alyssa Allen displays some of the many coats recently purchased to distribute in her third annual Give Warmth clothing drive. Allen is a 2019 Gravette High School graduate who works with Bright Futures to ensure that needy students in the school district are supplied with warm clothing for the winter.
GRAVETTE -- Alyssa Allen, a 2019 graduate of Gravette High School, this year organized her third annual Give Warmth clothing drive. With the help of the Bright Futures organization in Gravette, she worked to collect coats, socks and underwear for underprivileged students in the Gravette School District. Because of the covid-19 pandemic, masks were added to the donation item list this year and Allen arranged to have them all donated by Olive Loom in Fayetteville.
"This year we knew the need would be greater," Allen explained. "The number of kids to serve nearly doubled, to over 100 students, in the Gravette schools. Most of the coats we need are for children but about a third of them are for young adults," she said.
Alyssa, who is now a student in the honors college at the University of Arkansas, explained that she started this project because she experienced similar needs when she was growing up. She noted that the collection project would not be possible without the help of Bright Futures and expressed appreciation in particular for Heather Finley, Bright Futures president, who works with her on the project. Bright Futures donated funds to ensure that coats could be purchased for all children on the list.
"I feel personally connected to the cause," Allen said. " I recognize the importance of including socks and underwear because they are essential items that are often overlooked when it comes to providing the basics for children in need. I believe that all children, no matter how rural, deserve coats, so we offer delivery to any home of a child in need to help mitigate potential poverty shaming."
Alyssa explained that the counselors at the Gravette schools help identify children who might be in need of the clothing she collects. Clothing items were delivered Tuesday, Nov. 10. Deliveries were made directly to some children at their homes and arrangement was made for others to pick up their clothing at the First Christian Church in Gravette.
"I feel that it's important for us to collectively invest in the esteem of the future leaders of Gravette. Giving warmth is the perfect way to do that," Allen said. "Gravette deserves mutual aid from its own community members to its own community members. Give Warmth is a great way to show we love our neighbors," she continued.
Lake Musgrave, a fellow student who served as lead organizer, helped Allen deliver the clothing. "While delivering the coats, I was shocked by the clear and present need and humbled by the gratitude of the recipients," he said.
Sponsor Content
Comments