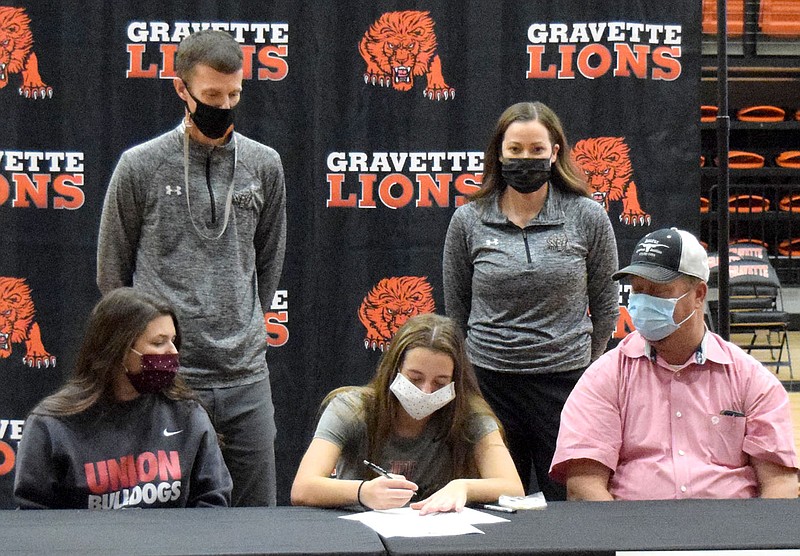 Westside Eagle Observer/MIKE ECKELS Shylee Morrison (center) signs a Letter of Intent with Union University in Jackson, Tn. during a signing ceremony in the new gym at Gravette High School Nov. 11. Both Morrison's parents Shawn Sperry (right), Mindy Sperry (left) along with Lady Lions coach Will Pittman (upper left) and assistant coach Kayla Shortt lend their support during the event.
GRAVETTE -- Shylee Morrison, the Lady Lions' varsity sensation for the past two seasons, signed a letter of intent to play college basketball with the Union University Bulldogs, located in Jackson, Tenn., a Division II college about 70 miles east of Memphis.
Will Pittman, longtime Gravette Lady Lion head basketball coach, opened the signing ceremony, which was held Nov. 11 at center court of the new gym at Gravette High School, the new home of Lady Lion basketball. Pittman, who coached Morrison throughout much of her junior high and high school career, reflected on the road that led up to the Wednesday afternoon event.
"Basketball is a great experience," Pittman began. "And when you get a chance to continue that experience for another four years, it is something pretty special and doesn't come without a lot of hard work."
Attending the event were Morrison's teammates and the Lion varsity boys along with many family members and friends, all observing covid-19 protocol.
"Any of you that have been around Shylee for a long time know how much hard work she does and how much time she puts in," said Pittman. "These opportunities don't just fall in your lap."
For Coach Pittman, a player like Morrison is an extremely valuable commodity and one that wins games and district, regional and state playoffs. He reflected on some of her career, including breaking the 1,200 point mark, which she accomplished during the season opener against the Siloam Springs Lady Panthers in the new gym the night before the signing ceremony.
"Shylee averaged 21 points a game, 56 percent, from the field which is good for a guard, " Pittman began. "That included 40 percent from the three-point line. As a point guard, she led us in rebounds, assists and, at the end of last season, she had 1,199 career points and now, after last night's game, she has 1,223 points. A thousand points in a career is a big deal and she still has basically a whole season left."
Pittman continued to reflect on Morrison's junior high and high school career from previous seasons with the Lady Lions.
"We are fortunate as coaches and as a program to have a player like Shylee," Pittman continued. "She has been all-conference her sophomore and junior year, all-state her junior year. In junior high, as an eighth-grader, as many of you were aware, she was a member of the team that won the (district) tournament. She was also an integral part of our district championship team as a ninth-grader and hopefully more in this year's postseason."
Coach Pittman concluded his remarks with a little reflection on what it's like to have a player of this caliber on a varsity team.
"As I said before, Shylee is a great individual. I think everybody up here will tell you that as well," said Pittman. "For me, she is like another coach on the floor and I appreciate that. There aren't enough good things you can say about a person like Shylee. You hate to lose them but you can be glad that she has been part of your program."
At the conclusion of Pittman's remarks, Morrison, with her mother Mindy Sperry on her left and her father Shawn Sperry and little sister Ambrus on her right and Pittman and his assistant coach Kayla Shortt standing behind her, Shylee signed the letter of intent with the Union Lady Bulldogs.
By signing the letter, Morrison is committed to play with the Division II school for one academic year. Morrison also receives a basketball scholarship with Union University.
Morrison summed up her career that led to this moment in time by recognizing the many people who helped her achieve her goal of playing college basketball.
"This is for my teammates, my coaches and my family, especially my little sisters (Ambrus and Adalee) who are my biggest cheerleaders, and all who have contributed to my growth as a player," Morrison concluded.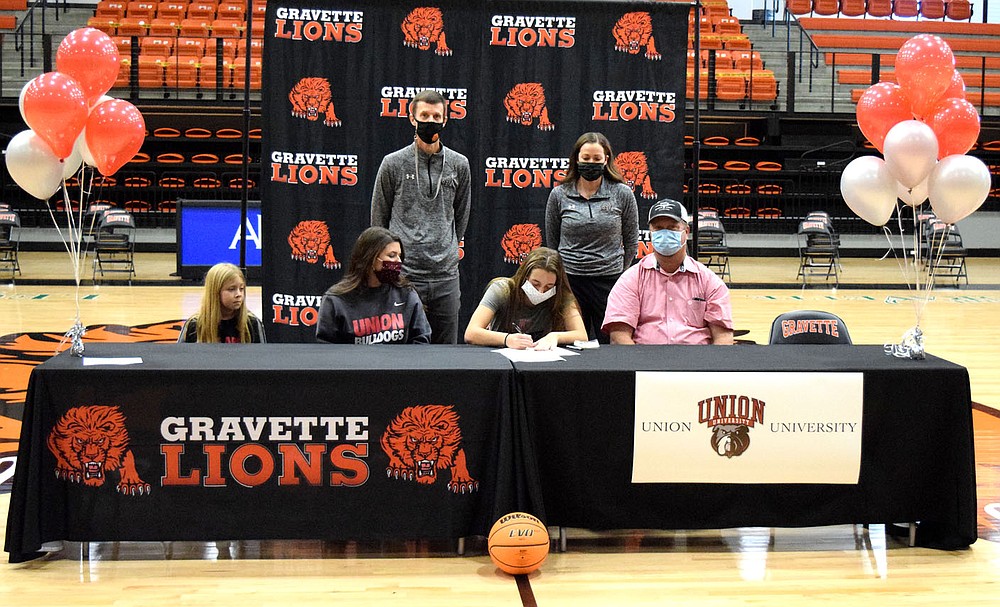 Westside Eagle Oberserver/MIKE ECKELS Shylee Morriosn (third from left) signs a basketball Letter of Intent with the Union University Lady Bulldogs Nov. 11 in the new gym at Gravette High School. Joining Morrision for this event was her sister Ambrus (bottom row, left) parents Mindy and Shawn Sperry, Will Pittman (back row, left) and Kayla Shortt.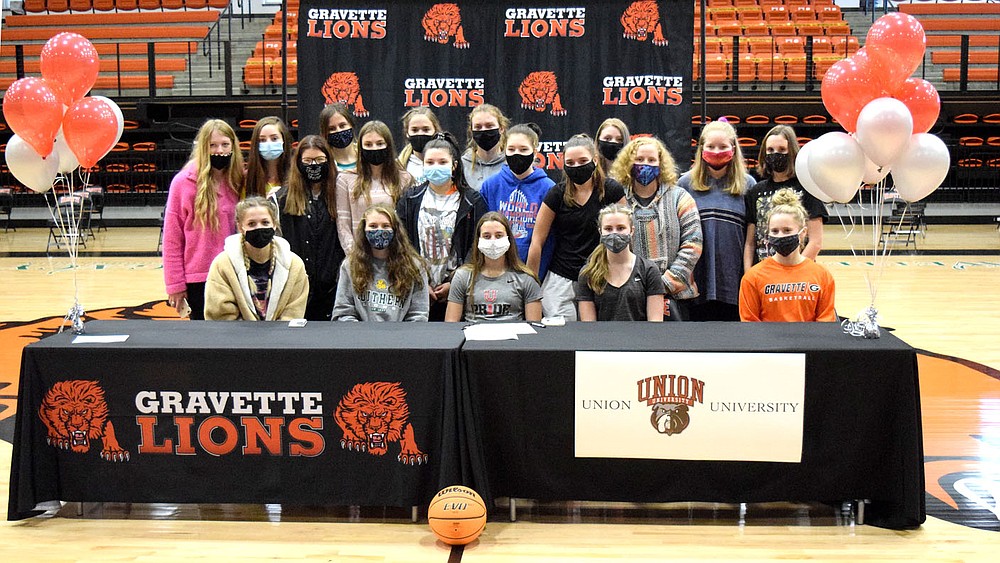 Westside Eagle Oberserver/MIKE ECKELS After signing a Letter of Intent with Union University in Jackson, Tn, Shylee Morrison (front row center) is joined by members of the Gravette Lady Lions varsity basketball team during a ceremony in the new gym at Gravette High School Nov. 11.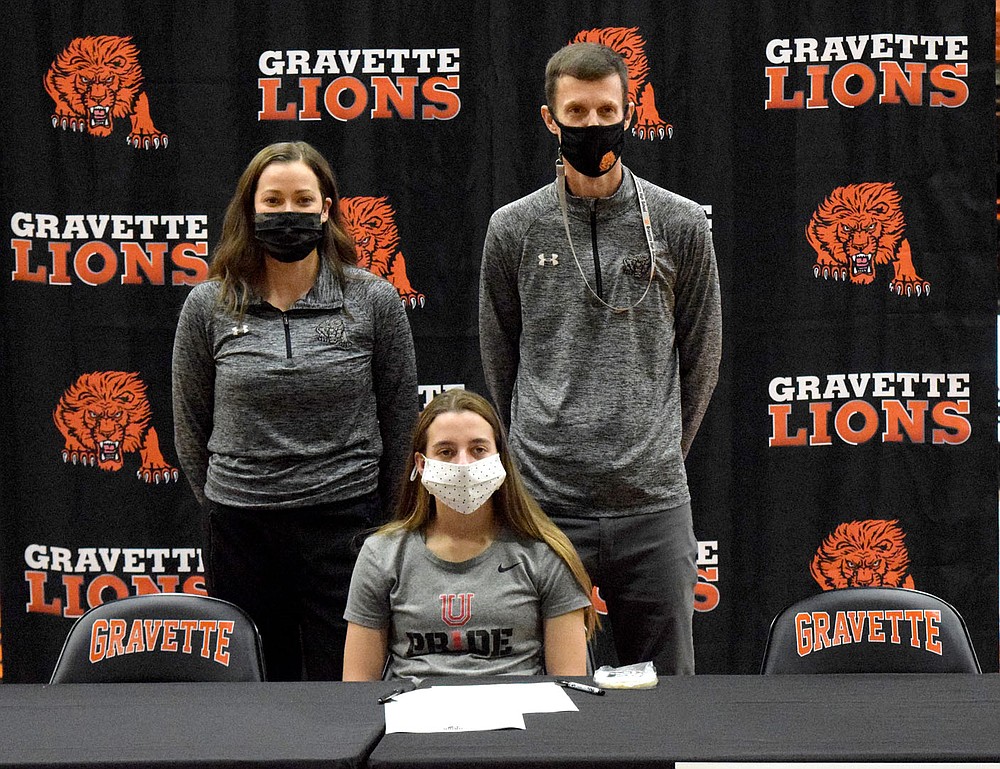 Westside Eagle Observer/MIKE ECKELS Shaylee Morrison (seated) poses with Coach Will Pittman (right) and assistant coach Kayla Shortt during a short Letter of Intent signing ceremony in the new gym at Gravette High School Nov. 11. Morrison will attend Union University in Jackson, Tn. on a full basketball scholarship.
Sponsor Content
Comments