SPRINGDALE -- The Gravette Lady Lions volleyball team had a long, hard fight on its hands Sept. 3 when the team traveled to Shiloh Christian in Springdale to take on their conference rivals, the Lady Saints. The result was less than favorable for Gravette, as Shiloh Christian earned the victory in three straight sets.
The Lady Saints established control of the contest during the first set, outscoring the Lady Lions nearly two to one in the early going. Gravette tried to close the gap several times but simple lapses in concentration, coupled with mistakes, plagued the Lady Lions throughout the set. Shiloh took the first set, 25-13.
In Set 2, the Lady Saints jumped out in front with nine unanswered points, leaving the Lady Lions a bit stunned. A quick time out by coach Britney Davis ended the string of points for the Lady Saints. Gravette would post three straight points before Shiloh picked up where it left off and began scoring again.
The Lady Saints took the second set, 25-11, giving Shiloh the 2-0 advantage going into the third set.
Momentum finally turned in Gravette's favor as the girls posted two unanswered points to give them the first lead of the match, but Shiloh came back with two points to tie things up.
The Lady Lions kept their focus as the team posted four more points and recaptured the lead. The Lady Lions extended their lead to six before Shiloh began to play catchup. The set was tied at nine-all when Shiloh began to surge ahead.
The Lady Lions managed five more points before the Lady Saints reached the magic 25. Shiloh captured the third and final set, 25-16, and the match victory.
In an earlier match played prior to the varsity contest, Gravette's junior varsity fared a little better, maintaining control of the first set until Shiloh put up three straight points to take the set, 25-22.
The second set was all Shiloh Christian, as the Lady Saints took the set, 25-13, to win the match in two.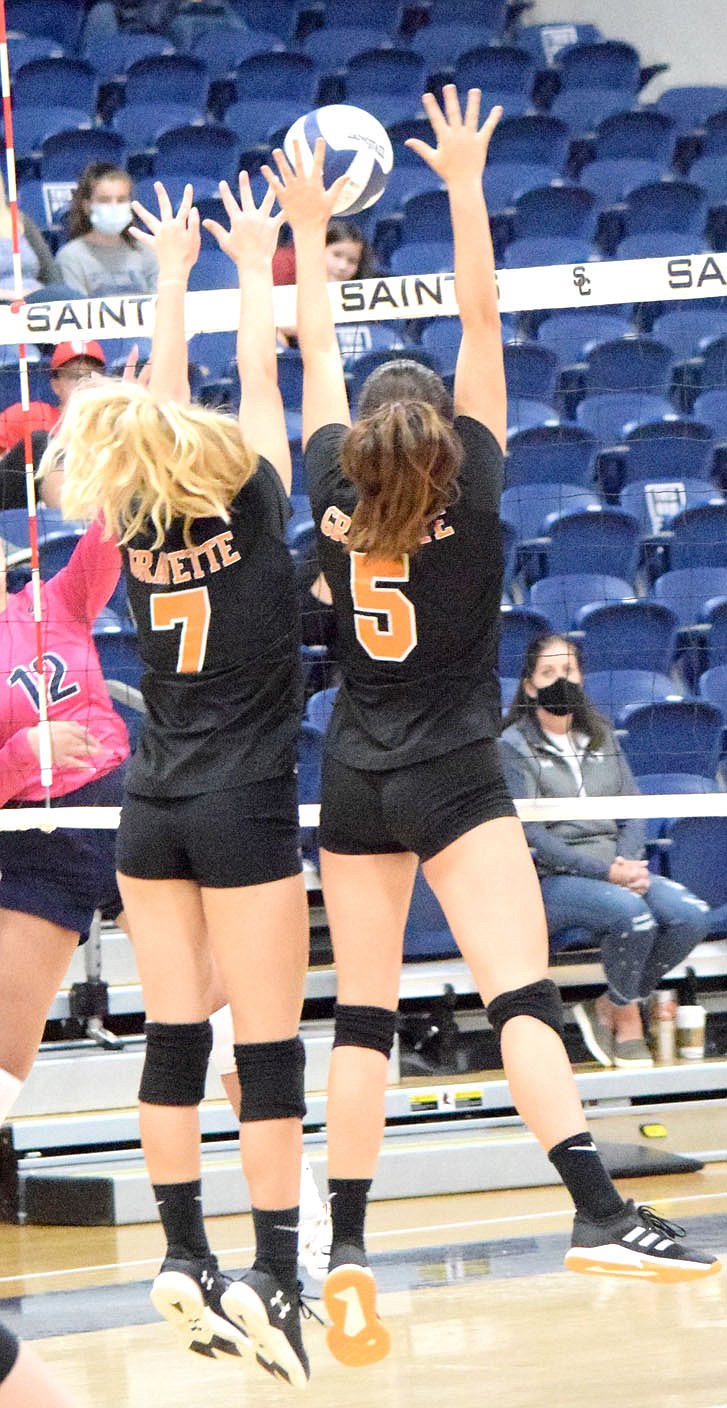 Westside Eagle Observer/MIKE ECKELS Lady Lions Nicole Vogt (7) and Lauren Irwin (5) try to intercept a hit from Lady Saints Lauren Glenn (12 far left) and deflect it back into the Lady Saints side of the court during the September 3 Shiloh Christian-Gravette varsity volleyball match in Springdale. The Lady Saints won the match in straight sets over the Lady Lions.
Westside Eagle Observer/MIKE ECKELS Jayden Reems (Gravette 8) tries to intercept the Katelyn Simpson's tip over during the Shiloh Christian-Gravette volleyball match September 3 in Springdale.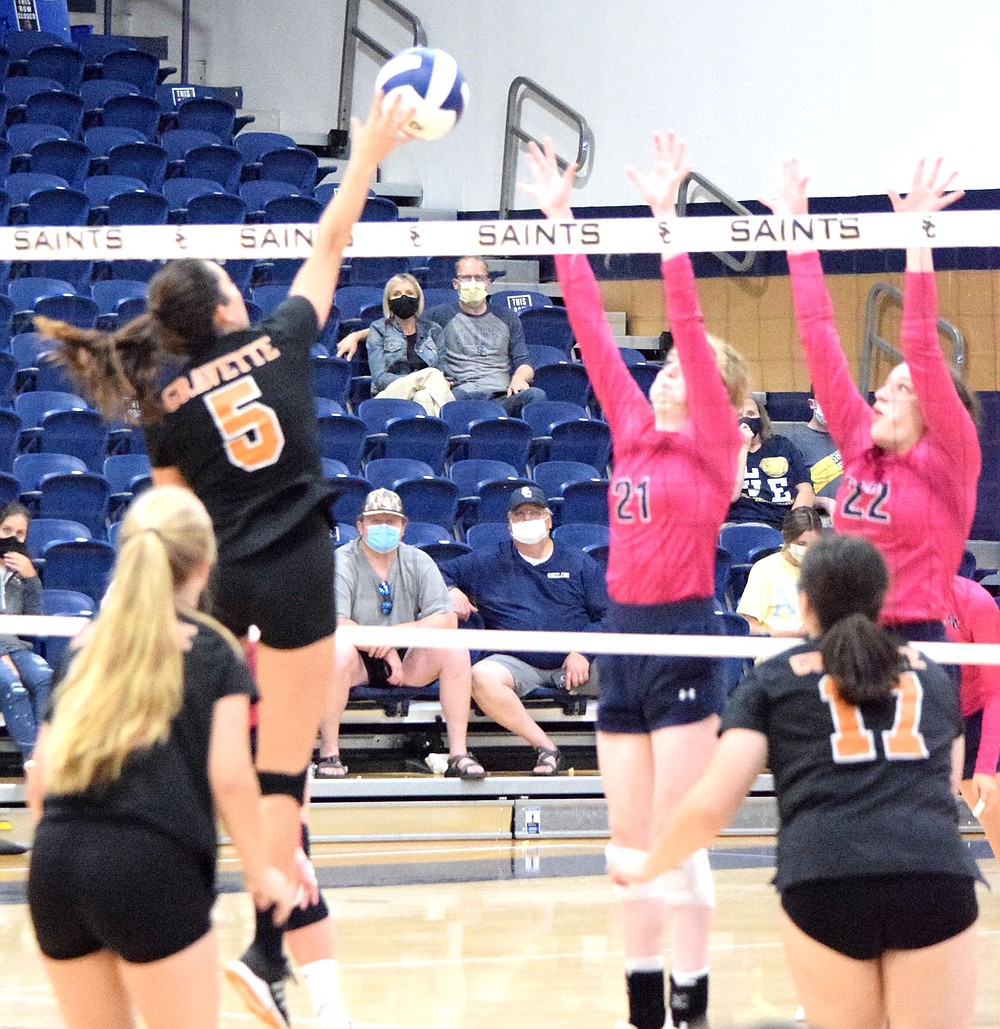 Westside Eagle Observer/MIKE ECKELS Lauren Irwin (Gravette 5) tips the ball pass Lady Saints Rylee Kallesen (21) and Jill Dudley (22) during the second set of the Shiloh Christian-Gravette varsity volleyball match in Springdale September 3. The Shiloh back field managed to intercept the ball sending it back into Gravette territory for a Lady Saint point.