GRAVETTE -- Young rodeo rider Landyn Perrine, 12, has made rodeo competition her life. In fact, you might say she has rodeo in her blood.
Her parents, John Perrine and Kelly Wilson, met at a rodeo in Georgia in 2004 where John was a steer wrestling contestant and Kelly was riding on a drill team. They reconnected later at the National Finals Rodeo in Las Vegas.
Kelly was a Georgia native who grew up and graduated from high school in Chatsworth, Ga., then attended community college in Dalton, Ga. She grew up around horses and started showing them at a young age at local horse shows. Kelly had a daughter from a previous relationship named Summer Rose. Summer followed in her mother's footsteps with a love for horses. She started riding at age 2, showing mini horses at local shows.
John, also a Georgia native, played baseball and football at Lassiter High School in Marietta, Ga. He attended Lenoir-Rhyne College in Hickory, N.C., on a football scholarship before friends got him interested in rodeo. John is a national account sales representative for J.B. Hunt. He was working in Atlanta when his employer transferred him to Northwest Arkansas. He bought a farm at the corner of Beaty Road and Honey Creek Road and moved to Gravette in December 2003. He persuaded Kelly and her daughter, Summer, then 4, to move to Arkansas in the spring of 2005.
John proposed to Kelly at the Spavinaw Supper Club on her birthday in October 2006. They were married in June 2007. He went back to Georgia for a long weekend of rodeoing in 2008 and when he came home, Kelly broke the news that she was pregnant by painting a T-shirt for Summer that said, "I'm going to be a big sister."
Kelly was scheduled for a C-section in late December. John was scheduled to travel to Las Vegas for the National Finals. Schedules changed when Kelly started having strong contractions Thanksgiving week while family was visiting. Kelly spent a long week in the old Siloam Springs hospital, where an 8-pound premature Landyn was born on Dec. 5, 2008, five weeks early.
Little Landyn followed right along in the family rodeo tradition. She started riding at age 3, on an older horse named Fancy, the family babysitter. Fancy was a little paint mare that her dad bought from a man named Billy Tash at Lincoln. (Remember the name Tash for later.) She took Summer to the top at junior rodeos, winning saddles and cash. The summer Landyn was 3 1/2, her mom was a member of the Rodeo of the Ozarks Rounders that performed at the annual rodeo July 1-4 in Springdale. Summer and Landyn trailed along on their horses on practice runs in the arena.
Both girls started competing in the National Little Britches Association, Summer at age 12 and Landyn at age 5. Summer was in Junior Division and Landyn in Little Wranglers. The sisters have a long list of winnings to add to their resumes. Summer has won several saddles, buckles, ribbons and trophies. Landyn has done the same, winning her first all-around saddle at the age of 6. Mom says, "There's saddles, buckles, ribbons and trophies in every corner" of the family's 130-plus-year-old home.
The Perrine family operates a cow-calf operation on the 100-plus-acre farm, raising Akaushi cattle, a Japanese breed of Wagyu beef cattle. John was introduced to the breed by a former boss. He now has two registered Akaushi bulls he uses on his mix of cows. He markets some of his cattle at local sale barns but sells most to the Akaushi Association, which buys them at a premium. He also raises his own hay for his cattle and horses, putting up around 200 round bales a season. Both girls help on the family's farm. They have helped pull calves, feed, hay and water the cattle. Last fall, Landyn raised a bottle-fed calf, a twin that the mother rejected.
While the family and the farm have thrived, they have also taken some hard hits. Two years ago in August, the girls' main rodeo horses got out and were hit by a truck. Both horses died, which was a huge loss for the Perrines. Summer was living in Georgia at the time. Kelly and Landyn were coming home from a barrel race and came upon the accident. Kelly said the only way the family was going to overcome it was to "stick together and pray." She said, "The Lord will provide."
By the end of September, the Lord had provided. Remember that name Tash? Another horse from the Tash family was brought to the farm. Landyn had only a small window of time to finish the season of Little Britches rodeo. Then covid hit, preventing everyone from traveling. Since local events were canceled, Landyn entered the American Quarter Horse World Show in Oklahoma City. She brought home a bronze trophy for placing third in poles, sixth place in the stake race and a medal for barrel racing. She competed that day with girls up to the age of 18.
"This is her life," her father says. "She really works at it and practices a lot." He also praises her for the way she takes responsibility for training and caring for her animals, knowing that all her hard work pays off.
She modestly acknowledges that she spends much time outdoors and practicing.
"If you don't do good in practice, you won't do good in competition," she replies.
When you are traveling north and come off the hill on Beaty Road you can see three crosses to the left on the Perrine farm. The crosses came all the way from Westminster, S.C., and belonged to the sisters' great-grandmother. John and Landyn put them in the ground in just the right spot.
"When I come off the hill and see those three crosses, that reminds me of the blessings God has given our family. We wouldn't have the farm and rodeo life if the Lord wasn't present in our lives and we didn't have faith," said Kelly.
Kelly adds the family farm will one day be passed down to the sisters so the legacy of raising cattle and rodeo will go on.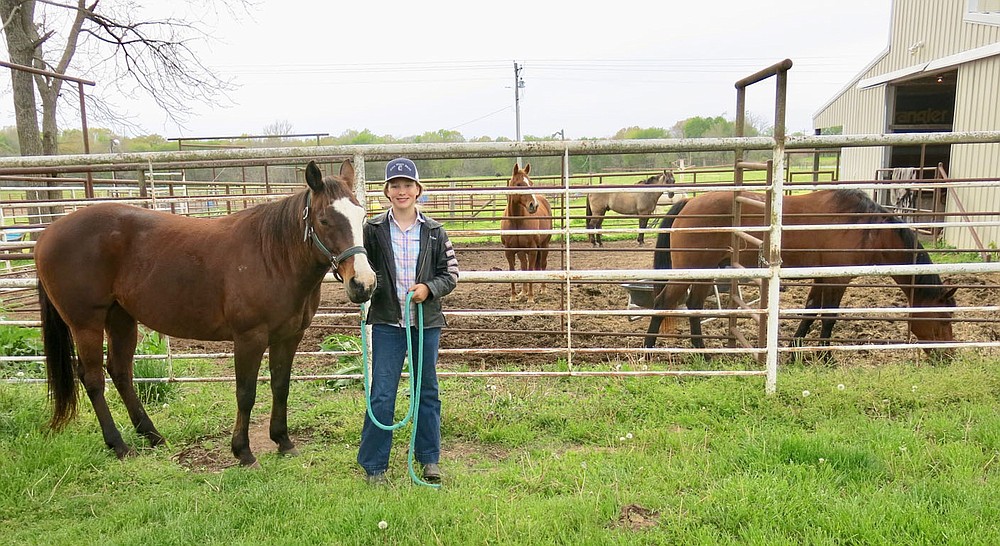 Westside Eagle Observer/SUSAN HOLLAND Landyn Perrine, 12, of Gravette, pauses for a moment to pose with her main mount, Flo Jo, an AQHA registered quarter horse mare she rides in barrel racing and pole bending competition. In the pen behind her are some of her other horses including Hollywood (right), an all-around horse, and Cobra (right rear), another gelding she is developing for breakaway roping.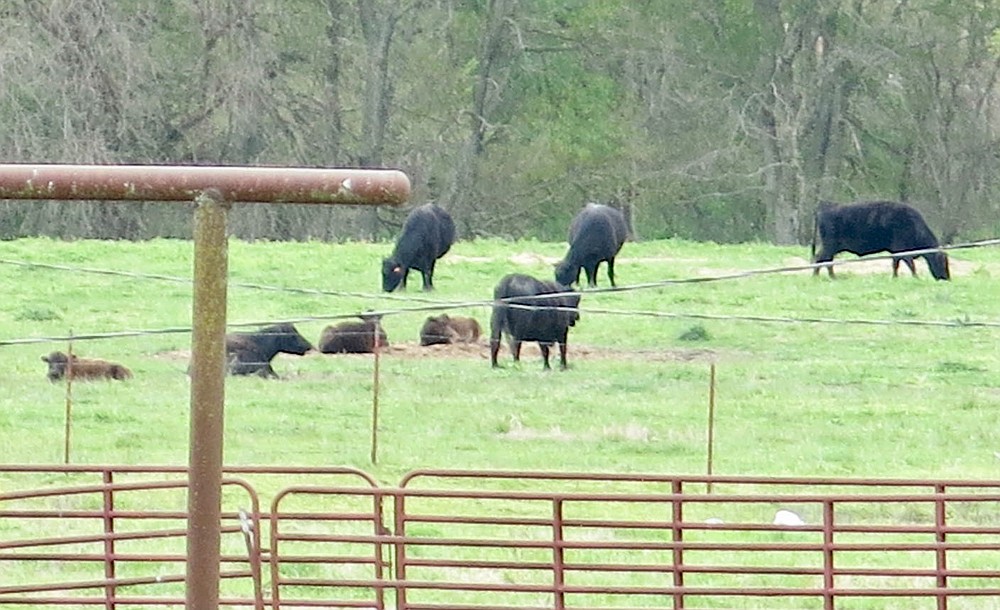 Submitted Photo A few cows and calves from the Perrine family's herd are seem in the pasture behind the Perrine home. John Perrine runs a cow-calf operation on his 100+ acre farm and has two registered Akaushi bulls he uses on his herd of mixed breed cows. The Perrine family also raises their own hay to feed their cattle and horses, putting up around 200 round bales a season.
Westside Eagle Observer/SUSAN HOLLAND Landyn Perrine shows off some of the awards she has won in her rodeoing career, including trophy saddles for 2017 all-around champion in the Ozark Junior Rodeo Association and 2018 Little Wrangler all-around champion and ribbons won at the 2020 American Quarter Horse Association World Show in Oklahoma City. She is holding the bronze trophy she earned for placing third in the world in poles at the AQHA show.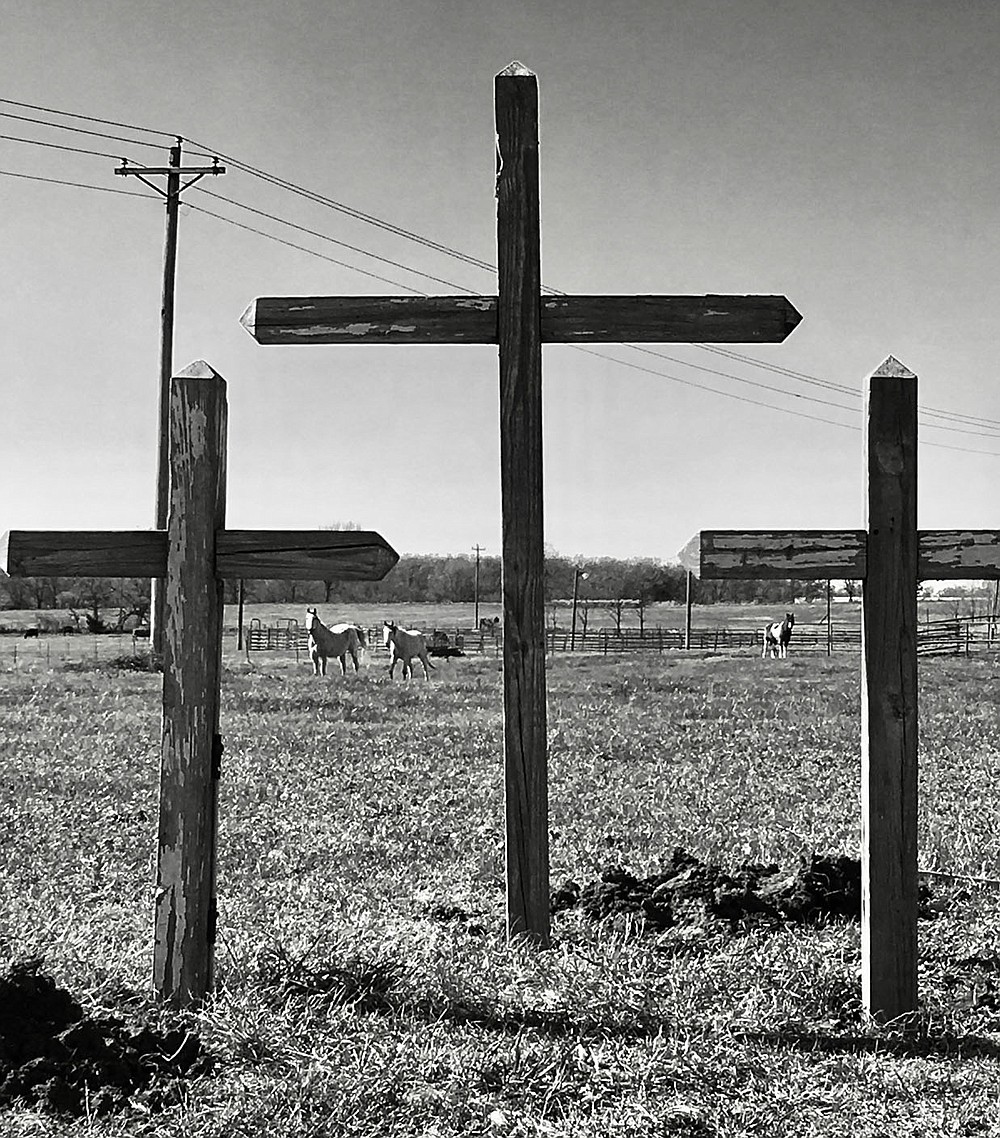 Submitted Photo Three crosses are visible on the Perrine family farm on Beaty Road west of Gravette. The crosses were put in place by John Perrine and his daughter Landyn. They came all the way from Westminster, South Carolina, and belonged to Landyn's great-grandmother. Landyn's mom, Kelly, says when she sees them they remind her of the blessings God has given the family.