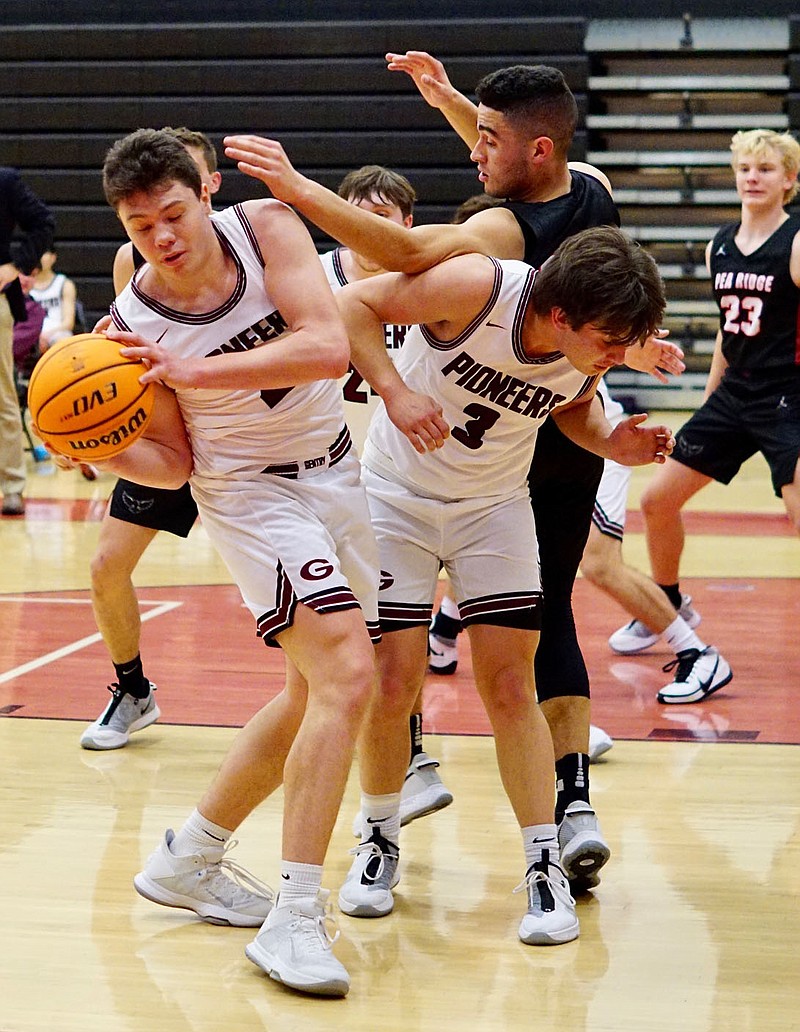 Westside Eagle Observer file photo/RANDY MOLL Gentry senior Seiren Reding, with Isaiah Lemke blocking, grabs a rebound during play against Pea Ridge in Gentry on Feb. 5.
4A Boys
HARRISON 69, GRAVETTE 66
Harrison held off Gravette's fourth-quarter comeback enough to pick up its second 4A-1 Conference victory in as many days. Abe Glidewell had 22 points to lead the Goblins, who owned a 32-22 lead at halftime and a 48-35 cushion after three quarters. Gravette then made its move with 31 points over the final 8 minutes, but the Lions couldn't get any closer than three points in the closing seconds. Gatlin James added 13 points and Ethan Edwards 10 points for Harrison, which advances to a quarterfinal game Monday (after press deadline) at Huntsville. Tristan Batie scored 15 of his 24 points in the fourth quarter to lead Gravette, while Cordell Donell added 10. The game was played in Gravette's old gym because of covid-19 protocol as its girls played their game in the new arena.
HARRISON 64, GENTRY 26
Harrison manufactured 11-0 and 10-0 runs in the first half and defeated Gentry to start 4A-1 Conference Tournament play in Goblin Arena. The Goblins broke an early 4-4 tie with its first offensive run, then used its second run to start the second quarter as Harrison outscored Gentry, 21-4, and built a 41-14 halftime cushion. Ethan Edwards had 14 points and Logan Plumlee added 10 for the Goblins. The loss ended the season for the Pioneers.
4A Girls
GRAVETTE 50, GENTRY 46
Gravette made its move in the second quarter, then held off a Gentry comeback to earn a 4A-1 Conference victory Saturday in its new arena. The Lady Lions (14-6) outscored the Lady Pioneers 19-11 in the second quarter and turned a four-point deficit into a 26-22 halftime lead. Gentry was able to close the gap to 40-38 before the third quarter ended but never completely erased Gravette's lead. Lizzy Ellis had 14 points to lead three players in double figures for the Lady Lions, who are scheduled to travel Monday to Berryville for a quarterfinal game, while Shylee Morrison added 13 and Dalacie Wishon 10. Alyssa McCarty paced Gentry with 12 points, while Lexi Fowler added 10. Saturday's loss to the Lady Lions ended the season for the Lady Pioneers.
GENTRY 38, HUNTSVILLE 28
Gentry held Huntsville scoreless for the full second quarter and earned an opening-round victory in the 4A-1 Conference tournament in Charles Berry Gymnasium. The Lady Pioneers outscored the Lady Eagles 8-0 in the second quarter and turned Gentry's early 13-6 lead into a 21-6 halftime margin. The Lady Pioneers then held a 29-13 cushion after three quarters. Jaiden Wilmoth had 10 points and Emily Toland 8 for Gentry, which advanced to play Saturday's second-round game at Gravette. Paige Bennett scored 11 of her 13 points in the fourth quarter for Huntsville, while Tanna Wilson had all the Lady Eagles' first-half points and finished with 11.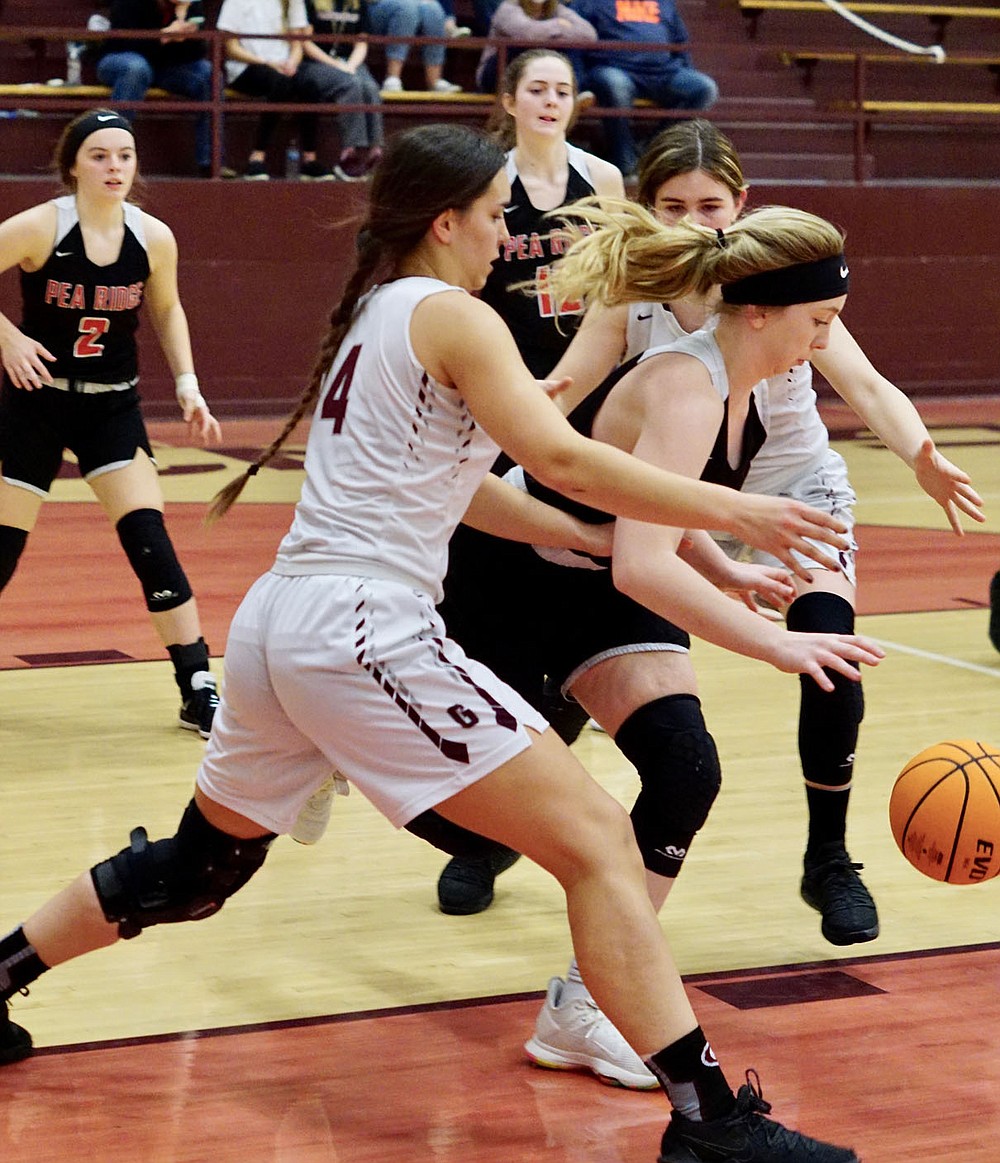 Westide Eagle Observer file photo/RANDY MOLL Gentry's Randi Jo Bolinger reaches for a loose ball during play against Pea Ridge in Gentry on Feb. 5.
Sponsor Content
Comments