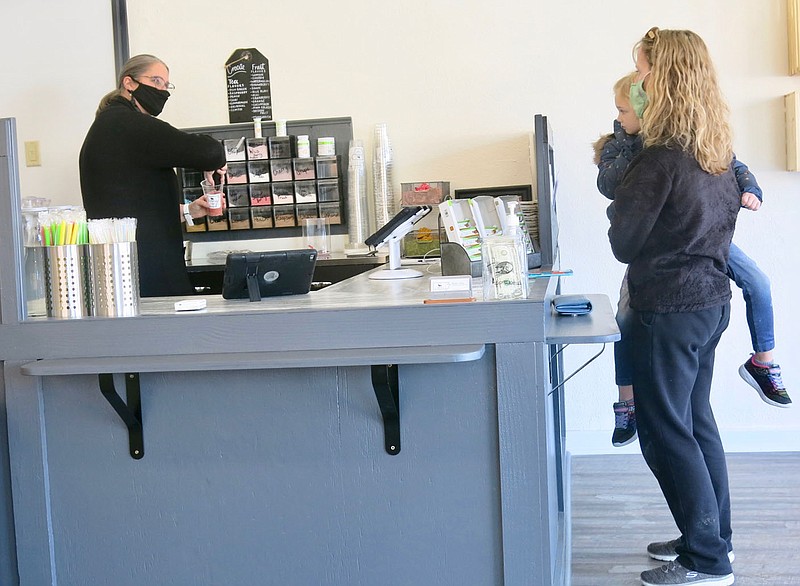 Westside Eagle Observer/SUSAN HOLLAND Marisa Crain, owner of Gravette Nutrition, visits with a customer as she mixes up a specialty tea for the young mother. Crain offers a wide variety of healthy shakes and teas for persons of all ages and with a range of nutritional needs. There are drinks designed for persons wishing to lose weight, those wishing to gain weight and those who might want to bulk up for participating in athletics.
GRAVETTE -- Marisa Crain opened her new business, Gravette Nutrition, Feb. 1, at 127 Main St. S.E. and says the first week was "really busy." Unfortunately, freezing rain moved into northwest Arkansas less than a week later and inclement weather cut into sales for the next week or 10 days.
"We got a taste of how good business could be when the weather is good and people are walking up and down Main Street," Crain said, adding that she is really looking forward to the customer flow increasing when the weather improves.
Open hours for the shop are 6:30 a.m. to 4 p.m. Monday through Saturday. It offers several protein shakes and a variety of specialty teas. The shakes are sold in 20-ounce and 32-ounce sizes. The 20-ounce contains 24 grams of protein or more. She points out that most people don't get enough protein from their daily diets. The average sedentary man should have at least 56 grams of protein per day. The DRI (Dietary Reference Intake) is .36 grams of protein per pound (.8 grams per kg) of body weight.
Shakes are available with a variety of bases, including vanilla, pralines and cream, cookies and cream, chocolate and mint chocolate, banana caramel and dulce. Each provides a healthy supplement and can be further enhanced with a choice of shake boosters that include probiotic blends, protein powder and fiber. The shakes contain no sugar but some add-ins and toppings will add sugar. These include chocolate or caramel syrup, peanut butter, granola, coconut, graham crackers, M&Ms, chocolate or white chocolate chips. Gravette Nutrition offers a shake of the week and the featured flavor for this week is animal cracker.
The variety of specialty teas ranges from pomegranate green tea, cinnamon and chai to several choices of fruit flavors. Crain says that each contains a little caffeine which helps promote mental alertness so they are the ideal beverage for that "morning wake-up" drink or to avoid the afternoon slump. They will allow one to avoid the crash that often comes after other protein drinks. Several tea boosters are available and customers can choose from those that enhance hydration, support immune function, satisfy hunger, increase mental energy and concentration.
Crain purchases the ingredients for her drinks from the Herbalife company, which is committed to helping customers choose better nutrition and lead healthy lives. Interested persons can go on Instagram or Facebook at @gravettenutrition to see updates and send messages. You can also go to marisacrain.goherbalife.com to order the retail products and make the drinks. The site offers a wellness profile that customers can fill out to help Crain assess their needs. More than 2/3 of U.S. adults are overweight or obese, so many are trying to lose weight. Others may be trying to gain weight or may be athletes with the goal of bulking up for football or wrestling.
Marisa grew up in the state of Washington and attended college in Virginia, where she played volleyball. She traveled extensively after college and lived in several locations. She spent over 20 years in Aurora, Colo., where her husband Robert worked for the Department of Transportation. Robert's family lived in Hot Springs and, looking ahead, they chose to spend their retirement years in Arkansas. The Crains moved to Arkansas two years ago and settled in Bella Vista.
Robert thought he was ready to retire but, after a few months, he was dissatisfied with the inactivity and accepted a job in maintenance for Goodwill Industries. Marisa continued with the same employer, working remotely from her basement after the move. After much prayer about their future, she decided to leave her corporate job with a New York-based firm and launch out on her own.
Marisa had never owned her own business so she said starting Gravette Nutrition was a real leap of faith. She was encouraged by her sister, Candice Mendoza, who owns Pure Nutrition in Bentonville. Candice has operated the Bentonville shop for over two years and recently opened a second location in Johnson Mills. The leap of faith Candice made was the inspiration for Marisa to step out and follow her dreams as well.
Marisa acknowledges that there are few nutrition shops in the area and says she considers her business a community service.
"I love the product and want to share it with everyone," she says. "This is my ministry," she explained, saying she wants to be able to serve people. In fact, she welcomes the chance to help her customers in any way. She sometimes stops for a quick prayer with those who are in stressful situations and says anyone who wants to come in and work at the serving tables in her shop is welcome to do so.
Gravette Nutrition will host a popup shop once a month and Tootsie's Customs is scheduled for a pop-up shop this Saturday, Feb. 27. Tootsie's, which offers custom decals, tumblers, shirts and glass etching, will set up displays and sell its products from 8 a.m. to 1 p.m.
Crain invites all area residents to come in, get acquainted and sample her products. She can be contacted by phone at 479-344-2051 or by email at [email protected]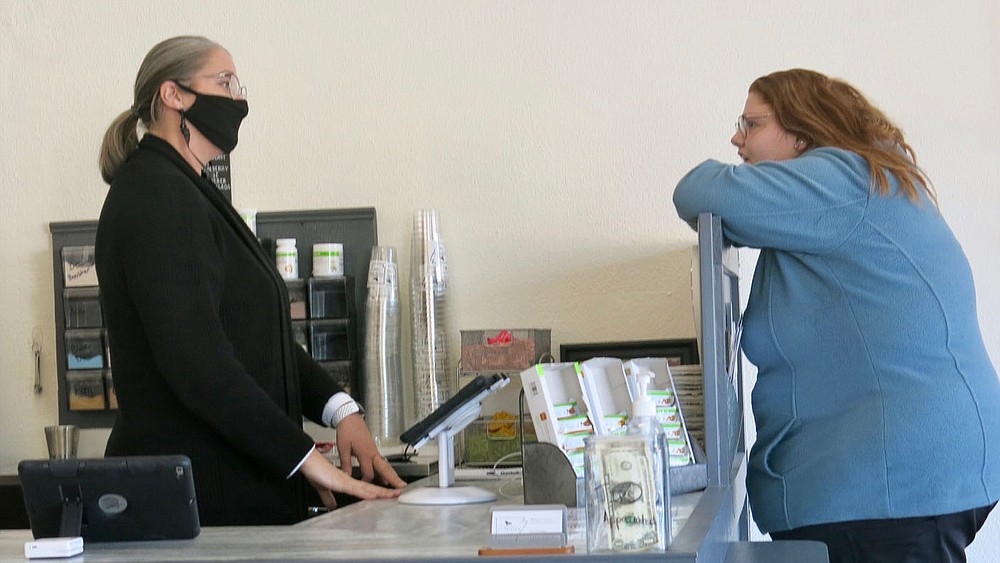 Westside Eagle Observer/SUSAN HOLLAND Marisa Crain, owner of Gravette Nutrition, visits with a customer as she tries to decide which of the wide variety of shakes she wants to order. With just a few questions Marisa can assess a person's health concerns and nutritional needs. She then asks about one's favorite flavors and can recommend a tasty and refreshing drink which will be a healthy beverage.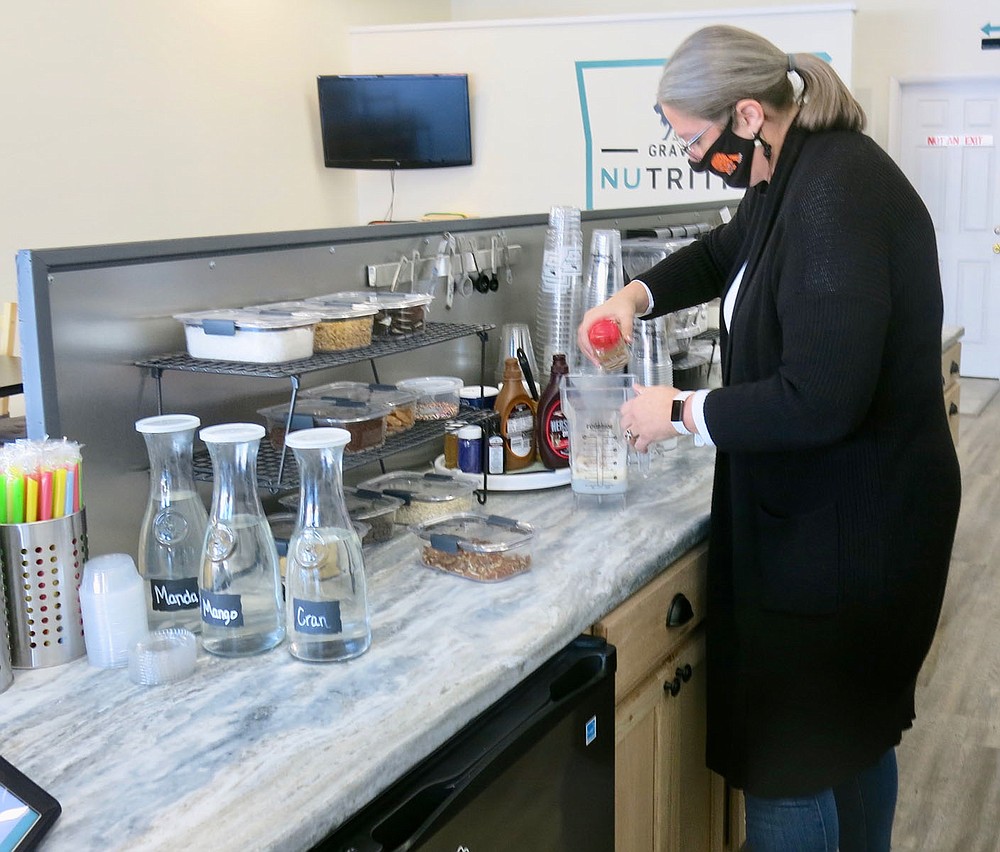 Westside Eagle Observer/SUSAN HOLLAND Marisa Crain, owner of Gravette Nutrition, adds a sprinkle of cinnamon as she prepares a specialty tea drink for a customer Friday, Feb. 19. She offers a wide variety of healthy shakes and teas at the shop which is open from 6:30 a.m. to 4 p.m. Monday through Saturday. Customers can fill out a wellness profile which helps her assess what products will best fit their needs.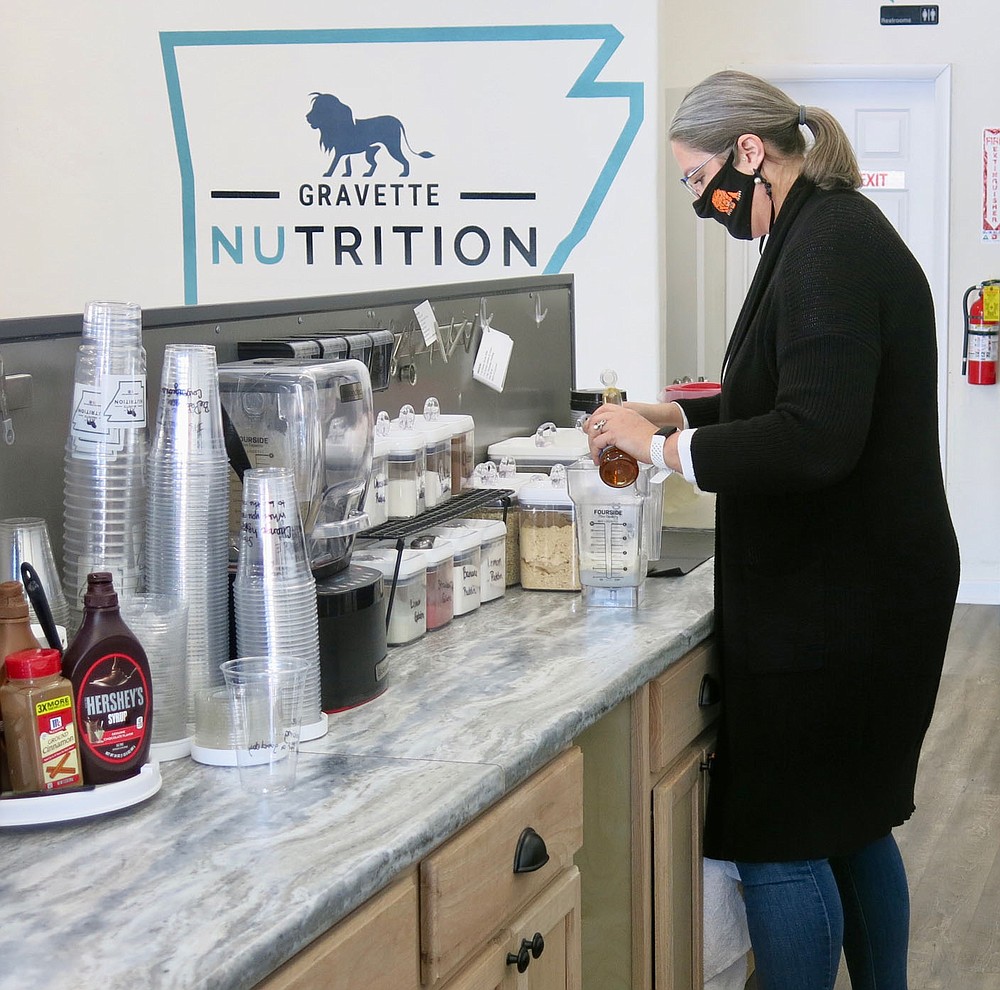 Westside Eagle Observer/SUSAN HOLLAND Marisa Crain adds a dash of flavored syrup as she prepares a custom shake for a customer Friday, Feb. 19. Marisa was mixing a king cake shake, which was the shake of the week that day. Featured flavor for this week's shake of the week is animal cookie and Crain indicates it will likely be a favorite for folks of all ages. Contact her at 479-344-2051 to order ahead or just drop in and have her mix one up.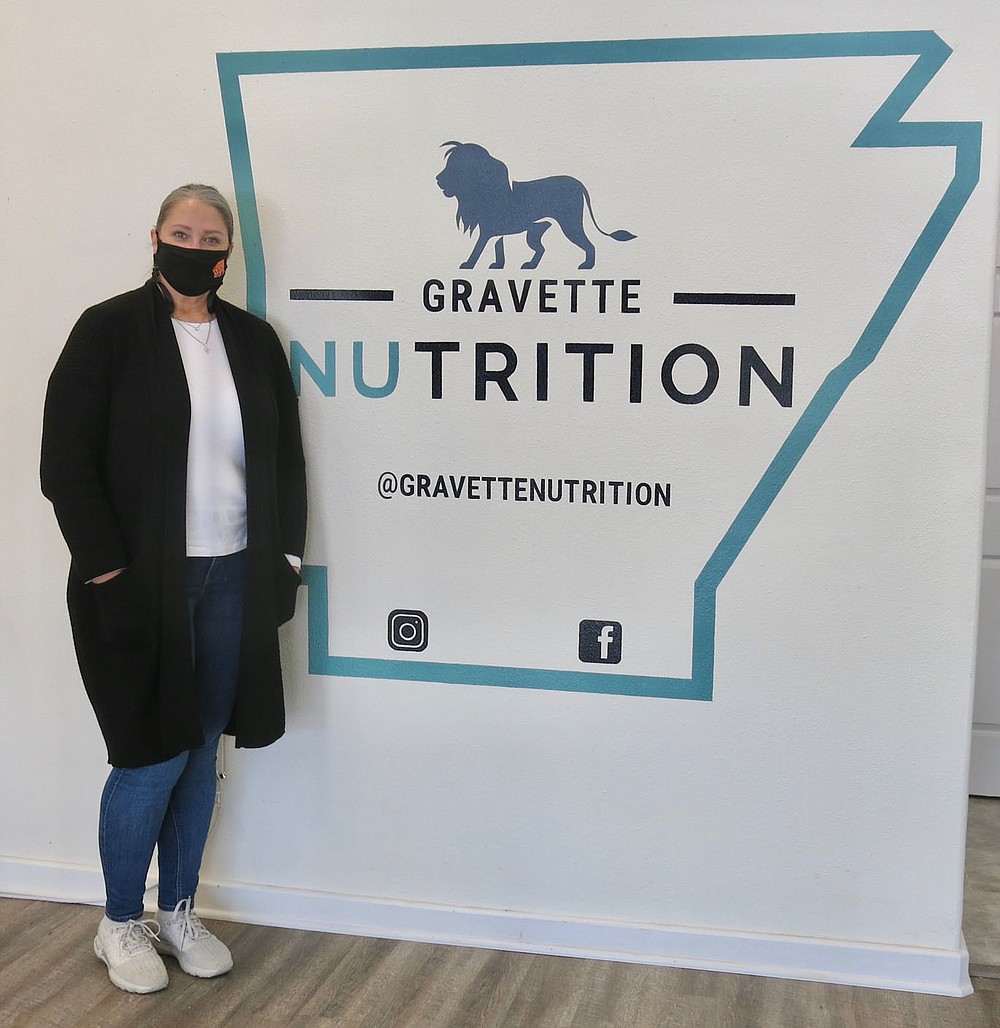 Westside Eagle Observer/SUSAN HOLLAND Marisa Crain, owner of Gravette Nutrition, poses beside the back wall which features the logo of her new business. Marisa and her husband Robert spent several months remodeling and furnishing the shop at 127 Main Street S.E., which houses the nutrition shop. She invites area residents to come in, look it over and sample some of its selection of healthy shakes and teas.
Sponsor Content
Comments