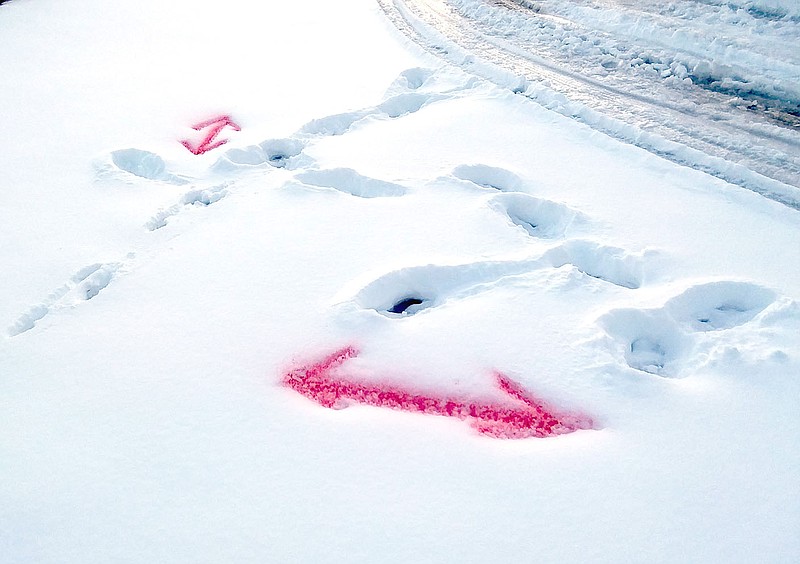 Mark Humphrey Special to the Eagle-Observer/Red markings serving as a location indicator for an on-going utility project in Farmington were placed after snowfall last week.
While capitalizing upon a rare opportunity in Northwest Arkansas to engage in recreation made available by snowfall, an encounter with red markings brought forth a confrontation with justice suppressed.
These red markings in the snow in no way represented evil in any way. They were simply part of an ongoing community project locating and designating buried utility cables and lines and replacing those.
Discovering red markings in the snow last week triggered memories from watching an "R-rated" snow film, "Wind River," released during the blazing heat of summer during August 2017. That's not a movie a man would take his family to watch, but I knew I needed to take it in, not for the sake of entertainment, but to personally process the pain relating to Native Americans and families of victims, who have experienced violent sexual assault in the dead of winter first-hand.
I didn't go into the theater naive. I did my homework in advance, carefully considering Focus on the Family's Plugged-In and other Christian reviews of the film.
I also got beneficially exposed to the reaction of one of my schoolmates growing up, who became the police chief of a local tribal police force, when he expressed his dismay to the violent on-screen demise of an Indian policeman played by Graham Greene in the film.
"Killed the Indian cop ..." he lamented on social media, and I knew that scene struck a nerve from one personally acquainted with the dangers associated with a law enforcement career.
Another classmate, a former Northern Cheyenne police officer, long ago set the record straight regarding unfathomable choices made in the commission of violent crimes in Indian Country.
"Why do they do that?" I asked as a 19-year-old still feeling fresh out of high school and struggling to understand a spur-of-the-moment criminal mindset.
"Because they're not thinking about what's going to happen down the road, or an hour from now, or even five minutes from now. They want that person out of the way right now," he said.
The drama portrayed in "Wind River" reflects reality more than Americans care to admit.
Sunday morning, Dec. 9, 2007, residents of Hardin, a south-central Montana town bordering the Crow Indian Reservation, awoke to a gruesome discovery. (Hardin lies approximately 297 miles north and slightly east, about a 5-and-a-quarter-hour drive in favorable weather from tribal headquarters located on the Wind River Indian Reservation in Wyoming, setting of the 2017 movie.) Big Horn County Sheriff's deputies responding to an emergency call found the body of 29-year-old Thomasine Crazy naked from the waist down lying in a front yard, with temperatures barely above zero.
Two of the most disturbing things about the tragedy were how quickly the story vanished from the local media and how indifferent the community appeared to be. The voice hoped for from local elected officials, including the sheriff, county attorney, county coroner, mayor and city council asking for a continued investigation probing the incident pursuing justice never materialized.
Besides the obvious, other questions arose.
Were non-Indian community members unwittingly prejudiced by the translation of the victim's surname into English? Would the response differ if her last name were Crazy Horse or Crazy Mule?
Many may have found coping with this horrific death ruled accidental by autopsy difficult and easy to brush off by taking the coroner's report at face value, which didn't account for other contributing factors.
That's the same scenario "Wind River" explores when examining the death of a barefoot rape victim overcome by extreme temperatures while fleeing her assailants across a remote Wyoming snow-covered wilderness. In that film, investigators plead with the coroner to delay releasing the official cause of death as hypothermia, buying time to look into the matter.
Ms. Crazy wound up disrobed, deprived of her dignity, and perhaps violently thrown out of an automobile or locked out of a building, then left to die in a harsh, winter environment.
About the only comfort that can be found materialized in an acknowledgment of the problem by Donald Trump, 45th President of the United States, when he signed an executive order on Nov. 26, 2019, regarding "Missing and Murdered Indigenous Women."
While announcing an effort to prevent and better investigate criminal cases involving Native American women and children, Trump cited one study which shows that Native American women in certain tribal communities are 10 times more likely to be murdered than the average American, along with a statistic revealing more than 5,000 Native American women and girls were reported missing in a single year.
The initiative was appropriately entitled "Operation Lady Justice."
Mark Humphrey is a sportswriter for the Washington County Enterprise-Leader. He may be contacted by email at [email protected] Opinions expressed are those of the author.
Sponsor Content
Comments