DECATUR -- "The 30th of May, 1868, is designated for the purpose of strewing with flowers or otherwise decorating the graves of comrades who died in defense of their country during the late rebellion, and whose bodies now lie in almost every city, village and hamlet churchyard in the land," proclaimed General John A. Logan, leader of an organization for Northern Civil War veterans who called for a national day of remembrance for all fallen soldiers (www.history.com/memorial -day-history).
Several families and friends gathered in Decatur Saturday morning to carry on the tradition that General Logan started back in 1868, to remember all the veterans who paid the ultimate price to defend the freedoms we as a nation enjoy today. This national holiday is now known as Memorial Day and is commemorated on the last Monday in May.
Members of the Decatur Howard-Parrish Veterans of Foreign Wars Post 9834 spent Saturday morning putting American flags in holders on white crosses to honor all veterans that reside in the Decatur Cemetery. These volunteers also hung flags on each electric pole that lines Roller Avenue and Main Street in Decatur.
But as of late, many Americans have forgotten just what this important holiday really means. Memorial Day is not about special deals on furniture, mattresses, or even cars but is a national day of remembrance of all military personnel who sacrificed so much for the noble cause of freedom on a global scale.
The first observance of this holiday was May 30, 1868, and was originally known as Decoration Day. On this day General James Garfield made a speech at Arlington National Cemetery where nearly 5,000 people gathered to decorate the headstones of 20,000 Civil War soldiers interred in the cemetery.
Nearly 100 years later, in 1968, Congress passed the Uniform Monday Holiday Act which moved the observance to the last Monday in May in order to create a three-day weekend for federal employees, and in 1971 the law went into effect.
Over the course of American history, Decoration or Memorial Day began to have, more and more, a special meaning. Thousands of American lives were lost in several major conflicts, beginning with the Civil War and Spanish-American War. This observance now included World War One and Two, the Korean Conflict, Vietnam War, Desert Storm, Iraqi Freedom, and many smaller conflicts.
In the Decatur Cemetery, which was first established in 1836, are the graves of 134 veterans, mostly buried in the old historic part of the facility. Veterans from the Civil War to Desert Storm rest there.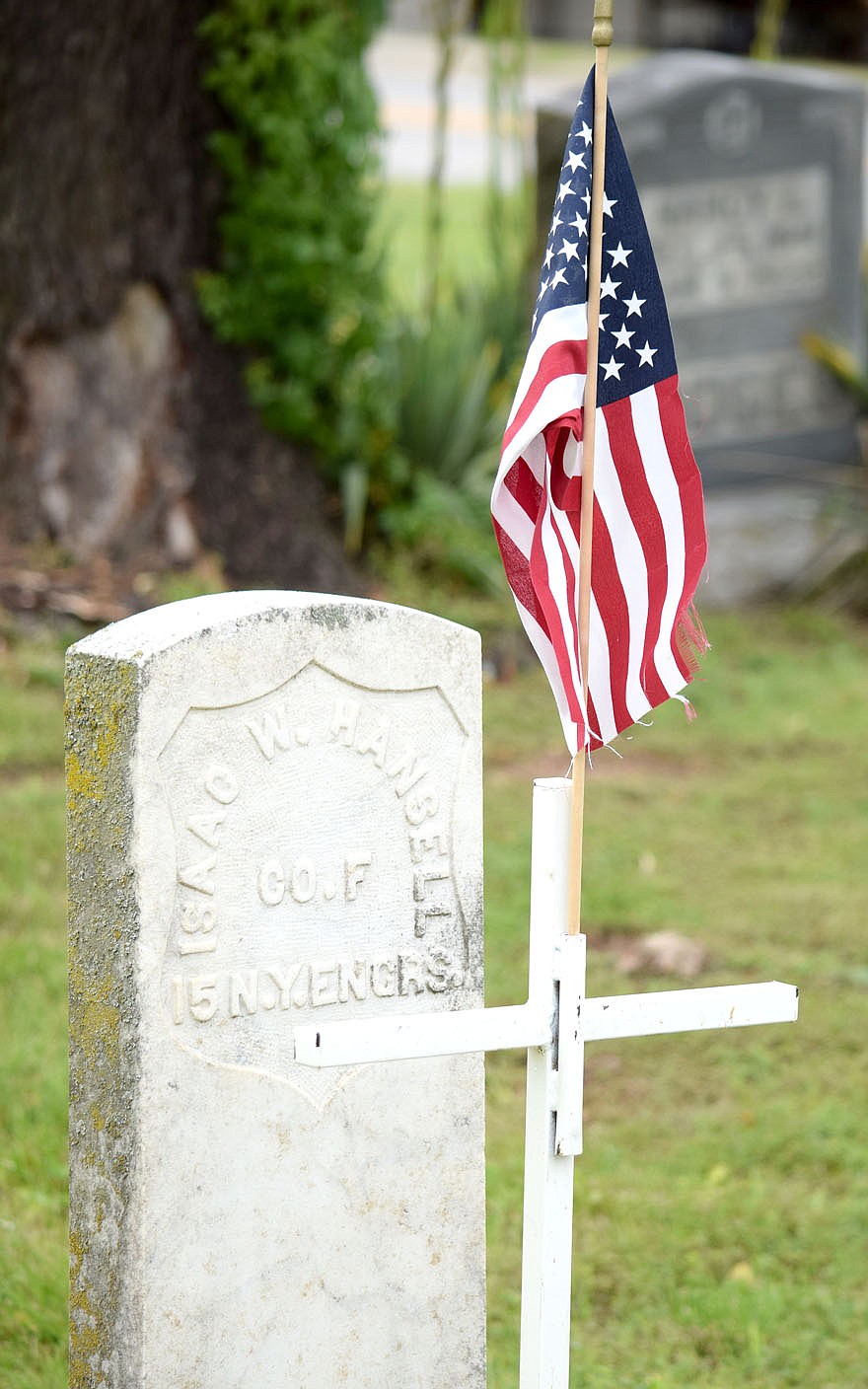 Westside Eagle Observer/MIKE ECKELS During the 2021 Memorial Day observance in Decatur Saturday morning, a cross and American flag adorns the head stone of Isaac W. Hansell, Union Army soldier with the 15th New York Engineers who died sometime during the Civil War. Hansell was one of 134 military veterans buried in the Decatur Cemetery to receive the cross and flag in remembrance of their sacrifice in defense of freedom.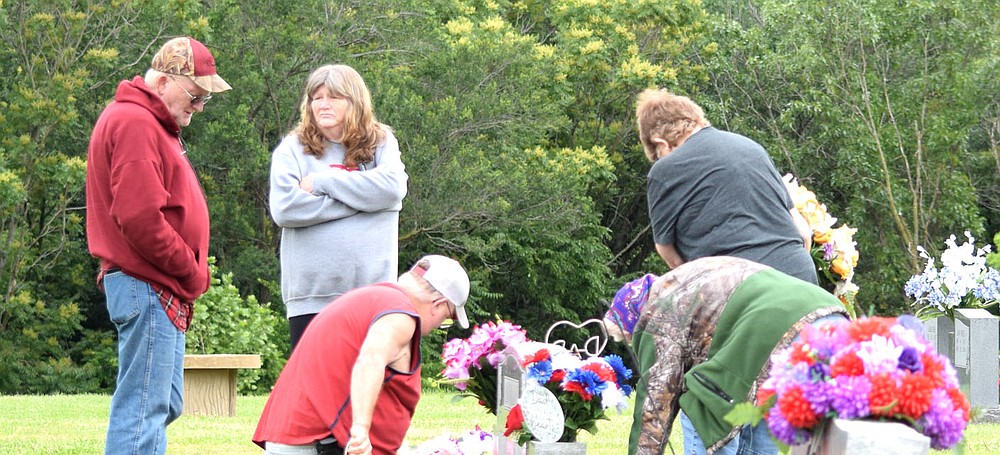 Westside Eagle Observer/MIKE ECKELS While a family members clears grass from around the headstone, others take a little time to remember their departed loved one Saturday morning at the Decatur Cemetery in Decatur. Visitors across the country gathered to remember this nation's fallen veterans during the 2021 Memorial Day observance.
Westside Eagle Observer/MIKE ECKELS A family member adjusts the flowers on Arlis Mae Kincheloe's headstone as other family members gathered at Decatur Cemetery Saturday morning to remember their loved ones. Families gathered Memorial Day to remember this country's veterans who made the ultimate sacrifice in defense of our freedom.