DECATUR -- Almost three years ago, two Arkansas high schools, one in extreme Northwest Arkansas and the other in the southwest part of the state, both faced a very real dilemma when it came to their football programs. The problem, low participation number because of small school size. Both faced canceling the programs for good.
Decatur, in the northwest corner, and Hermitage, near the Louisiana border, faced dropping football from their athletic activities until a group of coaches from each school began a dialogue with each other that would lead them on the path to saving their programs.
Decatur and Hermitage came up with a plan to revive the state's old eight-man football league that was in place from 1956 until 1965 and included not only Decatur but also Gravette, Gentry, Pea Ridge, Prairie Grove, Lincoln, Greenland and West Fork in Northwest Arkansas. In 1965, the Arkansas Activities Association (AAA), the governing body that oversees all high school extracurricular activities, decided to drop eight-man football as a sanctioned sport and just support the more traditional 11-man sport. This left some smaller schools with no football programs.
Once a plan was in place, the two schools went to the AAA asking to reinstate the old eight-man football league. But both schools met with strong resistance from the AAA board. Once again football for the two schools was in danger of shutdown.
Fortunately, the coaches never gave up their fight and soon four other schools signed on to the idea and the AAA agreed to allow eight-man football with the understanding that it was not a sanctioned sport with no possibility of any kind of playoffs or championship games.
So the stage was set. Decatur and Hermitage, along with Augusta, Woodlawn, Little Rock Episcopal and later Arkansas School of the Deaf were ready to start the 2018 eight-man football season.
On Aug. 31, 2018, the two original schools that worked together to form the league met for the first time at Bulldog Stadium in Decatur. And as promised, the new football league delivered excitement as Hermitage took the very first win in a close contest, 38-32, over Decatur.
The first season met with resounding success and soon the league began to grow, first to nine teams, adding Western Yell County, Trinity Christian and Brinkley in 2019.
In early 2020, the league underwent its first major change, starting with seven more teams joining the fight. The AAA decided to split the state in half (with the line running north to south). This created the east conference and west conference. Any teams east of the line were in that conference and west in the west conference. But on March 13, all spring sports played their last games, matches and meets as the covid-19 pandemic closed down not only all sports (high school, college, and professional) but also schools across the United States. The fate of all sports including eight-man football was in jeopardy of shutdown for a long period of time.
By August, Gov. Asa Hutchinson, the Arkansas Health Department and the AAA decided to reopen schools on a limited basis but sports were still hanging in the balance. While teams were allowed to practice under strict covid-19 protocols, football, volleyball and cross country high school sports were still in limbo. Finally, in late August, the word came down that sports would be allowed to start up, again under strict pandemic protocols.
When things began to return to some sense of normalcy, the AAA began to take a serious look at the eight-man football league and on June 8, 2021, voted to sanction the league for the first time since 1965. The 16 teams from 2020 now form the east and west eight-man football conferences which will allow for the league to have playoffs and a championship game at the end of the season.
For the Decatur Bulldogs and Hermitage Hermits, the long fight was over and the league that both schools fought so hard for was now a reality. Now more schools are waiting to sign on with the new league, so only time will tell just how big Arkansas eight-man football will become.
Decatur football starts with an away game at Jasper, Mo., Aug. 27 at 7 p.m. The Bulldogs return Sept. 3 for their first home game at Bulldog Stadium against their longtime football rival, Western Yell County, for a 7 p.m. kickoff.
The Decatur High School football schedule for 2021 is as follows:
08/27: Decatur @ Jasper, Mo. 7 p.m.
09/03: Western Yell @ Decatur 7 p.m.
09/10: Decatur @ Augusta 6 p.m.
09/17: Open date
09/24: Midland @ Decatur 7 p.m.
10/01: Decatur @ Marshall 7 p.m.
10/08: Kipp Blytheville @ Decatur 7 p.m.
10/15: Brinkley @ Decatur *TBA
10/22: Rector @ Decatur *TBA
10/29: Decatur @ Cedar Ridge *TBA
11/05: Championship *TBA
*To Be Announced
All times, places and dates are subject to change due to weather or other unforeseen events.
The 2021 Decatur Junior High Football Schedule is still in the works and is not set as of yet.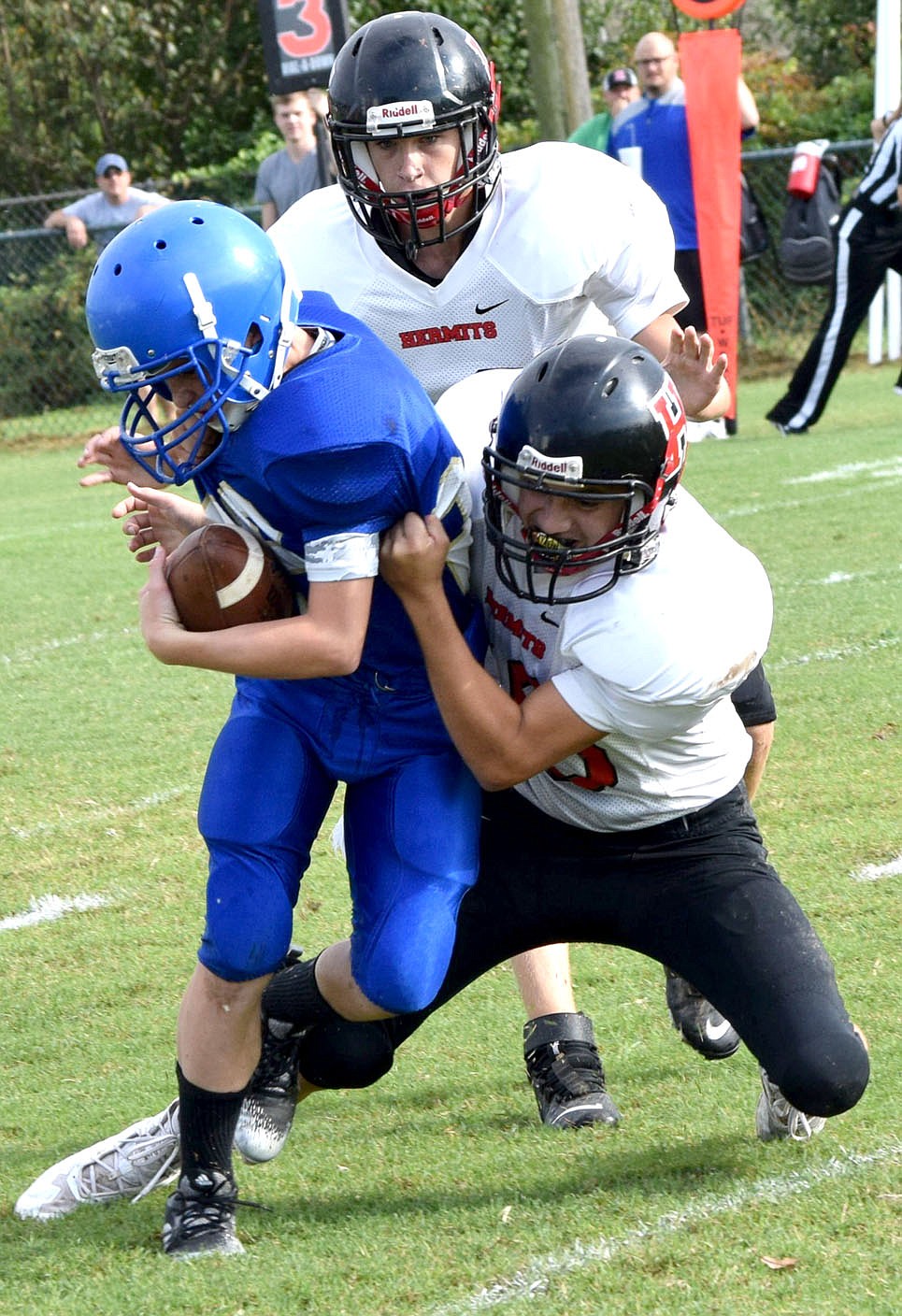 Westside Eagle Observer/MIKE ECKELS A pair of Hermit defenders latch onto Bulldog quarterback Bryson Funk in an attempt to bring him down during the Decatur-Hermitage eight-man football contest at Bulldog Stadium in Decatur September 13, 2019. A year earlier, these two teams clashed on the football field at Decatur for the inaugural eight-man football game which, as of June 8, is now a sanctioned sport in the State of Arkansas.