GRAVETTE -- Teenagers are usually averse to rising before dawn and being up and working by 6 a.m. but 4-H can be a big motivator.
The recent Benton County Fair showcased many youths who have worked hard all year to prepare horticulture, arts, crafts and livestock to compete against other youth.
Ayden Jowers, Gravette Gleamers 4-H Club president, has a routine of arriving at the fair at 6 a.m., getting his animals taken care of and preparing to show. Danielle Dillon, who took home First Place Champion for Commercial Doe, emphasizes that it is a family affair. Her parents or grandparents often arrive at the fair early in the morning and she comes after school.
Six years ago, when he started, Ayden was most concerned about winning. Now the most important part of the fair is being part of his 4-H club and celebrating their achievements. It's no longer about winning but about being part of the club and about the experience, helping people and doing what he loves. Danielle says her goal is to try to do her best but not to push herself to be perfect and overdo it. She is excited and happy in the show ring when she wins, although sometimes she has gotten mad at the judge when she does not. But she also says the judges' questions help her to improve and they teach her a lot.
Danielle and Ayden's fellow 4-Hers were well represented at the fair with over 140 entries, bringing home four Best of Show awards and four Grand Champion ribbons. Club members winning at the fair were Danielle Dillon, Baylor Elsea, Berkley and Braylee Jarvis, Ayden and Avery Faith Jowers, Lilly McNelly, Cash and Cole Myers, Blakely Roach, Emilio and Martha Smith, Brandon Thao, Alexis and Lauren Venske, Brinley and Whitley Vore.
Danielle says the hardest part of showing her goats is keeping them in shape year-round, not too fat and not too skinny. She says anyone thinking about 4-H should know that it is fun but also teaches some life lessons. Ayden likes the show. Just after it starts it has a rhythm and an energy that makes him excited about achieving something on his own. He also gets excited about how his experience can help others to do their best.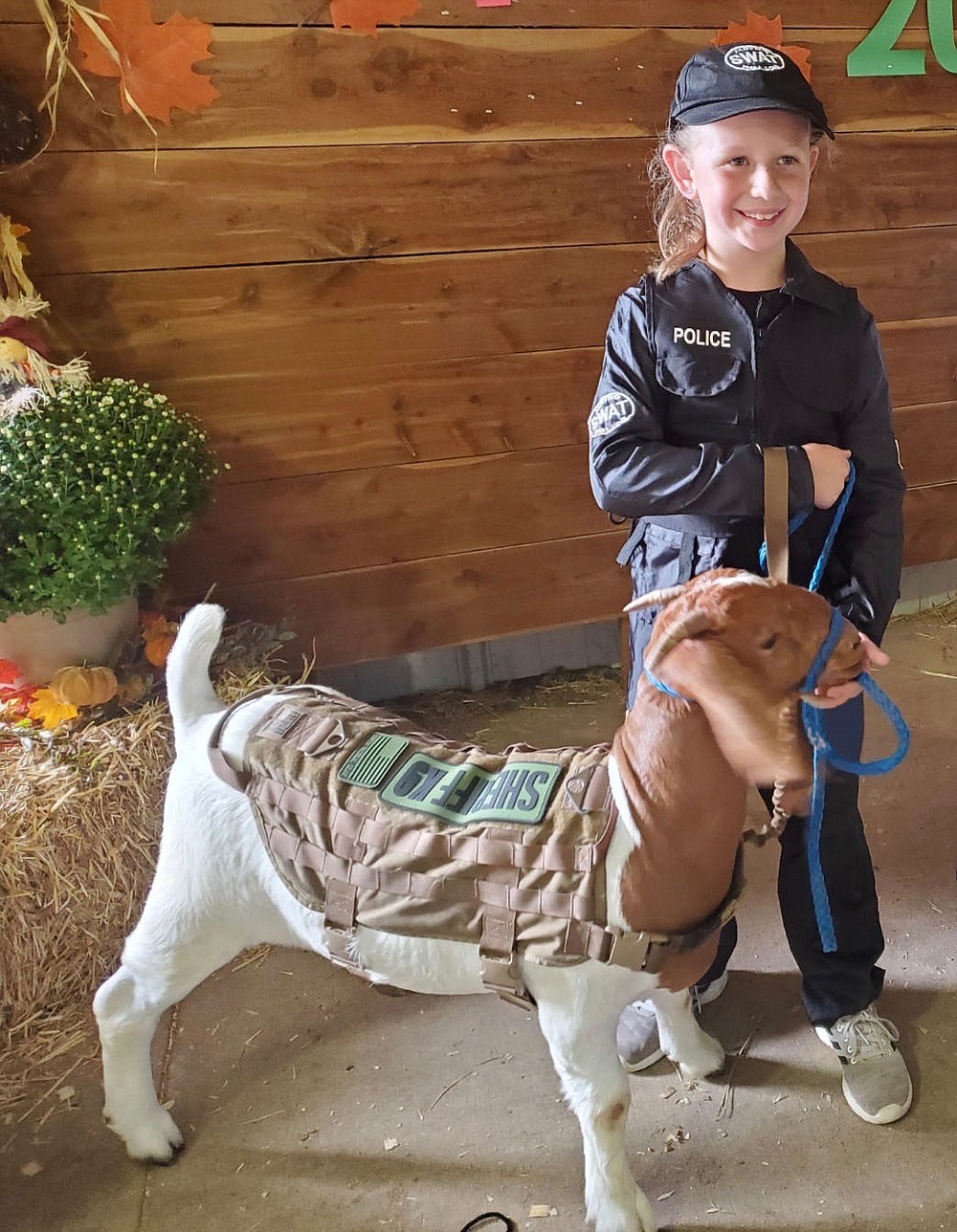 Submitted Photo Danielle Dillon, a member of Gravette Gleamers 4-H Club, poses with one of her show goats. Danielle is dressed as a police officer and the goat as her K-9 companion. Danielle says 4-H is fun and it also teaches her life lessons.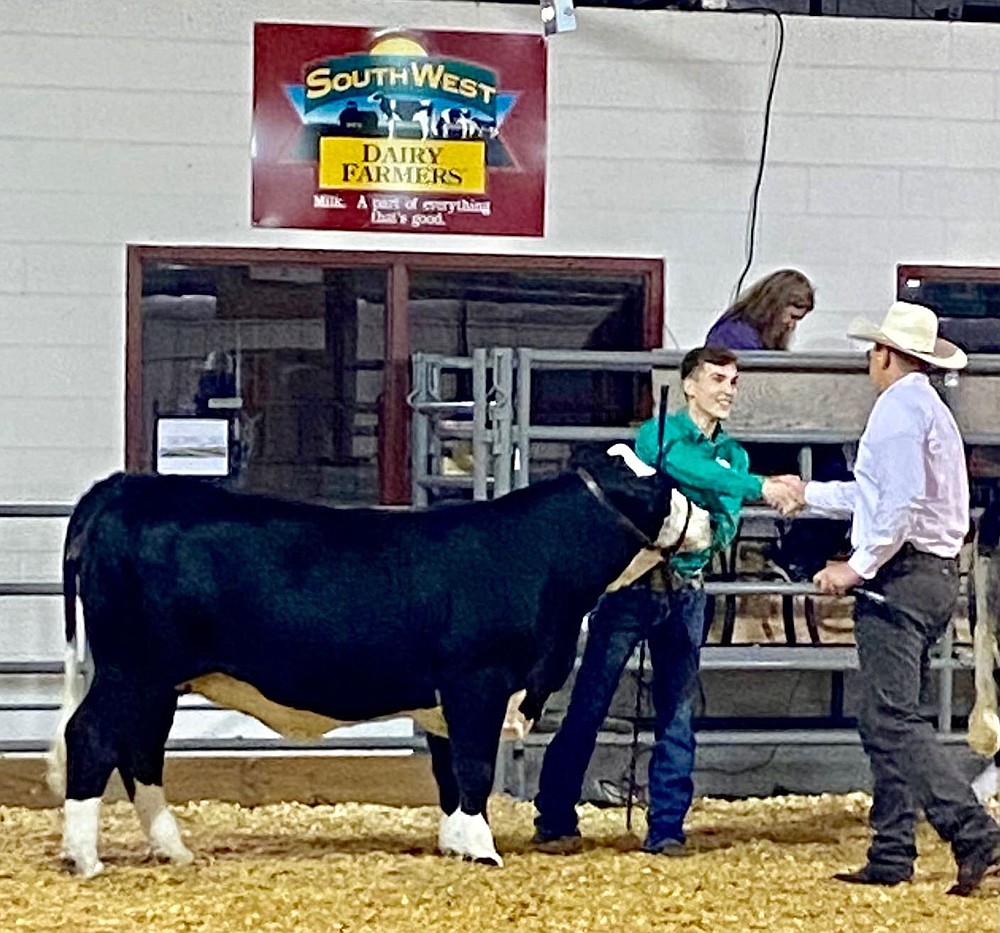 Submitted Photo Ayden Jowers, president of Gravette Gleamers 4-H Club, shakes hands with a judge after completing a session in the show ring. Ayden won Reserve Grand Champion English commercial heifer at the recent 2021Benton County Fair.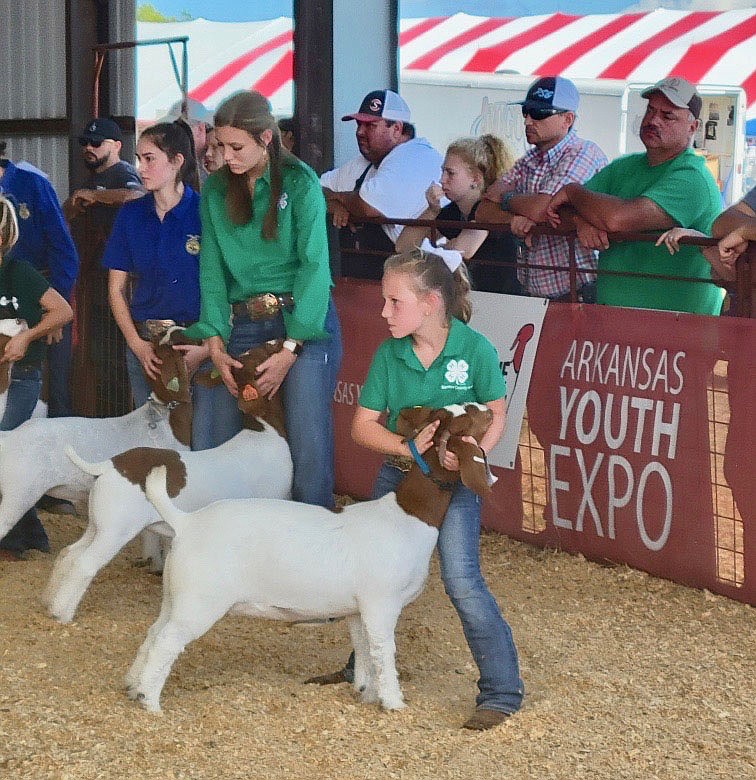 Submitted Photo Daneille Dillon (front) works to position her goat to show off its best qualities during the Arkansas Youth Expo in Fayetteville. Danielle, a member of Gravette Gleamers 4-H, won First Place Grand Champion for Commercial Doe at the Benton County Fair this year.