GRAVETTE -- Lion fans of all ages poured into the Lion's Den on Nov. 16 to cheer on their beloved Lady Lions as the team took on 6A powerhouse Har-Ber Lady Wildcats from Springdale in a nonconference contest. By the end of the night, the Lady Wildcat invasion of the Lion's Den proved successful as they took the win by 38 points.
With less than 30 seconds off the clock in the first quarter, Lady Wildcat Pacious McDaniel was fouled by Gravette, sending her to the free-throw line for two. McDaniel hit both shots and Har-Ber was off and running. Har-Ber hit another two-point field goal before the Lady Lions scored a field goal of their own, trailing the Lady Wildcats by two. The Lady Wildcats jumped out to a 12 point lead by the end of the first quarter.
By the 2:30 minute mark in the second quarter, Har-Ber continued to dominate the boards, holding Gravette to a pair of two-pointers while continuing to build its lead to 22 points. By the end of the first half, the Lady Wildcats held the lead over the Lady Lions, 38-13.
The Lady Lions cut into the Lady Wildcat's lead early in the third quarter but it was not enough and Har-Ber took home the victory, 69-31, over Gravette.
Leading the scoring drive for the Lady Lions was Alexa Parker with 10 points, followed by Dalacie Wishon, Reese Hamilton and Rachel Deihl with five each. Brooke Handle contributed two points and Graci Moffet connected on a free throw for one.
In a nonconference contest played at the Lions' Den on Thursday night, the Lady Lions defeated the Van Buren Lady Pointers, 55-36.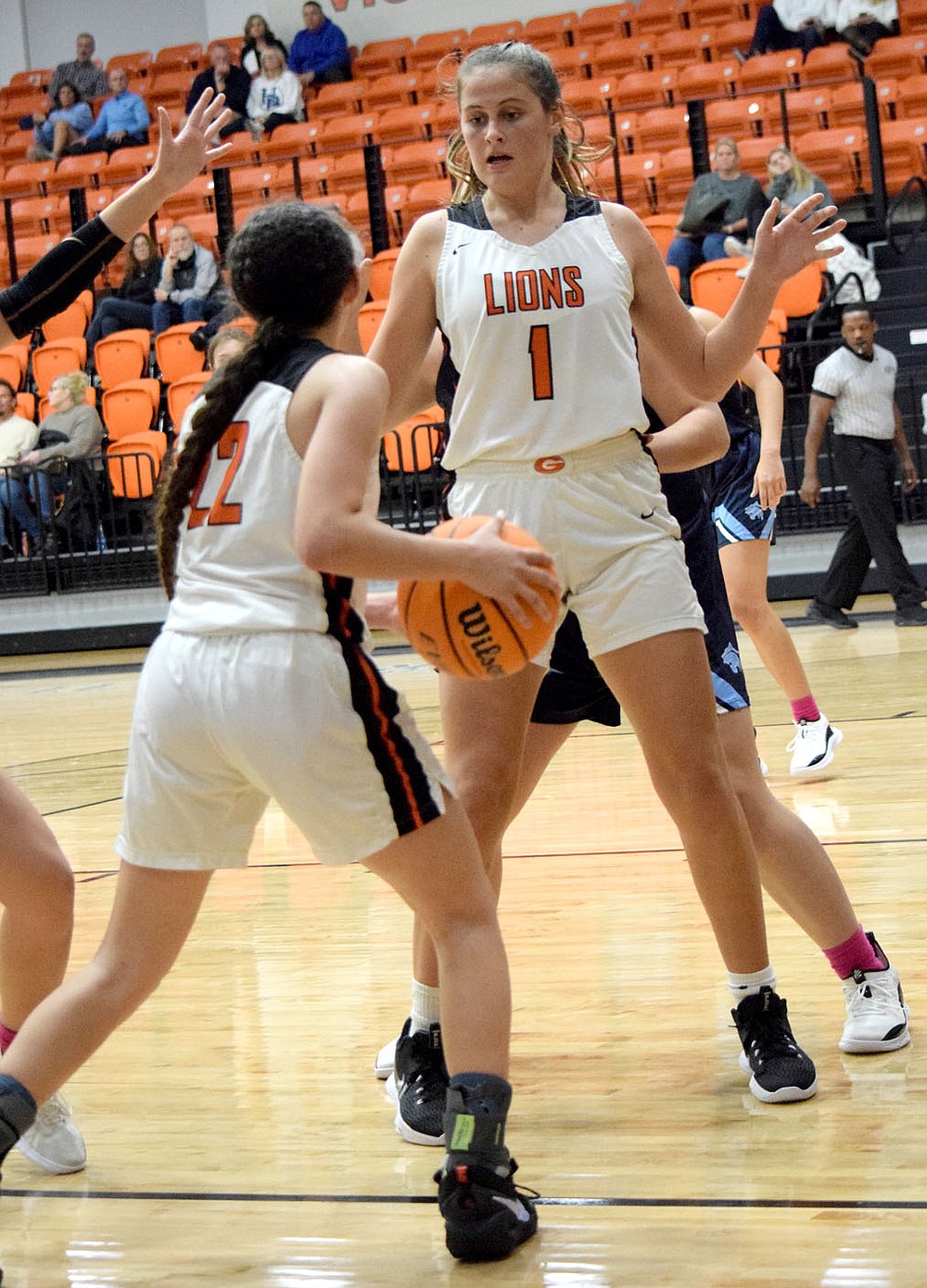 Westside Eagle Observer/MIKE ECKELS A perfect screen. Lady Lion Dalacie Wishon (Lions 1) blocks off a Lady Wildcat player, enabling teammate Brynn Romine to move in for a layup late in the third quarter of the Gravette-Har-Ber basketball contest in Gravette Nov. 16. The Lady Wildcats took the nonconference win 69-31 over the Lady Lions.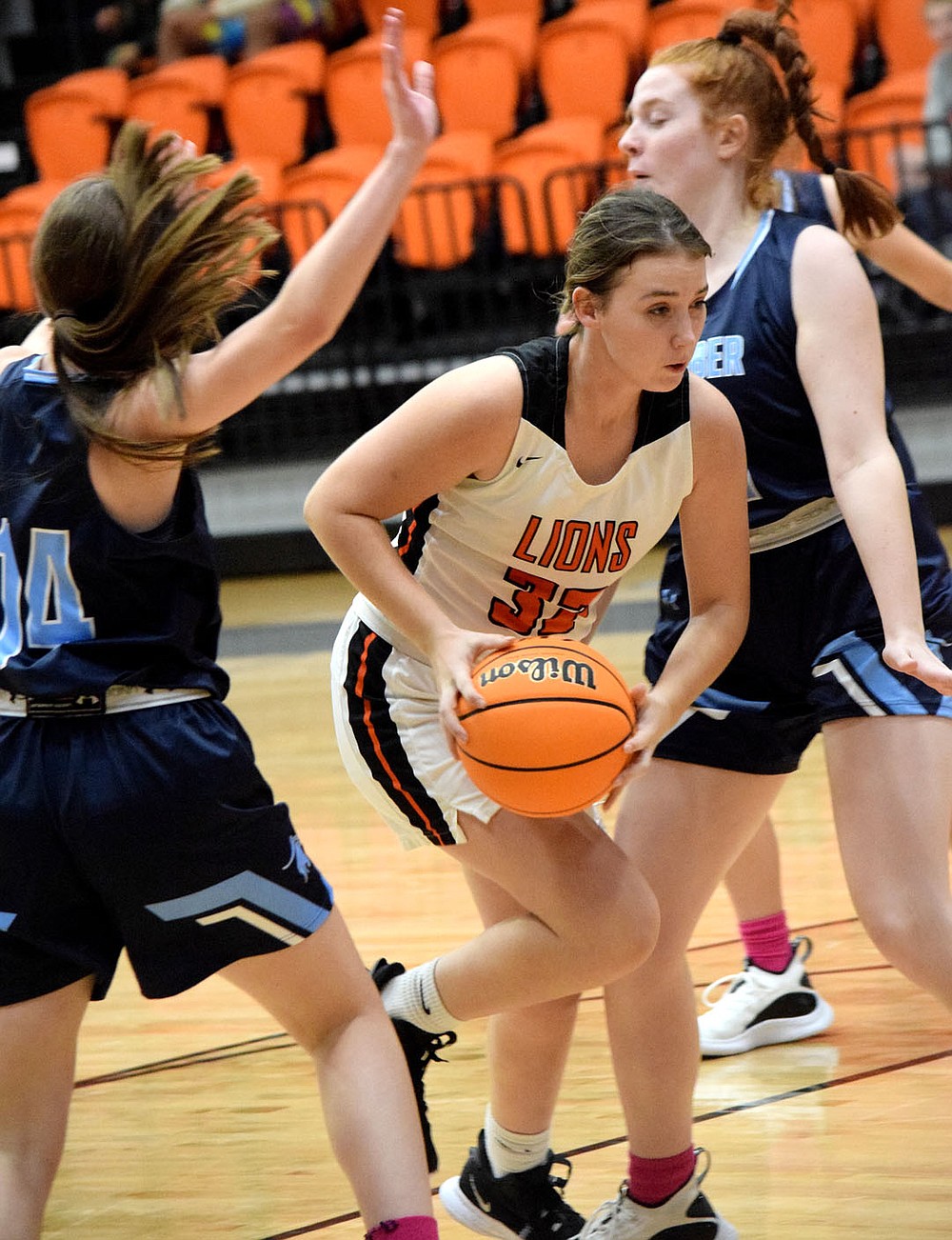 Westside Eagle Observer/MIKE ECKELS Brook Handle (Lions 32) finds a hole between two Lady Wildcat defenders on her way to the basket during the Nov. 16 Gravette-Har-Ber nonconference basketball game at the Lion's Den in Gravette. The Lady Wildcats defeated the Lady Lions 69-31.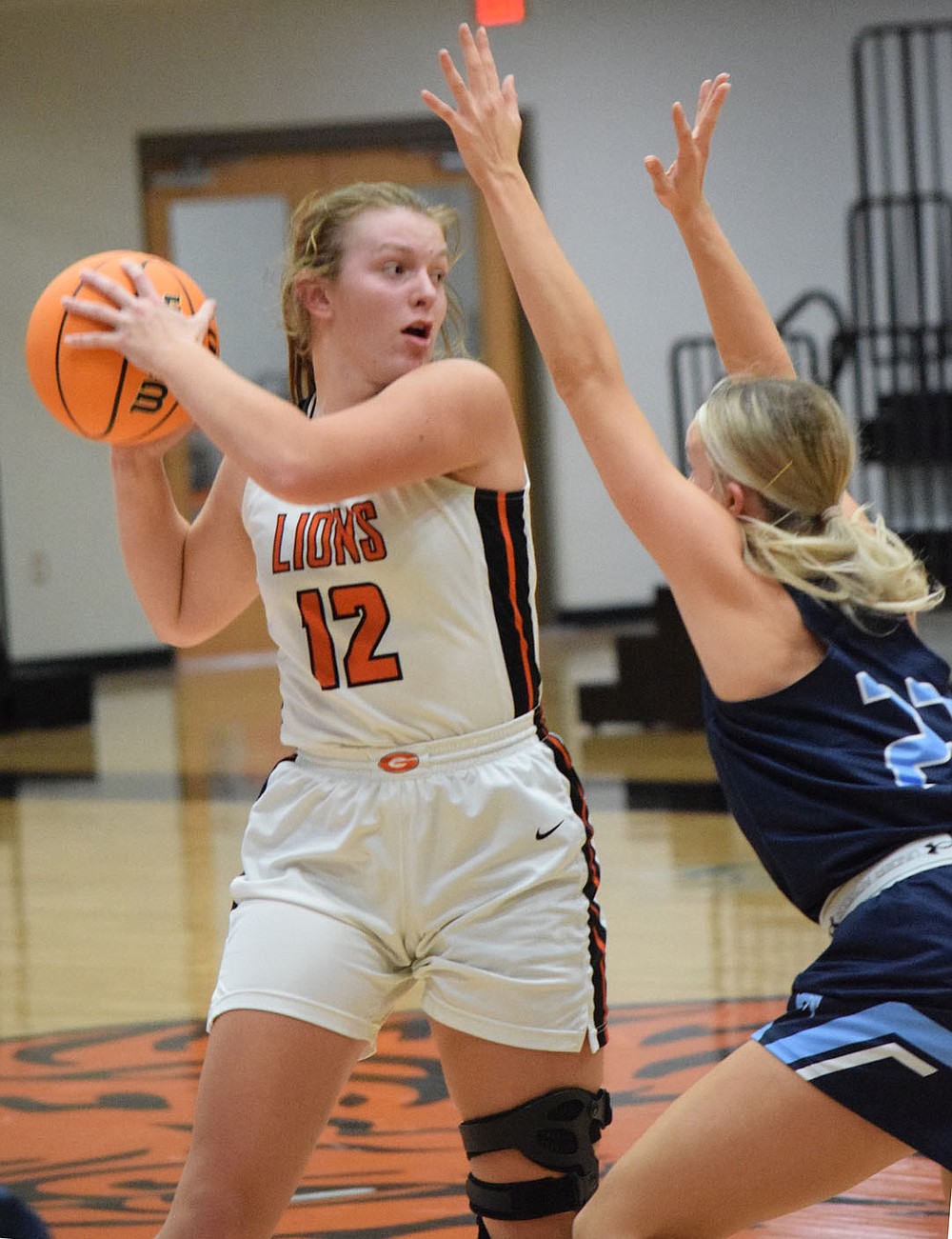 Westside Eagle Observer/MIKE ECKELS Rachel Deihl (Lions 12) protects the ball against a Lady Wildcat defender as she tries to find an open teammate during the third quarter of the Gravette-Har-Ber varsity game in Gravette Nov. 16.