WESTSIDE -- The Gravette Lions continued to struggle on the gridiron as they hit the road Friday night to face the Eagles in Huntsville, losing by 22 points.
Huntsville dominated the first quarter and much of the second, leading the Lions, 28-0. But a two-yard run put Gravette on the scoreboard for its first touchdown of the night. The conversion failed and the Lions trailed the Eagles by 22 points.
Later in the third quarter, Gravette was able to cross the goal line once again for the second touchdown of the night. The conversion was no good and the Lions were able to cut the Eagles' lead down to 14.
A pair of touchdowns in the fourth quarter extended Huntsville's lead to 28. The Lions were able to pick up one more touchdown but fell far short as the Huntsville Eagles took the conference win, 41-19, over the Gravette Lions.
The Lions had a total of 240 yards to the Eagles' 349 -- 97 passing yards to 119 by the Eagles, and 143 rushing yards to the Eagles' 230.
Christian Thrailkill led the defense with 10 tackles, followed by Kyler Austin and Ryder Brown with seven each.
In the punting department, Rhett Hilger managed three kicks for 126 total yards, the longest of which was 44 yards.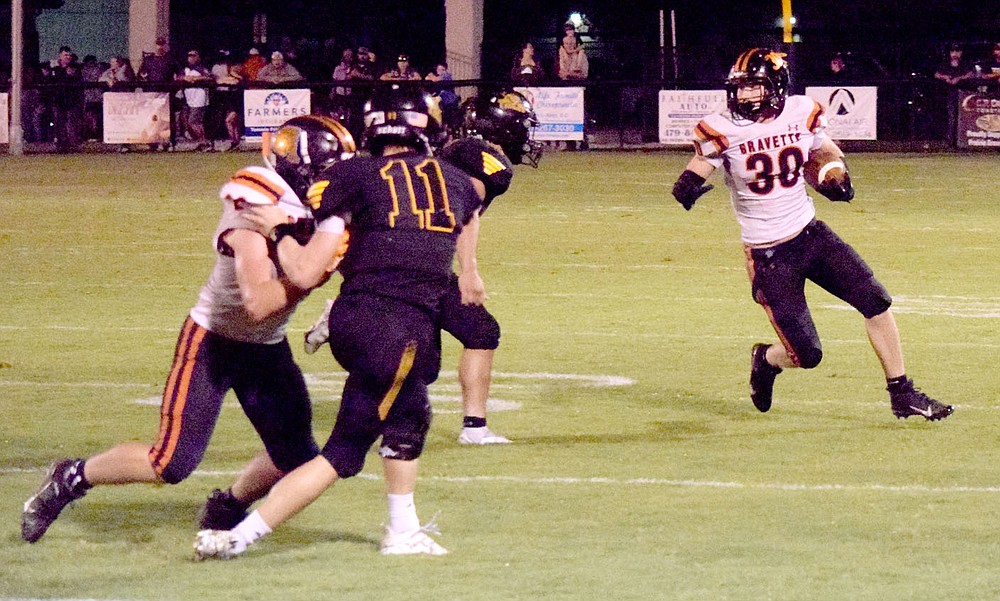 Westside Eagle Observer/MIKE ECKELS Kyler Austin (Gravette 30) runs around several blocks on his way to one of three touchdowns he had for the Lions during the Prairie Grove-Gravette football contest Oct.1. The Lions squared off against the Eagles in Huntsville Friday night. Huntsville won the conference game 41-19 over Gravette.