GENTRY -- The Pioneers returned from Green Forest on Friday with yet another win for the season and, this time, keeping their opponents scoreless.
Zach Gunneman carried one in and Garrison Jackson received a pass for Gentry's two touchdowns in the game. The Pioneers added a two-point conversion to make it a 14-0 game.
The Pioneers finished with 232 rushing yards and another 108 through the air, with Gentry quarterback Chris Bell completing three passes each to Ty Hays, Jonathon Corter and Jackson.
In the running game, Will Pyburn picked up 68 yards on 12 carries, Gunneman 116 yards on nine carries, and Hays another 49 yards on 14 carries.
Jonah Summers had six tackles and three assists in the game. Bryson Walker had six tackles as well. Antonio Hernandez had four and one and also sacked the quarterback in the game.
In addition to two tackles and an assist, Dawson Rayburn had an interception and broke up two pass plays.
The Pioneers, now 6-0 for the season and 3-0 in conference, are scheduled to put their perfect record on the line Friday when they host the Shiloh Christian Saints (5-1, 3-0) in Pioneer Stadium. Game time is 7 p.m.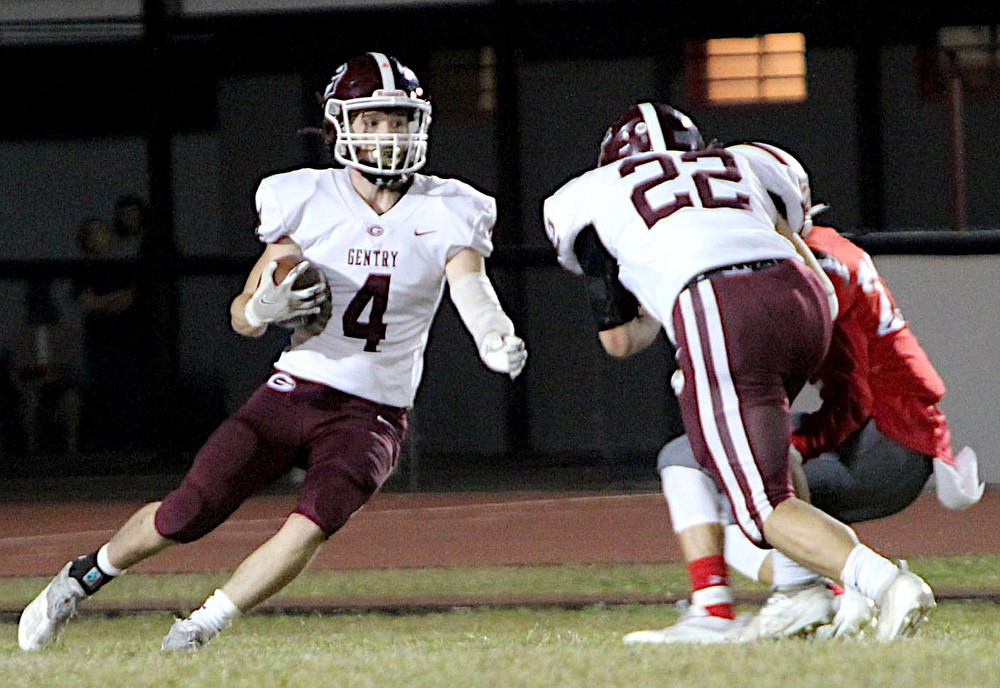 Submitted/NIKKI SLONE RAYBURN-STILL Gentry senior Dawson Rayburn runs the ball while senior Anthony Hernandez blocks a Green Forest player during the game on Friday at Green Forest.