GRAVETTE -- If you're looking for a unique destination but don't have the time or money to travel abroad, Can-Do Hardware has the perfect place to visit to give you a feel of traveling outside the country and even back in time. You don't have to spend big bucks or bother with updating your passport. Just step into the front doors at the hardware, turn to your left, and travel through the store's reproduction of a section of old-town London.
Can-Do employees have remodeled an area of the store which was once a display space for large appliances and turned it into a charming replica of a block of the old English city. Joey Cannon, store manager, explained that they have been working on the display for about a year and a half since they discontinued carrying large appliances. The area opened in mid-September and features replicas of Burgenheimer Toys, a toy store featuring a wide selection of toys and games, and Hammondhursts bookstore whose lighted windows display a variety of old books.
The old-time English city joins a section set up to look like an old Western town and mineshaft area which has been a feature of the store for several years. Cannon said the area was his idea. He wanted to add to the store's themed areas and "make it a destination," he said. He said he just dreamed up the store names because they sounded good. "It was my idea," he acknowledged. "I"m the weirdo of the family."
Can-Do Hardware has added to its inventory in recent years with a variety of seasonal merchandise suitable for decorating one's home for every holiday. Many gift items are available and persons with a sweet tooth or a big thirst will be interested in the section just outside the old town London set-up which offers shelves and shelves full of specialty candies and soft drinks seldom found anywhere else.
Lots of activity is going on at the store as workers are preparing for upcoming activities and planning displays for future months. Cannon said the old-town London area will be all decked out with holiday decorations for the Christmas season. Excavation is ongoing northwest of the hardware building where an outdoor garden center area with a small river and garden displays will be installed next spring.
Cannon said work is progressing rapidly on a business building on the corner of Main Street just west of the new city hall site which is expected to open near the end of the year. The Cannons are developing a pet supply store there, to be named Pet Pop. Work has been ongoing for several months as repainting was done inside and out and extensive remodeling was done inside to accommodate several unique areas of interest to customers. Joey said the store will be done in an '80s theme and will feature unique display sections including blacklight areas and photo ops. When opened, the store will stock all types of pet supply items, as well as some candies and gift items.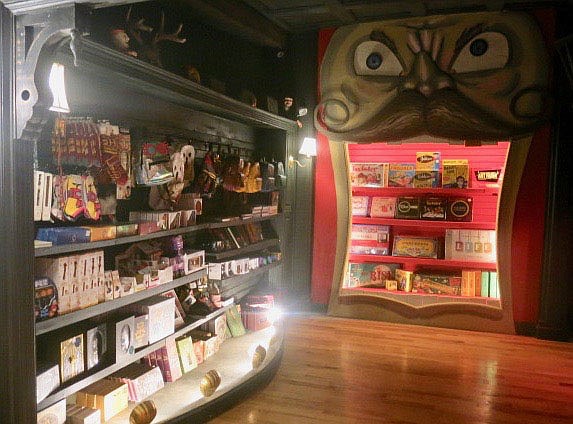 Westside Eagle Observer/SUSAN HOLLAND Ornate shelf brackets and period lighting fixtures highlight the shelves filled with a wide variety of games and toys in this section of Burgenheimer Toys. Many are reproductions of games adults will remember from their childhood. The mustachioed face with its revolving eyeballs above right is just one of several charming moveable features.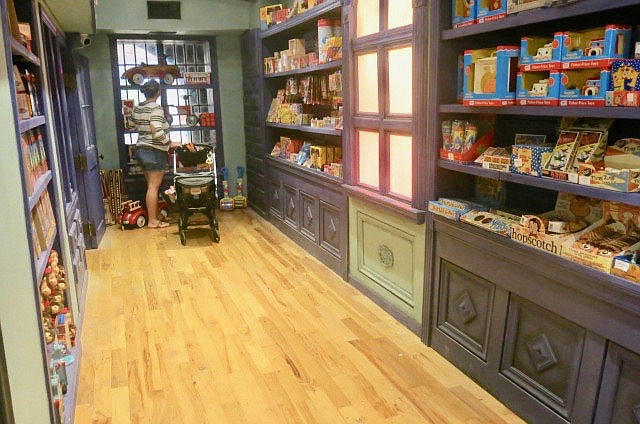 Westside Eagle Observer/SUSAN HOLLAND Rebecca Childers, of Sulphur Springs, and her eight-month-old daughter Quinley browse inside Burgenheimer Toys at Can-Do Hardware Thursday, Oct. 14. The toy store, inside Can-Do's reproduction of old town London, offers a wide selection of old-time toys and games and is an ideal place to purchase gifts for children of all ages.
Westside Eagle Observer/SUSAN HOLLAND Standing in the dimly lit street inside the reproduction of old town London at Can-Do Hardware in Gravette one can gaze through the windows into the bright interior of Burgenheimer Toys and see its wide variety of games and toys. Even the display window above the door is filled with intriguing games to help a child while away a rainy day.
Westside Eagle Observer/SUSAN HOLLAND As you enter the narrow street in the reproduction of old town London at Can-Do Hardware you have a choice of two entrances into Burgenheimer Toys. Subdued lighting in the hallway makes the prospect of leaving the dimly lit brick-paved street and entering the bright toy store with its colorful toys and games especially inviting.