DECATUR -- At 8:30 a.m. Friday morning, the Decatur Bulldog junior and senior high football teams boarded the activities bus bound for Spring Hill for the second eight-man football contest of the season. But the six hour journey to southern Arkansas did not end well for the Bulldog varsity team as they were mauled by a strong Bears' offensive unit.
As the Bulldogs' bus departed Decatur, Chief Steven Grizzle and Corporal Lance Dixon from the Decatur Police Department escorted the team as far as the Centerton city limits. From there, the Bulldogs were on their own.
After a stop in Russellville to tour the practice facility at Arkansas Tech and eat a sack lunch, the group arrived in Spring Hill around 3:30 p.m, in
time for a short warm-up period before the junior high team took the field for its contest with the Bears. No score was available at press time for this contest.
Then, at 7 p.m, it was kickoff time for the Decatur varsity's second eight-man contest of the new season.
But it soon became apparent that the Bears' strong offensive unit was more than the Bulldog defense could handle.
The Spring Hill Bears took charge of the entire contest and, by the final buzzer 48 minutes later, handed the Decatur Bulldogs their second defeat, 40-0.
The Decatur Bulldog varsity team next travels to meet the Augusta Red Devils in a 7 p.m. contest.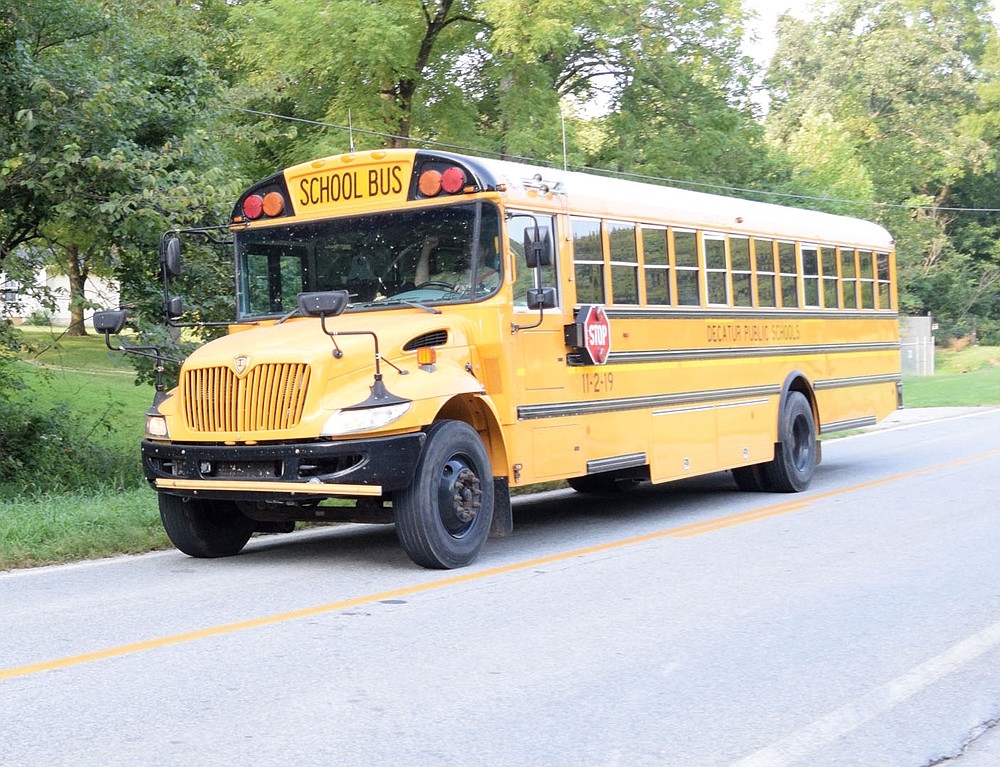 Westside Eagle Observer/MIKE ECKELS The Decatur activities bus rolls past the Wolf Creek bridge on Ark. 102 Friday morning on its way to Spring Hill for an eight-man football contest, the second of the Bulldogs 2021 season. The bus and its cargo were escorted to Centerton by Corporal Lance Dixon and Chief Steven Grizzle with the Decatur Police Department.