GRAVETTE -- Zanetta Bedwell, of Gravette, was treated to a surprise 80th birthday party by her daughter Melanie, other family members, and friends Saturday afternoon in the annex at the Gravette Church of Christ. Zanetta's husband, Leroy, said she was truly surprised, only catching on that the party was for her when she walked into the room and saw the big "80" balloons.
The meeting room was decorated with colorful balloons, flowers and floral table covers and a poster greeted guests at the entrance with a couple of early day photos of Zanetta with the caption, "She doesn't look a day over 80." She was presented with a sash to wear proclaiming her "Aged to Perfection."
Several guests came out to greet Zanetta and share memories of how their lives had intertwined with hers, including old schoolmates, fellow church members and coworkers at Care and Share. Refreshments of cake, cupcakes, cookies, fresh fruit, cheese and nuts were served. All enjoyed a short slide show with photos of Zanetta and her family through the years. Then she opened gifts and read cards she had received.
The celebration concluded when guests went outside to the playground behind the building where a pinata had been hung from the framework of a swing set. Zanetta was blindfolded and batted wildly at the swinging target. After hitting it a few times, she was assisted by others, including her granddaughter, who finally knocked it down and beat it until the candy inside spilled out. Zanetta was quick to jump in and retrieve several Tootsie Rolls, which are favorites of hers.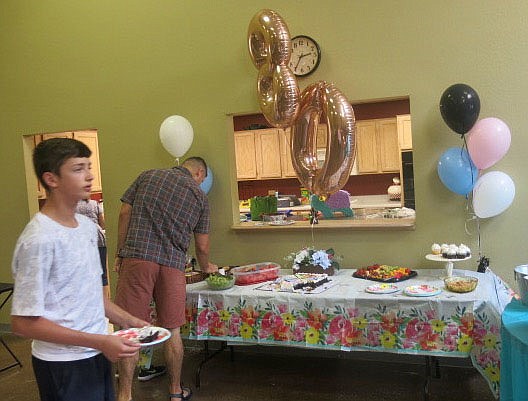 Westside Eagle Observer/SUSAN HOLLAND A couple of guests fill their plates with refreshments at the surprise birthday party for Zanetta Bedwell Saturday afternoon. The serving table was adorned with colorful balloons and flowers and featured cakes, cookies, fruit, nuts and cheese.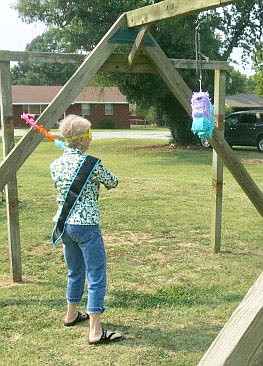 Westside Eagle Observer/SUSAN HOLLAND Zanetta Bedwell swings at a pinata hanging from a framework on the playground at the Church of Christ Saturday afternoon. Bedwell got a few hits in on the target before asking for help from nearby youngsters who knocked it down and released its contents.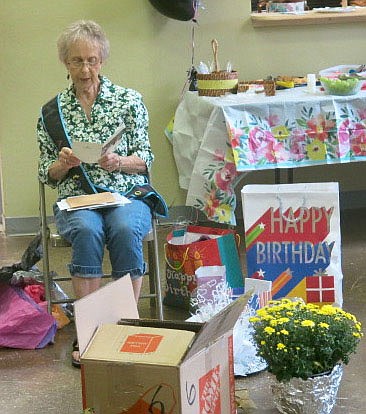 Westside Eagle Observer/SUSAN HOLLAND After opening several gifts from guests at her 80th birthday party, Zanetta Bedwell reads cards from well-wishers at the party. Bedwell's daughter Melanie, other famiy members and friends organized the party which truly was a surprise for her.