GRAVETTE -- Several ladies gathered at the community building (old home economics building) in Gravette Tuesday, Sept. 7, to set up a new Extension Homemakers Club.
Kimee Powers, one of the organizers of the meeting, welcomed those present and explained her desire to band with a group of ladies with the common goal of preserving heritage skills. Powers said she and co-organizer Nicole Jowers formed the idea after meeting at a canning workshop and discovering they had many common interests.
Powers introduced guest speaker Trudy McManus, County Extension Agent for Family and Consumer Science, who explained the purpose of EH Clubs and shared with the group the Extension Homemakers' mission statement and creed.
Powers explained that Extension Homemakers Clubs are under the direction of the University of Arkansas, which provides them a great deal of information and support. Homemakers Clubs focus not only on cooking, canning, sewing and other household skills but also on other areas of agriculture and horticulture such as gardening, raising livestock and beekeeping. She said there are about 3,700 EH members statewide, in 320 clubs, and 10 of those clubs are in Benton County.
Both McManus and Powers talked briefly about their interests and experiences relating to EH and 4-H work. 4-H Clubs are open for membership to youngsters ages 5 to 19 and many of the women present were mothers of 4-H Club members who show animals and participate in other 4-H projects. Terri Jarding, Benton County Extension Homemakers Club president, also spoke to the ladies and encouraged them in their endeavor.
Membership dues were collected and EH Club handbooks distributed; then those ladies who signed up voted on a slate of officers for the new club. Officers elected were Kimee Powers, president; Jacie Luedecke, vice-president; Tina Crose and Jennifer Coffman, co-secretaries; Nicole Jowers and Jody Decker, co-treasurers; Sheila Birch and Jaci Weeks, co-chairs of the educational committee; and Ashley Ellis, chairman of the community service committee. Names were collected for persons interested in serving on the committees.
Members then considered a name for the new club. After a brief discussion, they voted to choose the name "Jolly Good Times EH Club" in tribute to an earlier Jolly Good Times Club (JGT) which was organized in 1928 with eight members and had grown to 19 members in 1929 when it was federated with the county as a home demonstration club. Members of the original JGT Club showed items at the county fair and participated in many community service projects before disbanding several years ago.
McManus reminded those in attendance of several upcoming events, including the EHC Fall Fling Sept. 10, a candy-making workshop at Maysville Sept. 17, and the Benton County Fair Sept. 28 through Oct. 2. She encouraged all the ladies to prepare exhibits to enter in the fair and Powers asked each one to be thinking about possible community service projects and bring ideas to the next meeting.
The next meeting of the club will be at 6:30 p.m. Tuesday, Oct. 5, at the community building.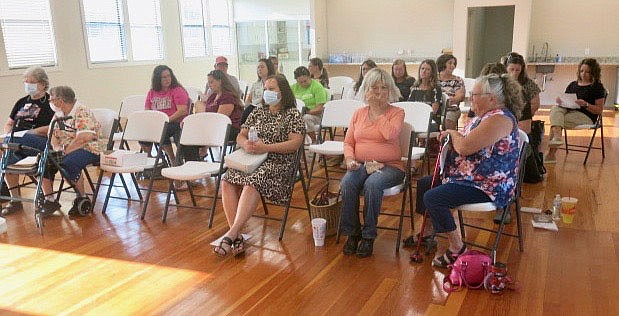 Westside Eagle Observer/SUSAN HOLLAND Ladies interested in forming a new Extension Homemakers Club in the area visit with one another as they wait for their meeting to begin Tuesday evening, Sept. 7. Women from Sulphur Springs, Gravette, Decatur, Gentry and Highfill met, organized a new club, voted on new officers and named the club the Jolly Good Times Extension Homemakers Club.