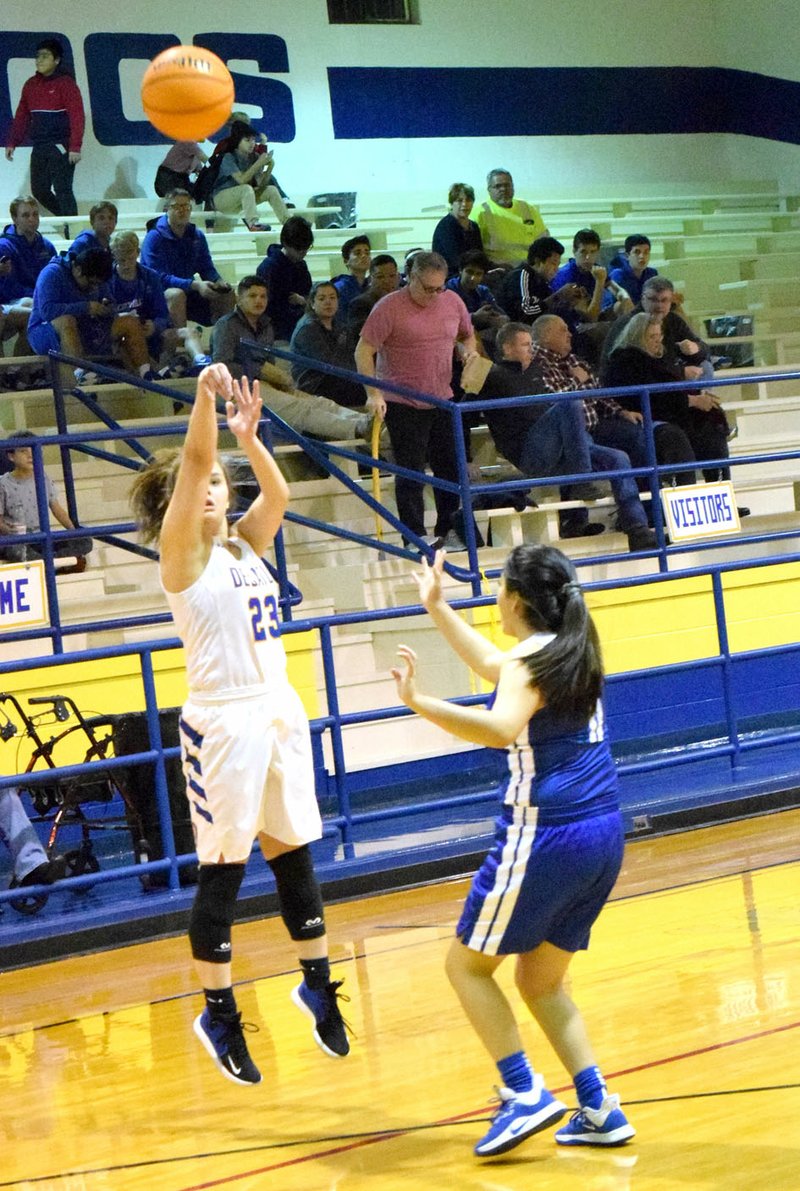 Westside Eagle Observer/MIKE ECKELS Abby Tilley (Decatur 23) attempts a three-point field goal during the first quarter of the Decatur-Ozark Catholic Academy basketball contest at Peterson Gym Dec. 3. Tilley missed this attempt but her earlier three-pointer hit its mark for a Decatur lead.
DECATUR -- The Decatur Lady Bulldogs chalked up one in the winning column Dec. 3 as the team played host to the Ozark Catholic Academy Lady Griffins from Tontitown in a nonconference matchup.
The contest, played at Peterson Gym in Decatur, kicked off with Lady Bulldog Abby Tilley hitting a three-point field goal from the right-wing, for the first points of the night.
Decatur's starting lineup, consisting of Destiny Mejia, Kaylee Morales, Anabelle Schopper, Kyleigh McBride and Abby Tilley, continued to rack up points while keeping the Lady Griffins scoreless for most of the first quarter. With 90 seconds left in the quarter, OCA managed to hit a field goal for its first points of the night. One more two-point field goal by the Lady Griffins ended the first quarter with Decatur leading by eight.
Decatur continued to pump in the points in the second quarter, outscoring the Lady Griffins 13-3 to take a 25-7 lead into the locker room at the halftime break.
The second half belonged to the Lady Bulldogs as they managed to completely shut down the Lady Griffin offense, holding OCA scoreless throughout the half and giving Decatur a 37-7 victory.
Anabelle Schopper led the way for the Lady Bulldogs with 18 points, followed by Myra Flores with eight, Abby Tilley with five, Kaylee Morales with four and Destiny Mejia with two.
Abigail Perry scored all seven points for the Ozark Catholic Academy Lady Griffins.
Sports on 12/11/2019
Print Headline: Lady Bulldogs bite Lady Griffins wings to win at home
Sponsor Content
Comments