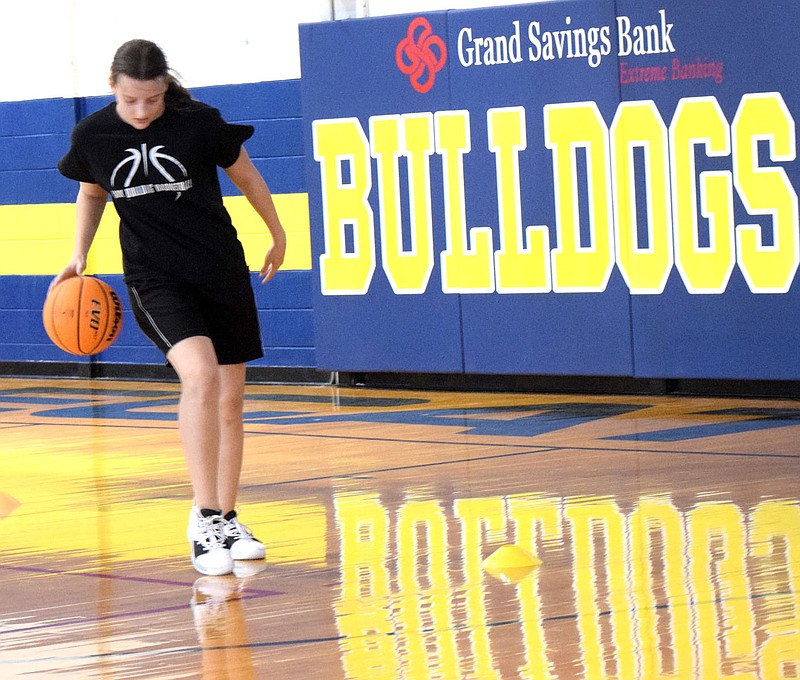 Westside Eagle Observer/MIKE ECKELS Freshman Lady Bulldog Abigail Schopper dribbles across court toward a cone Tuesday night during the Decatur girls basketball practice at Peterson Gym. Governor Asa Hutchinson and the Arkansas Activities Association opened high school gyms across the state to light practices while still maintaining social distancing.
DECATUR -- As high school gyms across Arkansas open up for limited practice sessions this summer, the uncertainty of what direction the covid-19 virus will take reminds us that this pandemic is far from being over. But, at least for now, schools like Decatur will hold limited off-season basketball practices through the months of June and July.
The Lady Bulldog seventh grade, junior and senior high school basketball teams began limited practice on June 9, with the young teams working out at Peterson Gym in Decatur in mid-afternoon sessions and five senior high girls working out in evening sessions. The Bulldog boys' schedule was much the same as the girls, with five senior high boys practicing during the early evening.
The Arkansas Activities Association mandated that all coaches and staff members wear masks and gloves during their time in the gym. In addition to the social distancing rule, all athletes and coaches must have their temperatures checked before entering into the gym area. All locker rooms are closed for the duration of the pandemic lockdown.
With these rules in place, the athletes are limited to light practice sessions. They can only work on agility, speed, dribbling and shooting drills to keep their skill levels current.
But a major change came to Decatur June 3 when Fess Thompson, head basketball coach, resigned to take the same position at his alma mater in Pine Bluff.
In 2019, Thompson led the Lady Bulldogs to their first state 2A basketball tournament appearance since 1999 and led the Bulldog senior boys to a fourth-place finish during the 2020 2A district tournament in Decatur. The fourth-place finish earned the senior boys a trip to the regional tournament in Eureka Springs where they lost to the number one seed Lavaca Golden Arrows in the first round.
At present, assistant senior high basketball coach Jeremy Schopper is conducting the practice sessions for junior and senior high teams until a replacement for Thompson is found.
Sponsor Content
Comments