GRAVETTE -- A grand opening and ribbon cutting were held Saturday, Feb. 6, at the new location of The Gravette Gym. Area residents enjoyed tours of the gym, were treated to healthy snacks, including nuts, granola bars, lemonade and sports drinks, and were able to sign up for drawings.
Meredith Bramel, Melissa Provence and Denise Thurber won Gravette Gym one-month gym memberships and Nancy Langley won the grand prize of a year's gym membership. Several vendors had booths at the event, including representatives of the Gravette soccer league, Gravette High Fitness, Gravette Nutrition and Xyngular.
The gym, which has operated on downtown Main Street for over a decade, recently moved into the former Westfield Hardware building at 605 Main St. S.W., just across the street from the post office. Owners Les and Natanya Riddle have spent the last few months remodeling the building, converting much of the lighting to LED lights and installing new rubber flooring. They also expressed appreciation to Les' father, Don Riddle, who spent countless hours helping with the repairs and remodel work.
All the equipment from the downtown location was moved to the new building and over 25 new exercise machines were added after the move. A wide variety of exercise machines is available, including a rowing machine and several other cardio machines, strength training machines, and a large free weights section with a squat rack, which is especially popular.
Remodeling of the gym building included constructing several additional interior walls. A lobby area and office were created at the front of the building and three rooms were added at the rear. One room houses a tanning bed, and in another physical therapist Kim McDougal will offer wellness services, including massage.
Les and Natanya Riddle have managed The Gravette Gym for the last three years. The former owners, Springdale residents, wanted to close the gym three years ago and the Riddles stepped in to keep that from happening. Natanya said she and her husband feel it provides a valuable resource and Les convinced her they should buy the business and run it as a service to the community. They purchased the business in October 2020 from Thomas and Ashley (Donell) Little.
The 9,000-square-foot downstairs area in the former hardware building provides plenty of space for social distancing. Towels and bottles of hand sanitizer are provided throughout the building. Gym members are asked to clean and sanitize machines before and after each use so the gym is a safe place for all. The area provides plenty of space for additional exercise equipment and the Riddles already have plans for expansion. In the meantime, an aerobics class is being held in the large center area. The aerobics class is held Tuesday and Thursday evenings, with instructors from Bentonville High Fitness, and class members pay a fee separate from the gym membership.
Several new gym members have signed up recently and there are now over 100 members. Natanya says they range from teenagers to an 80-year-old member who comes in mostly to use the treadmill. Some come in to do cardio exercise only during the winter when they can't get outside and others come in year-round to lift weights and do strength training. Persons can sign up for individual memberships or purchase family memberships for up to four persons in the same household. Discounts are available for law enforcement officers, firemen and other first responders, military personnel and teachers.
The Riddles encourage everyone to come, check out their services and consider joining. Gym membership gives one the opportunity to stay in good shape, improve muscle tone and maintain good cardio health. They hope to promote a pleasant family atmosphere where parents and teens can bond over a mutual endeavor for optimal health. Music is played during exercise sessions and the gym's extensive playlist should appeal to persons of all ages and fitness levels. Gym members are given their own key fobs and can let themselves in and out whenever they please. The building is available to them 24 hours a day, seven days a week.
In addition to running the gym, the Riddles stay busy raising their two boys and working at other jobs. Les is a part-time Benton County reserve deputy, is on the county dive team and works in the heavy equipment industry. Natanya is a freelance stenographer who contracts with various court reporting firms and lawyers. They are assisted at the gym by their trainer, Jamie McDougal, ATC, CSCS, a New York native who moved to Gravette in 2019 from Russellville. Jamie is available for training and functionality assessments to make the most of your workout and target specific problem areas you might need assistance with. Contact him at [email protected] or call 479-747-2165.
Les Riddle is a third-generation Gravette native. Natanya is a Texas native who grew up south of Houston and met Les when she came to northwest Arkansas for a family craft fair weekend. The couple lives on a farm west of Gravette with their sons, Weston, age 4, and Bryce, who will soon be 2. Their farm is adjacent to the original family farm which Les' grandfather, Lee Riddle, purchased in the mid 1950s.
Persons interested in gym membership can learn more about The Gravette Gym on the business Facebook page or on the website, www.thegravettegym.com, which also has a link to the Facebook page. Email address for the gym is [email protected] or call 479-287-6839. The Riddles invite all to call with questions or to make an appointment to sign up.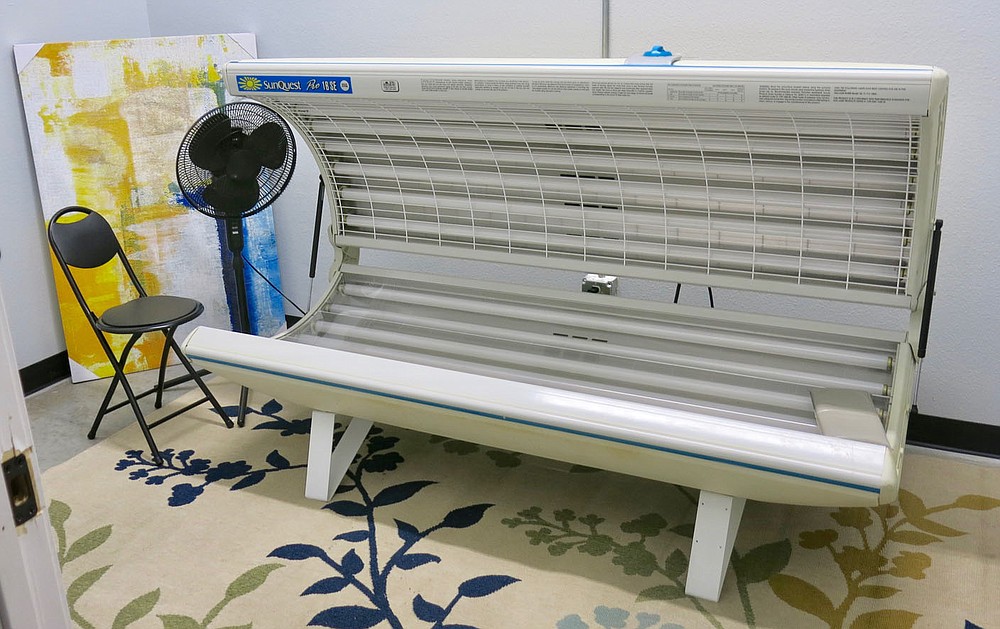 Westside Eagle Observer/SUSAN HOLLAND A tanning bed awaits patrons at the Gravette Gym, which recently moved to its new location at 605 Main Street S.W. The tanning room, a physical therapy room, an office and lobby area are all new additions to the recently remodeled building.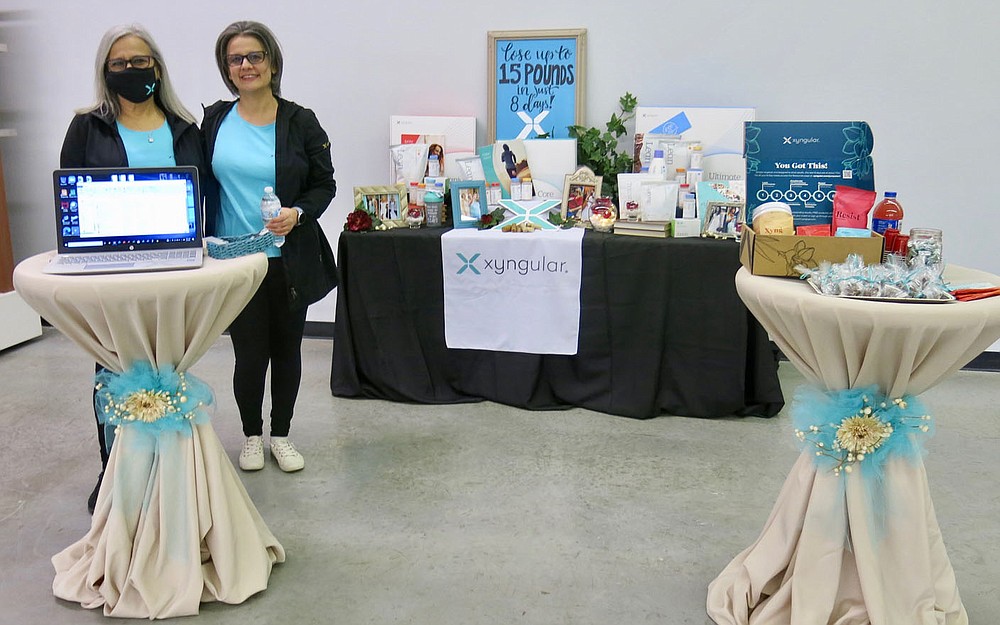 Westside Eagle Observer/SUSAN HOLLAND Brigett Gladden, of Springfield, Mo., and Stephanie Sisco, of Gravette, work in the Xyngular booth at the grand opening of the Gravette Gym Saturday, Feb. 6. Gladden and Sisco are representatives for Xyngular, which is a weight loss program.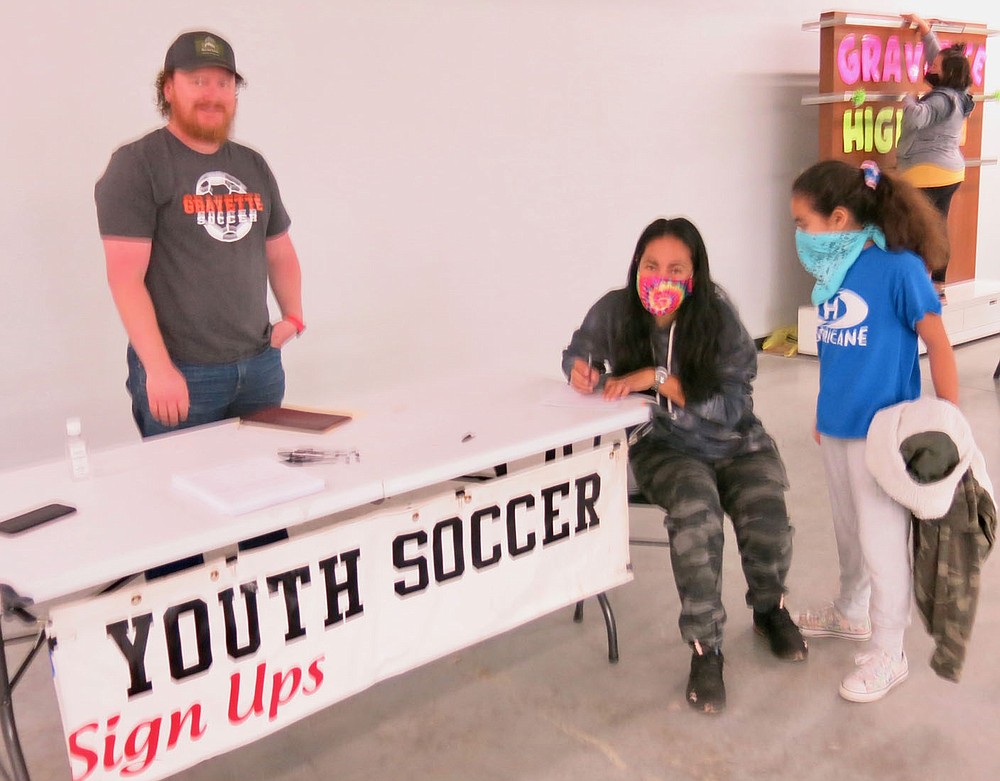 Westside Eagle Observer/SUSAN HOLLAND Brad Melton, president of the Gravette Soccer Association, smiles as Carmelita Craig signs up her daughter, Tori, to play soccer this spring. Melton is also conducting online signups for the spring season which begins in mid-April and will continue through the end of the school year.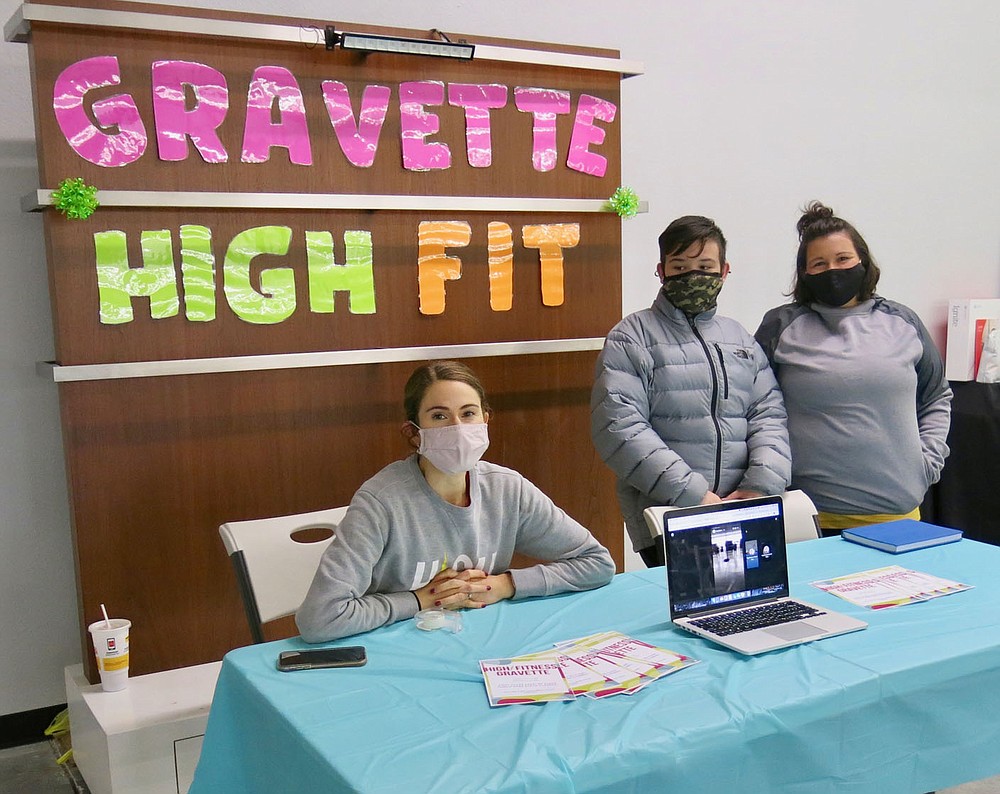 Westside Eagle Observer/SUSAN HOLLAND Chanel Tergneer, Tanner Lundquist and Neka Lundquist pose for the camera as they man the Gravette High Fitness booth at the grand opening of the Gravette Gym Saturday, Feb. 6. Instructors from High Fitness are conducting aerobics classes on Tuesday and Thursday evenings at the gym.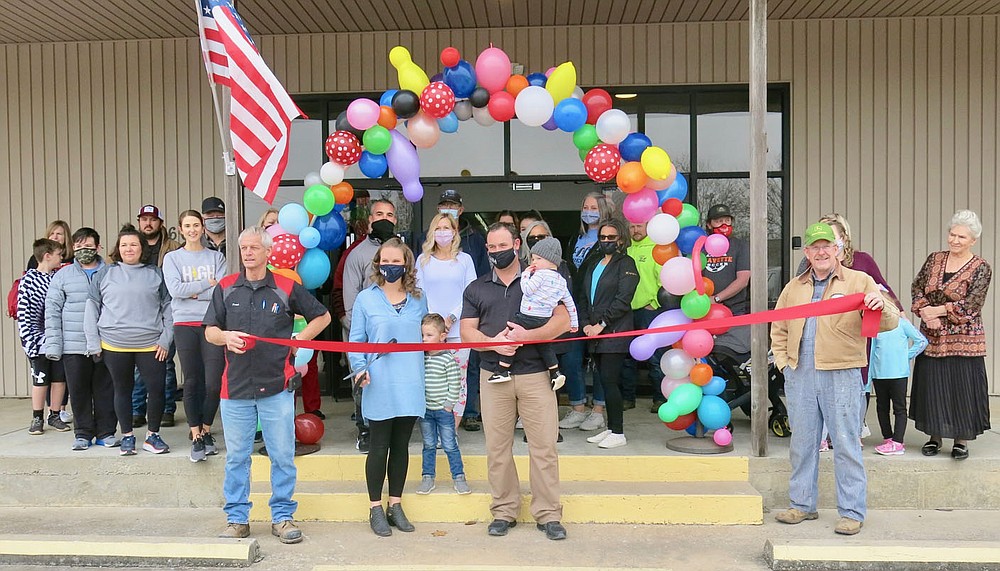 Westside Eagle Observer/SUSAN HOLLAND Natanya Riddle prepares to cut the ribbon at the new location of the Gravette Gym, Saturday, Feb. 6, with her son, Weston, at her side and husband Les holding son Bryce. The Riddles held an open house event and gave tours of the building. Jamie McDougal, the gym's trainer, and his wife, physical therapist Kim, are directly behind Mrs. Riddle while Fred Overstreet, Greater Gravette Chamber of Commerce president, holds the left side of the ribbon and Natanya's uncle, Tim Estes, holds the right.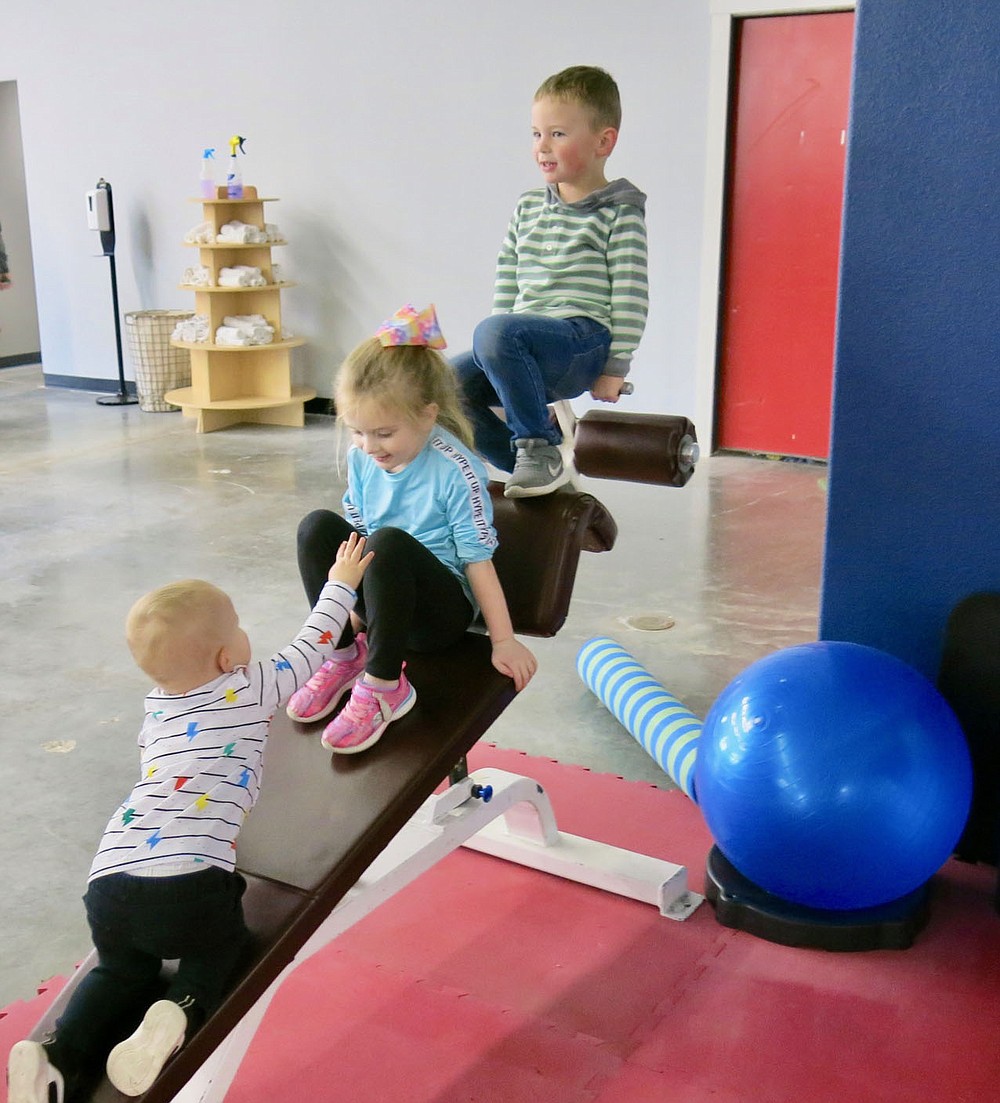 Westside Eagle Observer/SUSAN HOLLAND Young Bryce Riddle, almost 2, reaches out to Kaylee McCormick, of Siloam, as his brother, Weston, 4, sits above her. The youngsters were enjoying the exercise equipment at the Gravette Gym during its grand opening Saturday, Feb. 6. Bryce and Weston are sons of the gym owners, Les and Natanya Riddle.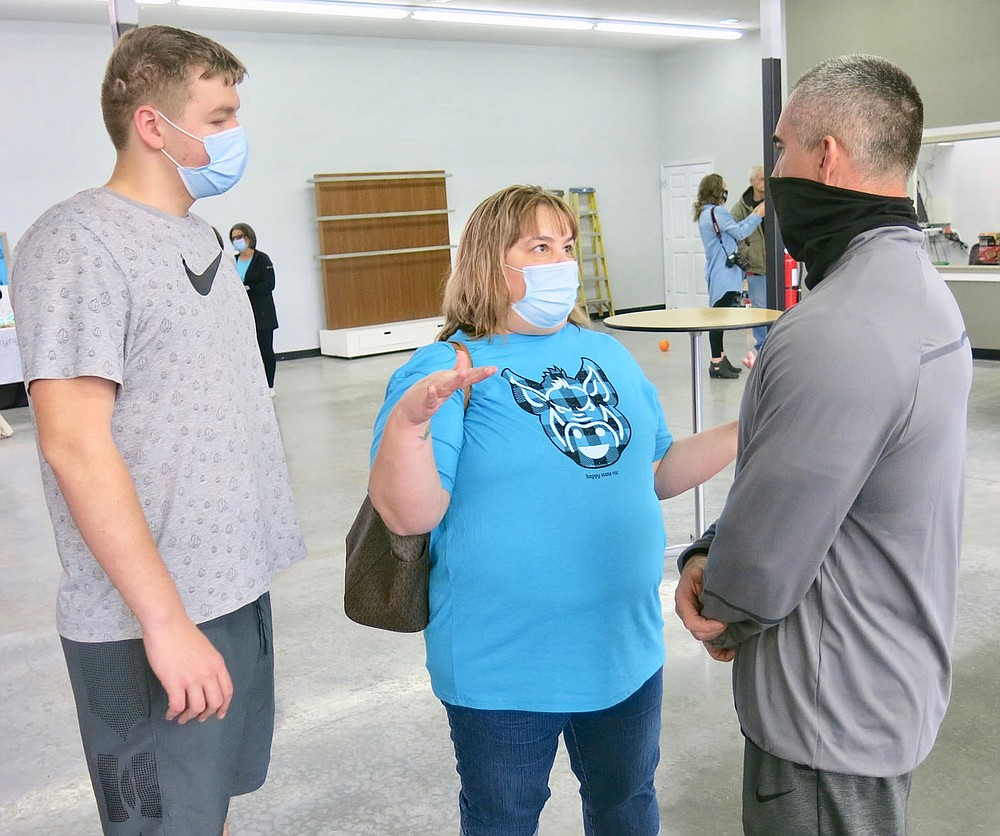 Westside Eagle Observer/SUSAN HOLLAND Taylor Crose listens as his mother, Tina, talks with trainer Jamie McDougal about training opportunities at the Gravette Gym. McDougal is available for training and does functionality assessments for gym patrons to help maximize their exercise experience. He can be contacted at 479-747-2165.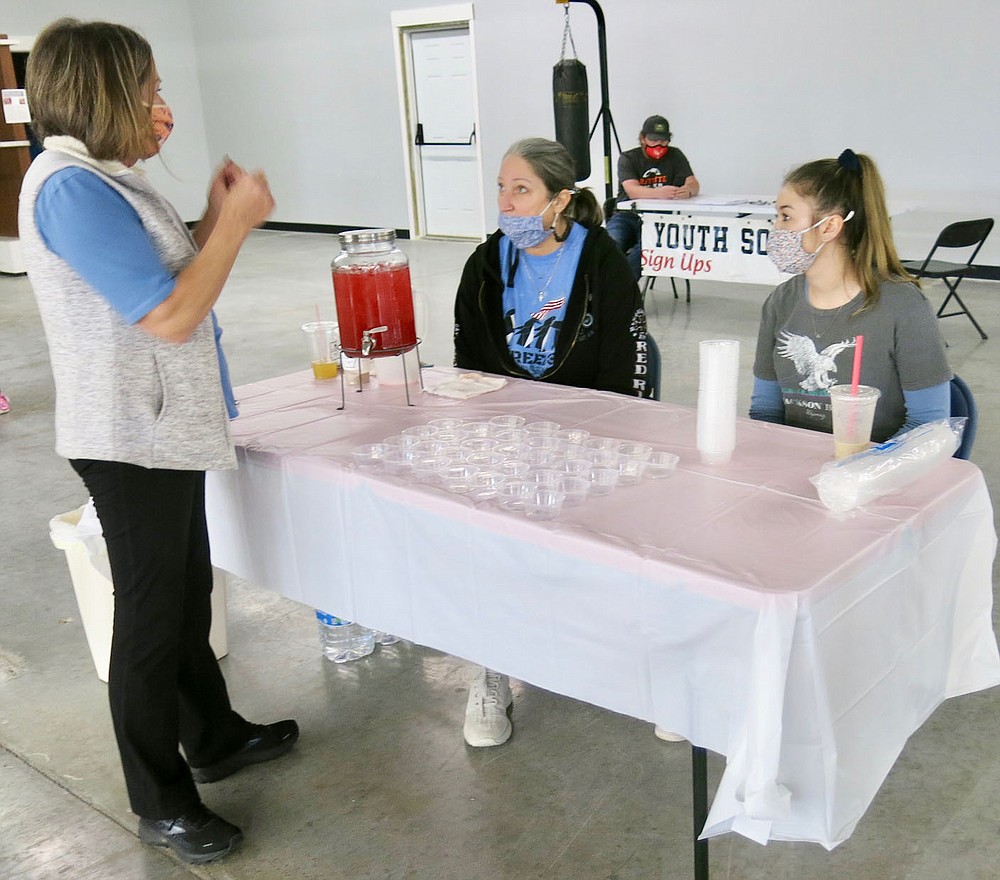 Westside Eagle Observer/SUSAN HOLLAND Marisa Crain of Bella Vista, owner of the newly-opened business Gravette Nutrition, and her helper Kaitelyn Trimble of Gravette, visit with a local resident as they man the Gravette Nutrition booth at the grand opening of the Gravette Gym Saturday, Feb. 6.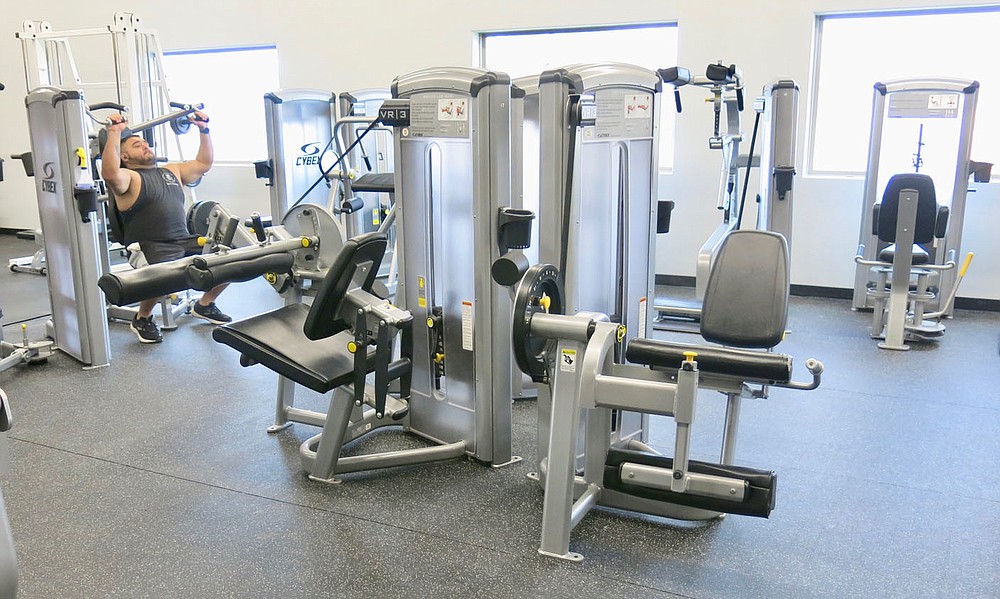 Westside Eagle Observer/SUSAN HOLLAND Steven King, of Gravette, works out on a lateral pull machine at the new location of the Gravette Gym. King, a long-time gym member, is a police officer in Siloam Springs. Law enforcement officers, first responders, military personnel and teachers receive a discounted gym membership.