GRAVETTE -- Members of the Christian Crawlers 4x4 Club took advantage of a balmy fall day and sponsored a fall festival across the street from Can-Do Hardware Saturday afternoon. The temperature reached 63 degrees in the afternoon and the activities offered made for a pleasant outing for all ages.
The event benefited several area groups. The price of admission was canned goods for area food pantries. T-shirts were being sold, with proceeds going for scholarships for graduating seniors. Donations were also being accepted for the scholarship fund.
Craft kits were provided for the children's enjoyment and they could also test their skill at several games, including ring toss and knock 'em down. A face painter was on hand to decorate their faces and a few adults also were seen sporting face decorations, including a Razorback fan with a hog on his cheek.
Several vendors were on hand with booths offering a variety of items from tasty treats to art and craft supplies to gift items and seasonal decorations. Vendors included Henzie's Art Studio, C&K Treats and Gifts, Esther & Ruth, C&J Soap Company and Simply Sam's. Adam and Amber Holdridge brought Ali Lynn's Bubble Tea truck from Centerton and served specialty teas and lemonades.
Christian Crawlers 4x4 Club is a Christian family organization that seeks to provide fun, safe 4x4 adventures for the whole family. Brent Cannon is president of the Gravette club. Other officers are Amanda Couch, vice-president; Melanie Kelly, secretary; and Rhonda Cannon, treasurer. The Gravette club was the founding club but chapters are also now located in northern Louisiana, the Dallas/Ft. Worth, Texas, area and Texarkana, Ark.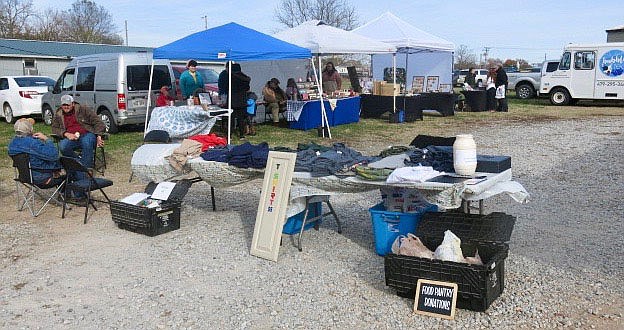 Westside Eagle Observer/SUSAN HOLLAND A table holds T-shirts being sold and a jar to accept donations to provide scholarships for graduating seniors and a tote contains canned goods donated for area pantries as the Christian Crawlers 4 x 4 Club fall festival was a benefit event. Vendors booths in the background include C & K Treats and Gifts, C & J Soap Company, Simply Sam's and Henzie's Art Studio.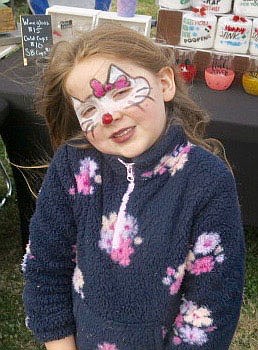 Westside Eagle Observer/SUSAN HOLLAND Lyric Cannon, age 5, pauses to show off her new cat face after visiting the face painting booth at the fall festival sponsored by Christian Crawlers 4 x 4 Club Saturday afternoon, Nov. 20. Lyric, the daughter of Joey and Daeleigh Cannon, is in kindergarten and is being homeschooled. Her father, Joey Cannon, is general manager of Can-Do Hardware.