FAYETTEVILLE -- Carrying on its two-week road trip, the Decatur Lady Bulldogs' junior high and varsity teams traveled south to Fayetteville on Oct. 4 to take on conference rival New School Lady Cougars.
In the first set of the varsity contest, Decatur jumped out in front by eight points before New School managed to slip a ball past the Lady Bulldog second line. The Lady Bulldogs continued to prevail for the next few minutes until a time out by the Lady Cougar coach switched the momentum in favor of her team.
Soon, New School jumped out ahead of Decatur and, at that point, the Lady Bulldogs surged ahead by two. Finally, a series of mistakes on the Decatur side of the court worked in favor of the New School as it took the first set, 25-21.
The second set was a mirror image of the first, with the lead going back and forth between the two teams. As with the first set, the Lady Cougars claimed the victory, 25-22. But the momentum that the Lady Cougars enjoyed during the first two sets was about to change.
Decatur gained control of the third set early and managed to hold on until the end taking the set, 25-23, making it a two-sets-to-one New School contest.
Decatur and New School continued to battle it out during the fourth set, posting several long volleys. With the set tied at 22 all, the Lady Bulldogs managed to serve three straight balls past the Lady Cougars, taking the set, 25-22, and sending the contest into a tie-breaker.
The Decatur Lady Bulldogs varsity team managed to surge ahead once more to claim the final set, 15-7, and the conference victory, three sets to two.
In the junior high contest, the young Lady Bulldogs also claimed the win, 25-10, 25-10, over the New School Lady Cougars.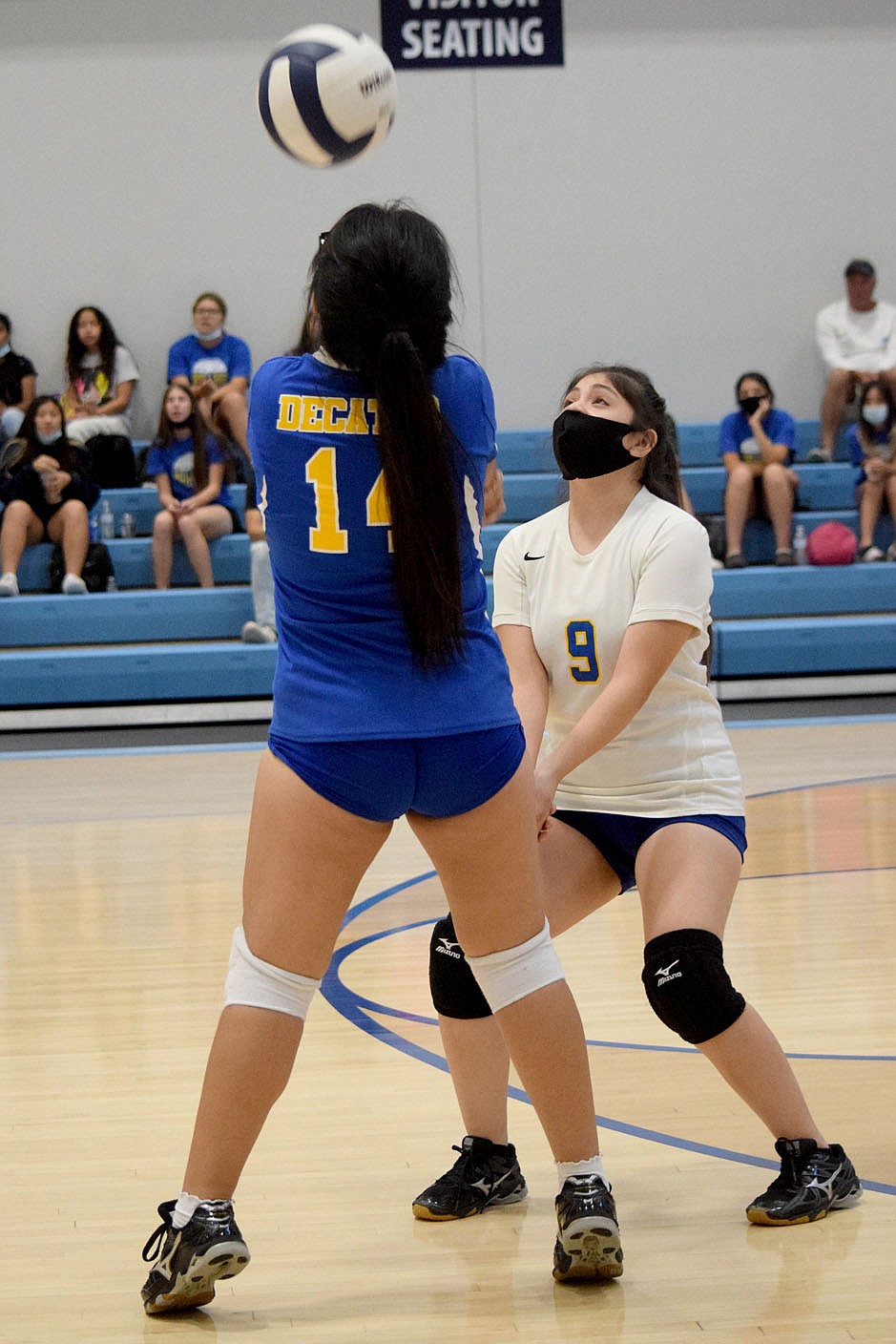 Westside Eagle Observer/MIKE ECKELS Jackie Mendoza (14) and Katrina Batres (9) get to the ball at the same time but it is Mendoza who is able to pass the ball to the Lady Bulldog front line during the New School-Decatur volleyball contest in Fayetteville Oct. 4.