GRAVETTE -- Gravette High School students celebrated the beginning of their homecoming activities with a festive parade Friday morning at 10 a.m.
Last year there was not a regular parade but classes, organizations and sports teams set up displays on the high school campus and visitors were invited to drive through to view the displays. Parade participants really enjoyed the opportunity to wind their way through town again this year rather than having spectators come to them.
The parade was led by a Gravette police car, followed closely by Gravette fire trucks and emergency vehicles. Members of the Gravette High School band strutted their stuff, marching smartly down the street and pausing occasionally to play the school fight song. Snazzy sports cars and vintage vehicles carried queen candidates Reese Hamilton, Nicole Vogt and Holly Robinson, other members of the homecoming court and area royalty. Members of several Gravette sports teams and cheerleading squads rode on other vehicles.
Several school classes and clubs entered floats in the parade with the senior class float taking honors as the best parade entry. The seniors' float featured a circus theme with lions, a clown, a weightlifter and others performing in three decorated rings. With the Elkins Elks as the Lions' foes in the homecoming football game, several floats capitalized on the idea of hunting elk or grilling elk as their parade theme. The fifth-grade football team float featured a hunting blind decorated with camouflage material and footballs inscribed with the players' names. Members of the sophomore class float brought along their barbecue grill and were preparing to grill the Elks.
Students continued their homecoming weekend celebration with a pep rally at 2 p.m., homecoming ceremonies preceding the game Friday evening that saw Nicole Vogt crowned homecoming queen, and a homecoming dance on Saturday evening.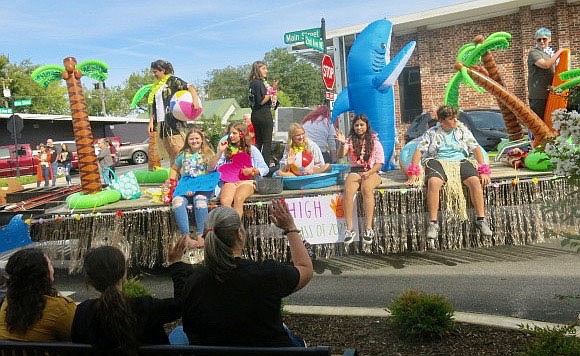 Westside Eagle Observer/SUSAN HOLLAND The freshman class float in the Gravette High School homecoming parade featured a beach theme with some class members dressed in grass skirts and leis. Palm trees, beach balls and surfboards decorated the float with a friendly dolphin waving to the crowd.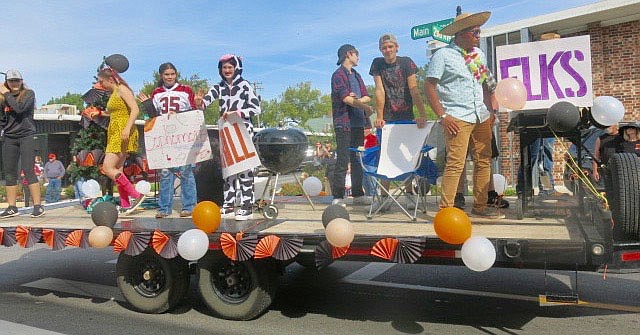 Westside Eagle Observer/SUSAN HOLLAND Members of the sophomore class at Gravette High School brought along their barbecue grill and were all ready to barbecue some elk on their float in the homecoming parade. Unfortunately it was the Lions who got grilled in Friday night's game.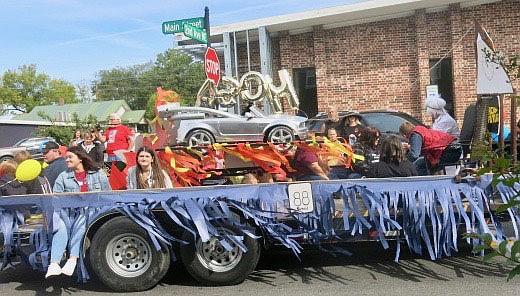 Westside Eagle Observer/SUSAN HOLLAND Members of the HOSA Club at Gravette High School decorated their homecoming parade float with a sleek race car, perhaps suggesting that the Lions would speed right past Elkins in Friday night's game, but the outcome was not what they had hoped.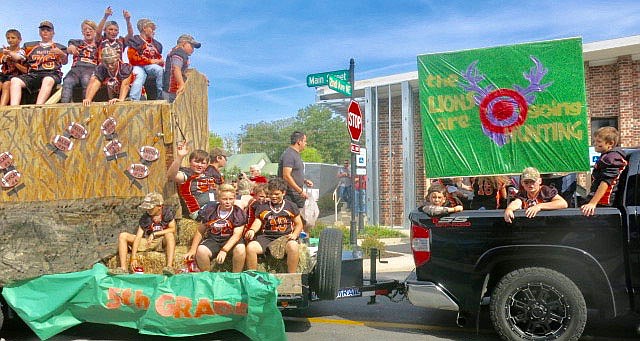 Westside Eagle Observer/SUSAN HOLLAND Members of the fifth grade football team used the theme "The Lions are going Hunting" on their float, decorated with a hunting blind and camouflage material. Team members rode on the float that also featured footballs inscribed with each of their names.